December 18, 2014
Diane-sama
Diane is definitely the most awesome thing in Nanatsu no Taizai.
Posted by: Steven Den Beste in Cheesecake at 03:12 PM | Comments (6) | Add Comment
Post contains 12 words, total size 1 kb.
Well, this should be fun...
US Weather Bureau is predicting 2-5 inches of rain for here Saturday night. That should be fun. (Also 5-8 inches in the Coast range.)
Where that won't be fun is if the Willamette goes out of its banks. It won't affect us here, but the creek ought to get pretty lively!
UPDATE: I wonder if this will be as bad as the Chrismas Flood? Probably not, but it may come close.
UPDATE: I was only 10 when the Christmas Flood happened, but it's got special meaning to me. It was the second part of a 1-2 punch to hit the Northwest, coming just about a year after what we call the Columbus Day Storm.
About 1961, my parents bought a lot in SW Portland, moved a trailer house onto it, and began building their dream house. Now when a lot of people say "We're building a house" they mean they hired a construction company. That's not what we did. My dad actually designed the place and drew all the blueprints, and worked on it evenings and weekends and vacations. My grandfather, who was a carpenter, came up to help as much as he could, and friends of my dad would sometimes come over and help. My brother, who was 12-13 years old at the time, did a lot of work and me, 8-9, I did as much as I could. We had the foundation poured and the basement covered by the main floor, and managed to put up all the outer walls and got the roof over it, and covered the whole roof with plywood. But there weren't yet any internal partitions by October, 1962.
And then we got the storm of the century, and it blew the house down. I was in the bathroom when it happened so I didn't see it go. But shortly thereafter my folks began to worry that the trailer might roll over in the wind, and so we walked to our neighbor's house and asked them to put us up for the night.
We spent a week living at my uncle's house in NE Portland because his electricity didn't go out. It took us several months to tear everything apart and restack all the lumber, and then to put the walls and roof back up again.
We were a lot further along by a year later when the second punch of the 1-2 whammy happened. It was bad for the state, but it didn't actually affect us at all. (Our lot was on the edge of the Tryon Creek Valley, so the water just ran off and we never saw anything.
But I remember in 1964 people beginning to wonder if we'd get slammed again. (We didn't.) By then we were living in the house and had sold the trailer.
UPDATE: Oh, boy; they've updated the forecast:
LATEST FORECASTS FOR FRIDAY NIGHT THROUGH MONDAY AFTERNOON BRING 8 TO 12 INCHES OF RAIN TO THE CASCADES AND FOOTHILLS...7 TO 11 INCHES FOR THE COAST RANGE...5 TO 7 INCHES ALONG THE IMMEDIATE COAST...AND 3 TO 4 INCHES ALONG THE I-5 CORRIDOR.
That last is me.
And if those estimates are even close to accurate, every river in the western third of this state is going to flood.
Posted by: Steven Den Beste in Daily Life at 12:34 PM | No Comments | Add Comment
Post contains 546 words, total size 3 kb.
December 17, 2014
Nanatsu no Taizai -- ep 11
Posted by: Steven Den Beste in Cheesecake at 03:49 PM | Comments (9) | Add Comment
Post contains 6 words, total size 1 kb.
December 16, 2014
Happy Birthday Chelsea Manning
Care to see something that will turn your stomach? Metafilter wishes Chelsea Manning a happy birthday, and calls him a "hero". (And a "patriot".)
(OK, to cases: Manning's name has been legally changed. Manning's sex has not been. But God help you if you use "he" or "him" to refer to Manning on Metafilter; the TransLiberationFront will swarm you.)
I was thoroughly disgusted and posted this:
I can't believe this post. Manning is a traitor and should have met a hangman's noose.
As you might imagine, it was deleted by the mods.
The liberals at Metafilter, like all American liberals, pride themselves on being tolerant and inclusive. In practice, what that means is they tolerate you if you agree with them, otherwise not. I mostly ignore hot-button political threads, but this one I couldn't let go by, even though I knew my comment wasn't going to survive.
At Metafilter, anyone who hates the US and does something that damages it is a hero. (They idolize Snowden, too.) I shouldn't let it get to me, but once in a while it's just too much.
Posted by: Steven Den Beste in linky at 06:26 PM | Comments (5) | Add Comment
Post contains 187 words, total size 1 kb.
Fairy Tail -- grumble, sigh
I was really looking forward to this week's chapter of the Fairy Tail manga, but it seems that they always skip the third week in December.
I can't exactly blame them; the mangaka is entitled to some time off. But damn it, why now? The story is kind of in a real cliff-hanger moment.
Anyway, I have some more thoughts about the One Magic: The way it's going to manifest is at a crisis moment, Lucy will walk up to Natsu, tell him she loves him, and kiss him. We'll get an image of the two of them in a clench, surrounded by flames (which won't harm Lucy) and then they'll break and we'll get the ultimate "I'm getting fired up" moment from Natsu. I think this is going to be against Zeref. It's barely possible that Levy will do the same to Gajeel at the same time, and they'll be shrouded in shadow.

It will then give Natsu and Gajeel something really important to fight for, which will make them incomparably stronger than usual. Perhaps they both achieve Dragon Force, or even something beyond that.
Posted by: Steven Den Beste in General Anime at 04:59 PM | No Comments | Add Comment
Post contains 70 words, total size 1 kb.
December 15, 2014
Winter 2015 preview
Time to look ahead to the Winter 2014 season.
Binan Koukou Chikyuu Bouei Bu Love! may be a spoof. It's a magical girl show except that all the girls are guys. They gain their powers by being given special bracelets by a magical animal, in this case a wombat. The bad guys also have a magical animal, a hedgehog. I can't imagine watching it, but it'll be interesting to hear about it from someone else. If it's not a comedy, then it's going to be a complete trainwreck. (Or a reverse harem, though there isn't any credit for a main girl.)
Miritari! might be awesome. Two of the main characters are gun girls, and the main publicity shot shows one of them with a hand grenade with the pin pulled. The characters are chibified so it obviously isn't going to be serious.
Absolute Duo: we already saw this, when it was called Seirei Tsukai no Blade Dance.
Dog Days'' is back and this time it's called "double-dash" (because of two apostrophes, and don't ask). From the description it isn't going to be what I thought it was (a grand quest to find and destroy the source of the evil swords). Instead, it's going to be episodic like the second series. Presumably Nanami is going to get a hero stone, so we'll get to see what she's going to look like as an adult.
Shinmai Maou no Testament: We already saw this, when it was called KissxSis. (Well, not exactly; it's more like KissxSis crossed with High School DxD.)
Juuou Mujin no Fafnir: We already saw this, when it was called Infinite Stratos.
IDOLM@STER: Cinderella Girls: We already saw this about a thousand times, when it was named about a thousand other things. (I do not understand the attraction of idol shows, but I guess I don't have to.)
Kantai Collection -Kan Colle-: I was wondering how the heck they were going to turn this into a show. The first thing they did was steal from Arpeggio of Blue Steel the idea of a mysterious fleet dominating the Pacific. The only hope for humanity is certain Japanese girls who have the ability to transform into fighting ships (or take on their characteristics?), which is suspiciously similar to the base conceit of Soul Eater, albeit a lot bigger and more spectacular. (Halberds are for wimps.) The girls go to a special school (which probably isn't called Shibusen) and our protagonist is the destroyer Fubuki.
Aside from Dog Days and Miritari, looks like it's gonna be another lean season for me. I'll sample some other things, of course, but I don't have high expectations. I'll certainly give KanColle a try, of course.
Posted by: Steven Den Beste in General Anime at 12:01 PM | Comments (11) | Add Comment
Post contains 452 words, total size 3 kb.
December 14, 2014
Top rotation -- planning the plundering for fall 2014
In general this season started well, with several pleasant surprises, but it's turned out to be a disappointment. It's not the fault of the Japanese, for a change; the subbing circles have let me down. (sob, poor me)
But a lot of shows which I didn't think were worth watching might well still be worth plundering, and since the season is mostly over now I thought I'd check them out.
Amagi Brilliant Park: As far as plunder is concerned, the main problem is that Our Hero is on screen too much. Lots of otherwise good images are spoiled by having a guy (ick) in them. But it's not a total loss, and as long as the Elemental Idols get some reasonable screen time, there should be at least a bit of stuff worth taking.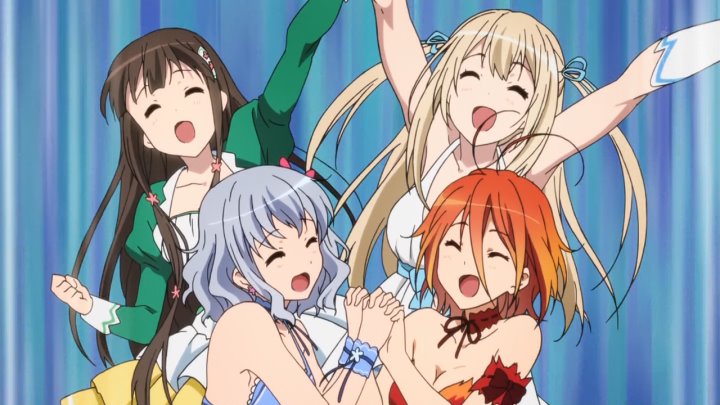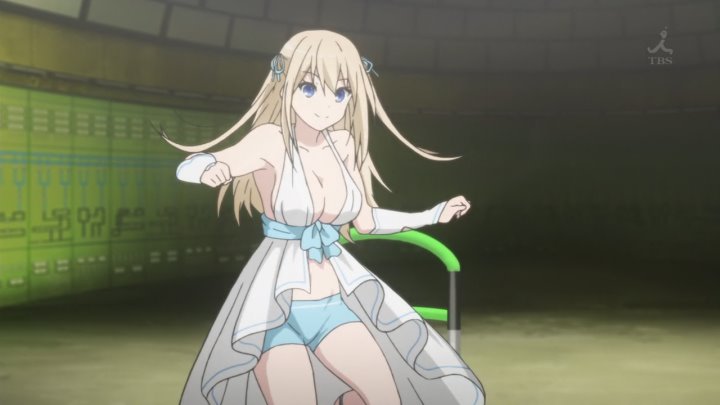 Especially Sylphy! There are some good images of Isuzu, too, but she always looks miserable and that doesn't make for good grabs. I figure it'll be low yielding but high quality.
Daitoshokan no Hitsujikai: Lots of cute girls, but Our Hero spoils most shots, and the school uniforms are not flattering. I think this one will turn out to be a total loss. (A quick scan through a few episodes didn't turn up a single image I though was worth taking even as an example.)
Girl Friend Beta: There aren't any boys who are speaking parts, and they only show up occasionally in crowd scenes. The girls are mostly nicely shaped. But the school uniforms are quite unflattering. The only outright cheesecake shot I found when I briefly scanned through the first 10 eps was the gymnast at the beginning of the first episode.
This was more typical. You can tell that they're girls, I guess. This probably will turn out to be a waste of time. I was hoping for a swimming pool PE scene, but there hasn't been one so far and the way the story is going there probably won't be.
Inou Battle wa Nichijou-kei no Naka de: Our Hero is on screen too much. (This is a common problem with harem shows.) Ep 10 was the first one I looked at, and it was a swimsuit episode. But the first half was lolis, and I despaired. However, the second half featured this girl:
So maybe. I figure it'll be low yielding but decent quality. Possibly 30 images, if that.
Madan no Ou to Vanadis: Not a problem. Elen alone is enough to make this one worthwhile, and there are several other women who make good appearance.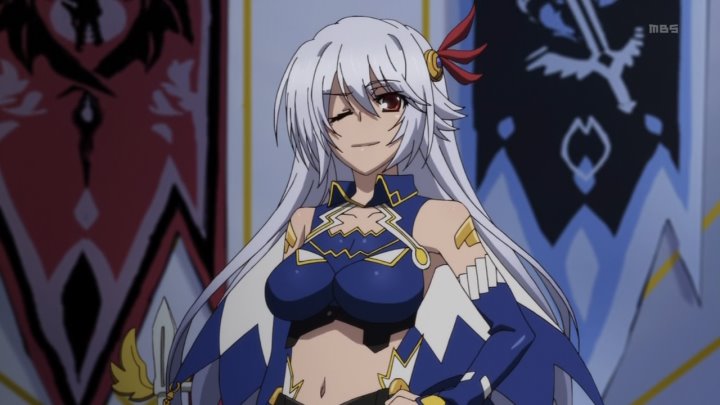 Nanatsu no Taizai: Elizabeth and Diane: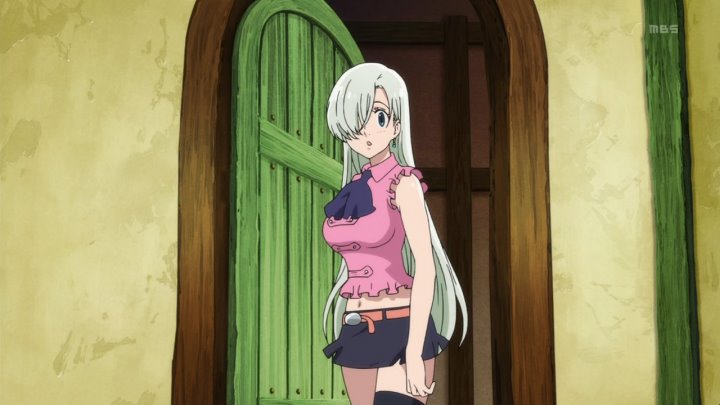 Especially Diane!
Ore, Twintails ni Narimasu: Toaru is certainly worthy of a place in the top rotation, and Yellow is good looking (even if I hate the character). As to the loli, um...
Trinity 7: Since these two girls are major characters, it's possible this will be worth plundering. It's really a question of what kinds of scenes they're in. Early on there are gratuitous ecchi scenes (which might be too ecchi for me), and later on the show gets grim and gritty.
As to other shows? I won't be doing Unlimited Blade Works. It's not the kind of show that will have the kind of images I want, and I don't feel like wading through it. (Besides, I did Carnival Phantasm.)
Denkigai no Honya-san appears to have some decent cheesecake but I think it would be too painful to dig them out. Same goes for Cross Ange. Grisaia doesn't have a lot of images I can use -- too many shots spoiled by Our Hero -- and it's a strange aspect ratio so it would be hard to trim to 600*375. (And I don't want to wade through all the blood again.)
Posted by: Steven Den Beste in Site Stuff at 05:14 PM | Comments (13) | Add Comment
Post contains 632 words, total size 4 kb.
December 13, 2014
Sitemeter is history
I'm informed that recently Sitemeter began redirecting people to advertising sites on a random basis, and that it's happened here. This was the first time I'd been told there was a problem at this site, and I myself have never seen the problem.
But I don't doubt, and I've removed both instances of the Sitemeter gizmo. If you still have problems, I'd like to hear about it.
UPDATE: I also apologize for any problems people have had.
Posted by: Steven Den Beste in Site Stuff at 04:29 PM | Comments (9) | Add Comment
Post contains 80 words, total size 1 kb.
58kb generated in CPU 0.06, elapsed 0.0659 seconds.
47 queries taking 0.0159 seconds, 137 records returned.
Powered by Minx 1.1.6c-pink.