May 11, 2013
Geese -- attrition
They lost one. I wonder what got it?
Posted by: Steven Den Beste in Daily Life at 02:56 PM | Comments (5) | Add Comment
Post contains 11 words, total size 1 kb.
May 08, 2013
Goslings
We've had a lot of ducklings around here but this is the first time I've seen goslings.
UPDATE: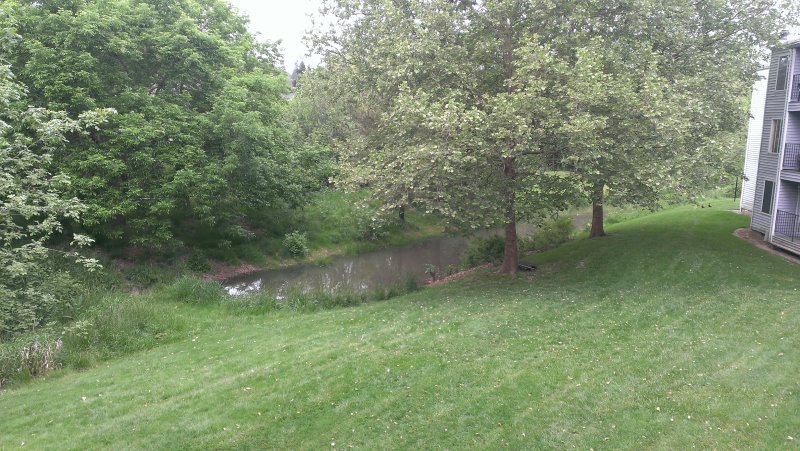 By the way, the beavers have been at work again. The water level in the creek is up at least three feet. I don't know where they've been working (though I have my suspicions) but I think the creek looks better this way, and the water fowl certainly like it more.
Posted by: Steven Den Beste in Daily Life at 12:42 PM | Comments (13) | Add Comment
Post contains 70 words, total size 1 kb.
April 29, 2013
April 16, 2013
Verizon Droid DNA update
I really like my Droid DNA from Verizon, except for one thing. If it lost signal it wouldn't reacquire it. The only reasonable way to get it back was to reboot the phone, and I had gotten into the habit of checking the phone many times per day to see if that was necessary. Sometimes I had to reboot as many as a dozen times in a single day.
That isn't supposed to be necessary. When the phone loses the cell it's supposed to try to reacquire it. There are a number of different strategies involved which balance power consumption against the obvious need to reacquire. (I know about this stuff; I used to work on that firmware.) But that stuff wasn't working.
Yesterday they rolled out a firmware update, and that bug appears to be fixed. Just now I turned the phone on, and it said it wasn't connected, and then it reconnected even as I was watching.
Since that was my only objection, I now heartily recommend the Verizon Droid DNA. It is genuinely awesome in every other way. When I was a kid, and telephones had rotary dials (touch tone was introduced when I was in 5th grade) I never thought I'd live to see something like this.
Posted by: Steven Den Beste in Daily Life at 11:18 AM | Comments (5) | Add Comment
Post contains 215 words, total size 1 kb.
April 09, 2013
OnTrac?
Ever hear of OnTrac?
Newegg is using them to deliver my most recent order. I have no idea who they are, or what they do, but they seem to be trying to set themselves up as an alternative to UPS and Fedex, and good luck to them. It ain't gonna be easy to compete in that market.
They have the same kind of online order tracking as the other two, which isn't cheap, but is appreciated. As they often do, Newegg split my order into three parts and shipped them from three different facilities. Two are coming up from California, via OnTrac, supposedly to deliver tomorrow some time.
The other one is coming from Louisville, via UPS, also delivering tomorrow. I wonder who will show up first? (That suggests to me that OnTrac doesn't have full national coverage yet.)
UPDATE:
OnTrac is the leader in regional overnight package delivery service within California, Arizona, Nevada, Oregon, Washington, Utah, Colorado and Idaho.
No mention of Kentucky there, which explains UPS doing the third one.
UPDATE: I tell you; it's gonna be hard for me to come up with stuff to blog about this season. Nothing fresh about anime until the first episode of Railgun shows up this weekend.
I suppose I could do another Fairy Tail cheesecake post.
Posted by: Steven Den Beste in Daily Life at 12:50 PM | Comments (10) | Add Comment
Post contains 217 words, total size 1 kb.
April 03, 2013
Welcome to the future!
I guess it really is the twenty-first century after all.
I just had a doctor appointment and got all my prescriptions renewed. She sent all of them to my pharmacy electronically, so we drove to the pharmacy. They had arrived but weren't filled yet, so we sat in the waiting area, until they sent a text message to my phone telling me the prescriptions were filled. Then I stood in line to pick them up.
They couldn't just wave to me, "Yoohoo! Steve! Your prescriptions are done!" They had to send me a text message. Welcome to the future, where even communications within hailing range are handled electronically.
Posted by: Steven Den Beste in Daily Life at 02:59 PM | Comments (5) | Add Comment
Post contains 112 words, total size 1 kb.
March 28, 2013
Spring, 2013
Spring is sprung, de flowers riz,
I wonder where de boidies is?
UPDATE: Could be worse. Could be Wichita.
Posted by: Steven Den Beste in Daily Life at 11:47 AM | Comments (6) | Add Comment
Post contains 21 words, total size 1 kb.
February 28, 2013
Recycling the roof?
Lots of construction sound around here this week. The owner has decided to replace the roof on several of the buildings in the complex, including mine. He hired a company to do it, and they've got a front loader with an extensible arm that they're using to lift the new roofing material up on top of the three-story building, and to bring down the old roofing material after the carpenters strip it off.
It's been getting dumped into a big steel dumpster and there's a sign on the side that says they're going to recycle it. I can't figure out how. What in heck do you use old roofing for? How do you recycle it? What does it become?
UPDATE: They're working directly over me now, and every once in a while a piece of debris falls past my window. It's kind of weird. Feels like a Monty Python sketch, except that no person has gone by yet (thank goodness).
I don't expect that; these guys are wearing safety lines, and anyway they're being careful.
One thing I'm not going to do is go out on my deck, stick my head out, and look up.
Posted by: Steven Den Beste in Daily Life at 09:36 AM | Comments (2) | Add Comment
Post contains 198 words, total size 1 kb.
February 23, 2013
Freeloaders
Did somebody order some geese?
It's annoying having them around, partly because they're so loud. When a flock like this decides to visit, they're constantly honking and hooting. And they leave a lot of shit around.
But at least they don't tend to do that in just one place. It tends to be evenly distributed all over the place, and it acts like fertilizer resulting in nice green lawn in the summer. So I can't complain too much.
Posted by: Steven Den Beste in Daily Life at 11:11 AM | Comments (3) | Add Comment
Post contains 79 words, total size 1 kb.
February 18, 2013
A mind of its own
My Verizon Droid DNA keeps surprising me. One morning about a month ago I got wakened by sound announcing the arrival of an Amber Alert.
And just now my phone startled me with a different audio alert. I looked at its screen, and it turns out that Verizon just rolled out a firmware update. Took about ten minutes to download and install, but I admit I was nervous. If something had gone wrong, it would become a brick.
I keep it near me nearly all the time. It's in my pocket during the day and it sits on my bed next to my pillow at night. It's there just in case I have another stroke, or if I'm walking around and lose my balance and fall, so that I have a way of summoning help. And it does lend me a bit of comfort because of that, but if it got bricked it wouldn't be there for me any more.
I am mostly pretty happy with it, but I do have one significant complaint: if it loses service it never spontaneously reconnects. I have to reboot it. I hope that was fixed with this firmware update.
My experience, oddly, is that I have that problem on Friday afternoons nearly every week, and only rarely any other time. I live about a quarter of a mile from a major highway (Oregon 217) and I imagine it's the result of "cell breathing".
UPDATE: That Wikipedia article about cell breathing makes it sound like something that's done deliberately. That's not the case. It is, rather, an emergent result of the way that CDMA handles power control. Ideally if you lose connection because your cell shrunk, you're supposed to do an idle handoff to a neighboring cell, but I think that isn't working for me.
Posted by: Steven Den Beste in Daily Life at 09:43 PM | No Comments | Add Comment
Post contains 306 words, total size 2 kb.
48kb generated in 0.1373 seconds; 59 queries returned 157 records.
Powered by Minx 1.1.4-pink.