November 11, 2015
Anniversary
For whatever it's worth, today is the third anniversary of my stroke.
It could have been worse. If the chunk of whatever had zigged instead of zagged, it might have killed me, or rendered me an idiot. (More of an idiot than I already am.)
Instead it left me partially paralyzed on my left side but had no direct effect on my mind. Rehab got most of that back, so, like I said it could have been worse.
Posted by: Steven Den Beste in Daily Life at 05:46 PM | Comments (9) | Add Comment
Post contains 79 words, total size 1 kb.
October 31, 2015
Happy Halloween!
I stocked up on candy again this year, but I don't know why I bothered. I have never gotten more than one group of kids any previous year, and last year I didn't get any. The weather forecast is "heavy rain" today and tonight, and I bet I don't get anyone this time, either.
UPDATE: 2PM and it is pouring out. I'm sure I won't get anyone.
Posted by: Steven Den Beste in Daily Life at 01:30 AM | Comments (8) | Add Comment
Post contains 69 words, total size 1 kb.
October 30, 2015
Tokyotosho status
The primary server for Tokyotosho.info is in Ukraine and it's down. But the site status hasn't been updated to tell us why.
(It's kind of painful, because it is my usual way of finding new torrents. So I'm using Nyaatorrents directly.)
Posted by: Steven Den Beste in Daily Life at 05:45 PM | Comments (4) | Add Comment
Post contains 43 words, total size 1 kb.
October 23, 2015
Nice weather for ducks!
Hurricane Patricia is cat-5 and just made landfall in Mexico. And the long range computer models have it heading right for Duckburg Duckford. Usually they hook to the east, but this one is predicted (as much as one can predict weather a couple of weeks ahead, which ain't much) to go pretty straight.
Apparently God wants to punish the Cub fans. (Even more than they've already been punished.)
Texas will get pasted, too. (I'm not sure what they've done recently to deserve it, though.)
UPDATE: I just realized: it's going to dump lots and lots and lots of water into the Mississippi, directly or indirectly. I wonder whether New Orleans is going to survive it?
UPDATE: Wonderduck just reminded me that this weekend was supposed to be the US Grand Prix, in Austin. It's already doing cats and dogs and ducks in Austin, and a couple of the practice sessions were cancelled as a result -- and it's only going to get worse. If the storm proceeds as it has been, it'll be over Texas on Sunday and there will be torrential rains all day.
Posted by: Steven Den Beste in Daily Life at 04:49 PM | Comments (5) | Add Comment
Post contains 189 words, total size 1 kb.
October 02, 2015
Beavers -- Taking it to the next level
I was looking out the window just now, and saw that the assistant handyman was out at the creek trying to disassemble the latest creation by our rodent engineers.
Suddenly he started batting at himself and ran away. It looks like he found a hornet nest.
Apparently the beavers are tired of having their work destroyed, and set guards this time. Armed guards! Angry armed guards!!
Posted by: Steven Den Beste in Daily Life at 07:55 AM | Comments (3) | Add Comment
Post contains 74 words, total size 1 kb.
September 19, 2015
Phone update
Shiver, fear. I bought my phone in December of 2012. That was just after I got home from the rehab after my stroke. I didn't have any use for a cellphone before that, but it's a good solution for the "I've fallen and I can't get up" problem.
Those ads back in the day may have come across as funny to the fully-abled, but it's a scary possibility for someone who is crippled. It hasn't ever happened to me; I'm proud to say that even with all the difficulty I have now moving around I haven't lost my balance and fallen even once. But it's been a comfort to carry this phone around just in case.
Well, my 2 year contract with Verizon ended last December, and they've started sending me messages telling me that I'm now entitled (was that the word they used?) to buy a new phone from them, and just incidentally sign another 2 year contract but they didn't say that part.
I'm not interested. This phone (an HTC Droid DNA, which is Verizon's custom version of the HTC Butterfly) works just fine for me.
Verizon hasn't sold this phone for quite a while. But it's a pleasant surprise that they're still supporting it. Today I got a message telling me there was a firmware update available.
Those are always scary. Windows Update killed my ACER NAS a few months ago, for instance. It hung in the middle of updating, and now it won't boot.
So just before beginning to type this post, I nervously let the phone start updating. It just finished and doesn't seem to have become a brick, so whew!
UPDATE: Looks like it was a security update. I do remember reading recently about a couple of new pretty-bad security holes in Android, and that's probably what this is about.
It's not a huge surprise that they're rolling it out gradually, because a lot of people have to download OTA. If a huge number of people did that at once, it could overload their network.
I had to. I used to be able to use Wifi with my phone. My Fire HD still works with my wifi, but one day suddenly my phone couldn't connect to it. It's not like anything changed in my hub or anything, it just stopped working.
I've never figured out why. Partly that's because it isn't a big deal; I don't use my phone to browse the web. But all the previous updates came to me across wifi; this one came across Verizon's network. Presumably they won't charge me for the data, but it wouldn't matter even if they did since I don't use Verizon data for anything else.
Posted by: Steven Den Beste in Daily Life at 03:09 PM | Comments (1) | Add Comment
Post contains 452 words, total size 3 kb.
September 01, 2015
Oregon weather
A few weeks back someone here asked me what weather would be like in September, and I said something to the effect that it would be clear and dry but not as hot as August.
Bite my tongue. A week or so ago someone flipped a switch and we went from hot/dry/blue-sky to overcast and threatening rain. It's been like that ever since and the long range forecast is for it to stay that way. So my apologies for leading you astray, and bring a raincoat!
Posted by: Steven Den Beste in Daily Life at 03:41 PM | Comments (1) | Add Comment
Post contains 88 words, total size 1 kb.
August 22, 2015
Where there's smoke...
I've been smelling wood smoke all day, and I was beginning to wonder if Beaverton was burning down. Actually it's smoke from the Cougar Creek Fire, which was started by lightning on August 10 and has been burning ever since on the east face of Mount Adams.
The problem with fighting it is that it's really a long way away from anything, in the middle of the Gifford Pinchot National Forest. It's pretty much equidistant from Portland, Tacoma, and Yakima. And current weather isn't helping: hot, dry, and gusty. Plus it's burning through a big area of standing-dead Lodgepole Pine killed by bugs to its north, which is nearly ideal firewood, dry and full of resin, and pine needles all over the ground. So the current estimate for containment is October 1. (!!)
They may not be seriously trying to stop it in the north, both because it's particularly dangerous there, and because in the long run getting rid of all those dead trees will be a blessing by opening up the land.
But it sure does smell scary here right now.
Posted by: Steven Den Beste in Daily Life at 01:55 PM | Comments (4) | Add Comment
Post contains 185 words, total size 1 kb.
August 18, 2015
Ice day!!!!!
The forecast for today is 98F (moan) both today and tomorrow. So I've put in orders for ice both days. Today's delivery should show up in the next two hours, and let's hope they didn't run out.
Last summer I didn't have a single ice day. This year I think this is about ten of them, which is unusually high. I doubt we'll have any more, though.
Hey, Weather Bureau! We could use some rain. How about it, eh?
Posted by: Steven Den Beste in Daily Life at 10:37 AM | Comments (16) | Add Comment
Post contains 81 words, total size 1 kb.
July 29, 2015
Sizzle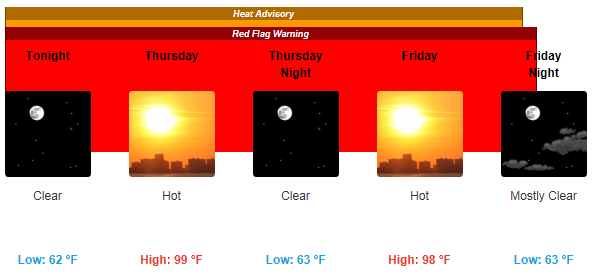 Oh, the next two days are not going to be fun!
UPDATE: By the way, "red flag" means conditions will be excellent for wild fires. Not really a concern here, but definitely a concern elsewhere in the region.
UPDATE: I just put in an order for groceries to be delivered tomorrow, including 80 pounds of ice.
Posted by: Steven Den Beste in Daily Life at 07:41 PM | Comments (14) | Add Comment
Post contains 57 words, total size 1 kb.
59kb generated in CPU 0.06, elapsed 0.0757 seconds.
48 queries taking 0.0397 seconds, 142 records returned.
Powered by Minx 1.1.6c-pink.