July 01, 2013
Mystery Meat: Aiura
Today's Mystery Meat is Aiura. It has the reputation of "Thighs! Thighs!" and I did see that even starting with the first episode.
The art looks like JC Staff, especially the backgrounds, but they weren't involved in it.
It's another micro-anime. Episodes are one minute of OP, 2 minutes of material, 30 seconds of ED, and another 30 seconds of material for a total of 4 minutes. But it doesn't seem as if it's trying to be a breakneck comedy so much as a nice place to visit, and the pace is very comfortable, even a bit languid.
But it doesn't really work. The storytelling pace is about right for a normal 24 minute episode, and just about the time that things are getting moving, all of sudden there's the ED right in the way, and we're out of time.
And, well, I didn't get into it. After four episodes I was bored and had no urge to watch any more.
Posted by: Steven Den Beste in Mystery Meat at 01:28 PM | Comments (6) | Add Comment
Post contains 164 words, total size 1 kb.
June 30, 2013
Mystery Meat: Teekyu
Today's Mystery Meat is "Teekyu". It's a micro-anime: twelve episodes of only 2 minutes each. The OP is 30 seconds, so each episode is 90 seconds of concentrated merriment. (It says here...)
It feels cramped, for want of a better term. Once the OP is done, the dialogue begins, and it never stops until the end. Everyone talks fast and there are no pauses between characters. It's like the whole cast was overdosed on caffeine the whole time.
The animation isn't very good. There isn't actually all that much animation; it's mostly stills.
And the character designs are very basic, both in terms of how they look and how they act.
Was it funny? I didn't find it so. A lot happened but I don't remember even grinning once about any of it. Even with only two minute episodes I found myself bored and stopped after the fourth.
Posted by: Steven Den Beste in Mystery Meat at 09:44 AM | Comments (2) | Add Comment
Post contains 151 words, total size 1 kb.
March 06, 2013
Mystery Meat -- Kagaku no Yatsura OVA
So I have no idea what the hell this is. ANN says its an inclusion with the latest volume of a manga, so let's take a look and...
HOLY SHIT LOOK AT THE SIZE OF THOSE THINGS!!! HOW CAN SHE EVEN WALK???
er, sorry...
The first girl we see is a classic pettanko.
It's barely possible she's a cyborg. Her right hand may be replaceable, or that may have been a sight gag.
And then it gets gross. NSFW below the fold.
more...
Posted by: Steven Den Beste in Mystery Meat at 08:01 PM | Comments (8) | Add Comment
Post contains 182 words, total size 1 kb.
February 23, 2013
Mystery Meat: Higurashi no Naku Koro ni Kira
I admit; I downloaded this in search of cheesecake for the top rotation. May I present, for your viewing pleasure, Magical Bijin Rika-chan?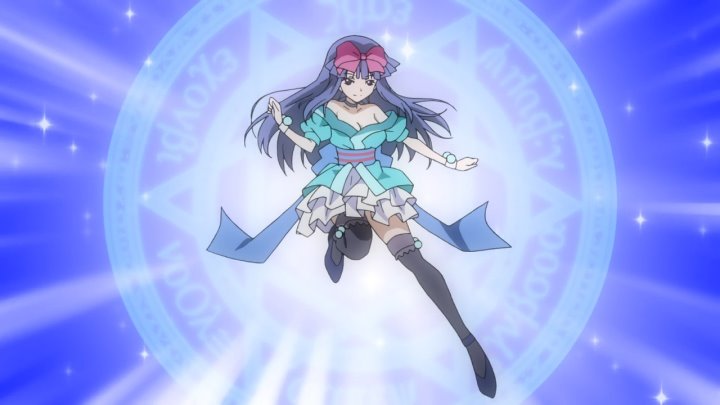 And, to make a complete set, Magical Loli Rika-chan: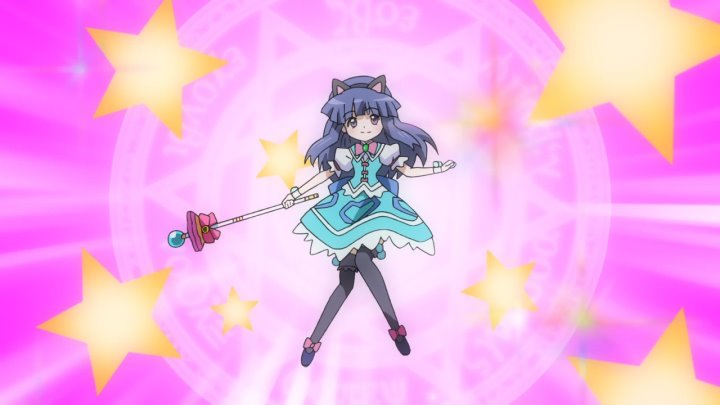 I hoped that this would be like Nurse-witch Komugi compared to Soultaker. Soultaker is a horror title, but Komugi leaves all the horror behind and is basically a fan service romp.
Well, this left all the horror of Higurashi behind, and found all new horror instead. And didn't manage to find any fan service to speak of.
It's four episodes, each one standing alone. Those pictures are from the second one, in which Rika and Satoshi end up in a parallel universe where Rika is a magical girl who defends against a group of four adults who are evil magicians. Once Rika finds out what's going on, this is her reaction: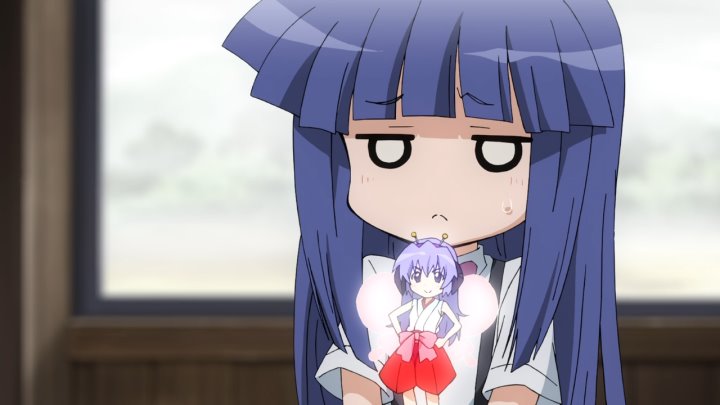 The fairy is Hanyuu, and this isn't the strangest thing in the episode.
Episode 1 was Keiichi, going through a series of nightmares, each of which ends with him waking -- into the next nightmare. The third one was about a pair of twins where one twin was trying to set up the other twin with Keiichi. And the fourth episode is about a (even younger) Rika coming in from an alternate timeline, and meeting the current Rika. All of them are extremely spooky, even the first one, which was supposed to be funny.
It's a strange experience. It would probably have been a stranger experience if I had watched the main show, but I remain convinced that it isn't the kind of show I'd like.
And, it didn't yield enough interesting shots to be worth incorporating into the top rotation.
Posted by: Steven Den Beste in Mystery Meat at 09:05 PM | Comments (5) | Add Comment
Post contains 292 words, total size 2 kb.
October 11, 2012
Mystery Meat -- Baby Princess 3D paradise 0 (Love)
I once coined the term "5-bladed razor" to describe shows which include ridiculous amounts of some particular thing, just to outdo anyone that came before. In the "hordes of sisters" category, I thought we had reached the limit with the show Sister Princess. In that one, our hero finds out that he has 12 younger sisters. His father seems to have been a tomcat, and had thirteen kids by thirteen different women.
Well, I just learned that there's a show that tops it. Baby Princess 3D Paradise 0 [Love] is a one-ep OVA, and it's today's Mystery Meat. (Pardon a momentary digression. That's what ANN says it's named, and that is what was used on the file. But the title page in the actual show says "2D", not "3D".)
Our hero is a senior in high school named Youtarou. He has recently joined his mother's family. He is one of her nineteen children, all the rest of whom are girls. That's right, he's got fully eighteen sisters, ranging from age 19 to a newborn. So this show leaves Sister Princess in the dust.
Little of this is explained in the show. Maybe it's explained in more depth on the studio's page for the show, but I can't read it.
I can't figure out where he fits in it all. The ANN page claims he's a high school senior, and that's the kind of clothes he wears, but there isn't room in there for that. The oldest girl is a college freshman and she refers to him as her otouto, so he's younger than her. But #2 is a high school senior, #3 is a junior, #4 is a sophomore, #5 is ninth grade, and we've got every other grade below that, all the way down to the newborn. Nor is there any indication that one of them is his twin. So where does he fit? Is he really offspring of that woman?
Having just slaughtered a few more catgirls, I admit it's silly to talk about those kinds of things when dealing with a show like this. They aren't paying any attention to whether it makes sense, and neither should we. But it has to be said that Mom is setting records for fertility, at least in anime. I don't know of any anime mother who has had 19 kids, all of whom survived, and none of which are multiple births. How many fathers are involved in all of this? No idea. But while she was creating all this life, she also had a career as CEO of a talent agency. Which is mind boggling. And there doesn't seem to be any man living in that house besides Youtarou.
I think the most amazing thing about this show is how many of the cast members I recognize. Kana Hanazawa, Haruka Tomatsu, Rina Satou, Aoi Yuuki, Mariya Ise -- this is not a B-list cast.
So how does it play? The word I wanted to use is "nauseating". Least that's what I thought before I started watching it. But that turned out not to be right. We'll get back to this at the end.
The first five minutes consists of introductions. Our Hero comes home from school and all the others are there and we get to see them all. Each one has her own intro placque that gets displayed, and I'm gonna put them all below the fold. (They weren't in order but I've sorted them.
And since a lot of the other shots I'm going to include are NSFW, everything else is below the fold, too. (I won't be using NSFW tags, so be warned.)
more...
Posted by: Steven Den Beste in Mystery Meat at 08:52 PM | Comments (8) | Add Comment
Post contains 1555 words, total size 10 kb.
September 01, 2012
Mystery Meat: Moe Can Change
Today's Mystery Meat is "Moe Can Change". It's a single episode OVA, so it could be anything at all.
At the beginning we learn that there's a new app for smartphones called "Moe Can Change". It allows the user to transform their clothing instantly. The company behind it is auditioning cute girls to be spokesmodels.
Our two main characters are Kiyan and Anna. Kiyan is a genki girl with red twintails and big boobs. Anna is taciturn and dark but not totally sour. Anna has a (younger?) sister named Kanna and one of the running jokes in the show is that Kanna wants to be included with the other two, but they either ignore her or do cruel things to her.
Kiyan and Anna have auditioned for the job, and are hanging out in a game store afterwards. They are stalked by a woman in a white lab coat and her assistant, a smaller girl with long black hair. The woman is Professor Lamb, aka "Hakase", and she's the one who came up with the technology. She gets the little one (who, it turns out, is an android) to give a smart phone to Kiyan, who is an airhead and doesn't ask any questions.
So... Kiyan and Anna end up in a park. Kiyan finds the app on the smartphone, and starts changing Anna's clothes. Anna eventually gets mad about it, so Kiyan changes her own. Kanna shows up and wants to play, and Kiyan puts her in an animal costume.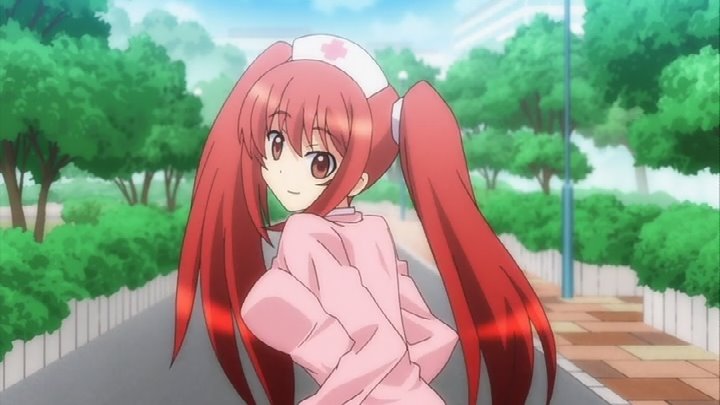 Seems that more changes than just the clothes. Kiyan had put Anna into a witch's costume, and Anna ends up making an energy attack. (Looks like a Genki Dama...)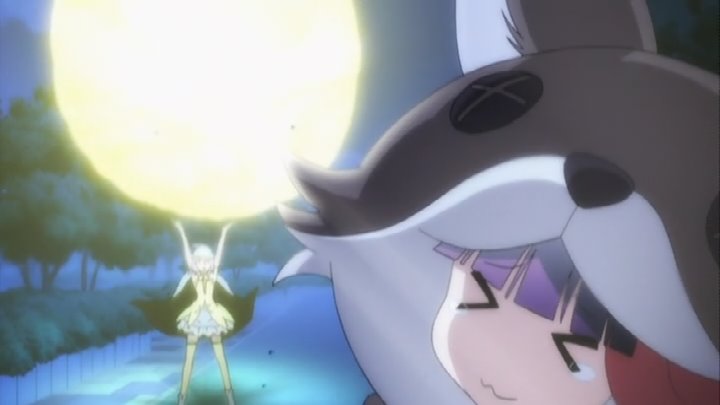 Um... and then Kiyan and Anna go to a desert shop. While they're there, all the girls in the shop start changing. Back in the kitchen, we find that Hakase is trying out another invention. The toppings on all the cakes cause the same kind of costume change as the smartphone app.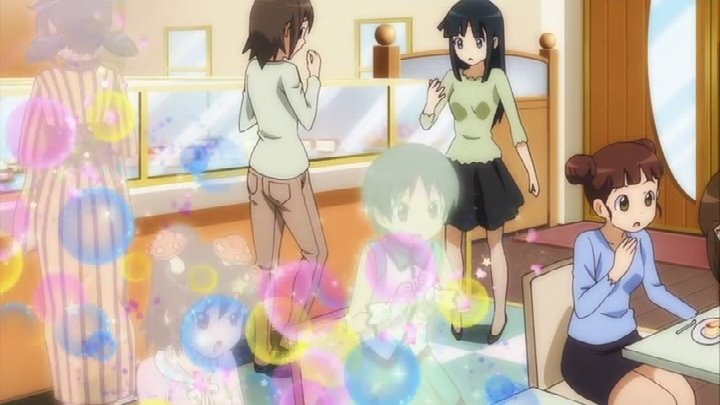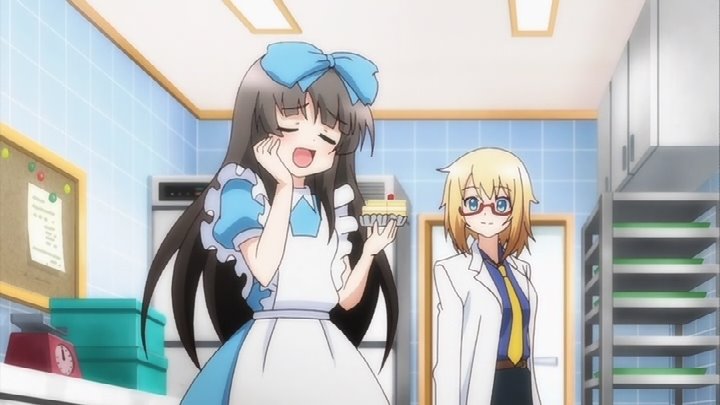 Eventually Hakase identifies herself to Kiyan and Anna, and takes them to her lab. And it turns out that all of this was a final test in the selection process. Our final scene is Kiyan and Anna being introduced to the press.
It's really very strange, and more than a bit frothy. And after I got done I wondered why in hell it even got made. So I did some searching.
"Moe Can Change" is a game for smartphones. It's kind of like "Princess Maker". You get (in virtual terms) an android daughter, and you can alter her clothing at will, and over the course of weeks (or longer) you're supposed to raise her. Or something like that. The game is free, but I assume there are wonderful extras you can buy which will make the game better; that's the usual trick these days. This OVA seems to be a publicity stunt for the game.
Recommended? Actually, yeah. There are worse ways to spend 20 minutes. But if someone tried to turn this into a series, I think I'd run screaming.
Posted by: Steven Den Beste in Mystery Meat at 07:22 AM | No Comments | Add Comment
Post contains 518 words, total size 3 kb.
August 08, 2012
Mystery Meat: Fairy Musketeer Akazukin -- eps 1-2
I was a little surprised to see that this dates to 2005. It feels older, somehow. Or maybe it's making me feel old, because it's a kid's show. However it isn't really dumbed down the way so many kid's shows are, and I'm pretty impressed.
The main character is a boy named Souta, who is in grade school. He seems to live alone (and we don't ask questions like that) and his neighbor and childhood friend is a girl named Ringo, whose voice is Rie Kugimiya. She isn't tsundere, quite, but she tends to get irate. She also brings Souta food, and helps him with his laundry, and generally looks for any excuse to visit him and spend time with him.
Souta is unusual. He talks to flowers, and when he does they become healthy and more beautiful. This is apparently something he's always been able to do, and others know about it. In the first episode someone brings him a flower that's sick, and he revives it.
Souta seems to be an orphan, though that's not totally certain. His mother told him a fairy tale once. There was a magical world, in which a boy appeared who could master science as well. The king heard about him and sent him on many increasingly difficult quests, and he won them all. But he also became arrogant and lazy. The king turned out to be Kami-sama and he decided that science and magic shouldn't mix. So he divided the hero into two, one with magic and one with science, and sent them to opposite worlds, one of which has magic and the other has science.
Obviously we're in the science world. But there's a wicked witch (rather young and pretty) who has just broken free of a great seal which held her. And she seeks someone who has a "key", which evidently could reunite the worlds.
Souta is the one, apparently. And there's a bad guy named Hansel who seeks him, too. In the first episode, Hansel sends a couple of minions, "nightmarians", to capture him. And when things are looking grim, a girl shows up along with her companion, a blue-furred wolf. They defeat the nighmarians easily.
Her name is Akazukin, which turns out to be the Japanese name for "Little Red Riding Hood". She has the same voice as Takamachi Nanoha. She is one of the three fairy musketeers, who was sent by the king of Fandavale (the magic world) to Elde (our world) to protect him. In the second episode Ringo finds out about all this, and then they're attacked again. These guys are tougher and Akazukin and Val are having a tough time fighting them off. And suddenly it starts to snow.
The second musketeer is Shirayukihime, aka "Snow White". Her power is related to snow and ice. Akazukin, Val, and Shirayukihime are all going to move into Souta's house to stay with him, so they can protect him. And presumably the third and last musketeer, is going to show up. From some googling I find that her name is Ibara "Sleeping Beauty".
Both Akazukin and Shirayukihime activate their powers by using magical cell phones by putting in magical SIM cards. That's how Akazukin summons her short swords, for instance. And that's what we get instead of henshin decks.
It apparently was an OVA first, which was short and dark and mainly featured Akazukin. The TV series is supposedly a lot lighter, and it's 39 episodes long.
It's the TV series I just looked at, and it's really quite charming. At the core it's yet another magical-girlfriend show, but there's a nice feel to it. But I'm not sure there's really 39 episodes worth of story here. I may watch more of it, but it won't be too much of a surprise if I never finish it.
Posted by: Steven Den Beste in Mystery Meat at 11:12 AM | Comments (11) | Add Comment
Post contains 648 words, total size 4 kb.
October 12, 2011
Space Battleship Yamato
Today's Mystery Meat is Space Battleship Yamato, the 2010 live-action movie based on the classic show which in the US was known as "Star Blazers".
It is fantastic. There are times when the dialogue and character interaction gets a bit cheesy, but that's OK; they're doing what the original did.
The acting is decent. It's the CG and sound effects where the movie really shines, but I have to say that the story is really quite good, cheesy dialogue notwithstanding. It certainly kept me involved, right up to the ending -- which was fantastic. It really was the only way the story could have ended.
Here's what Yamato looks like: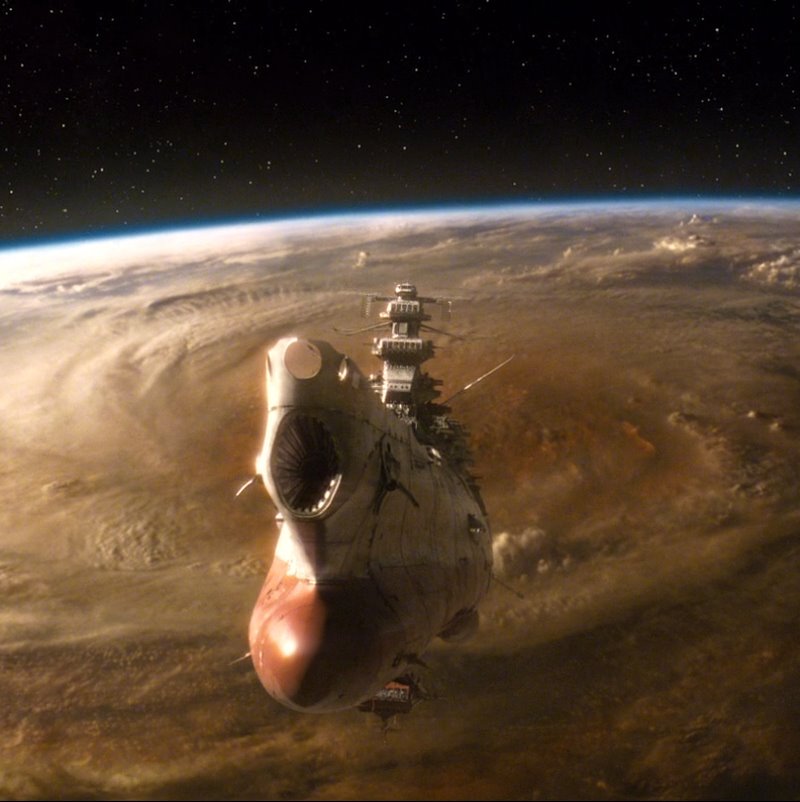 That's the center of the real frame grab. This movie is 1920*802, 2.39:1 aspect ratio. Here's the whole thing, shrunk down:
And... they sure do make some of 'em pretty, don't they? This is the female lead: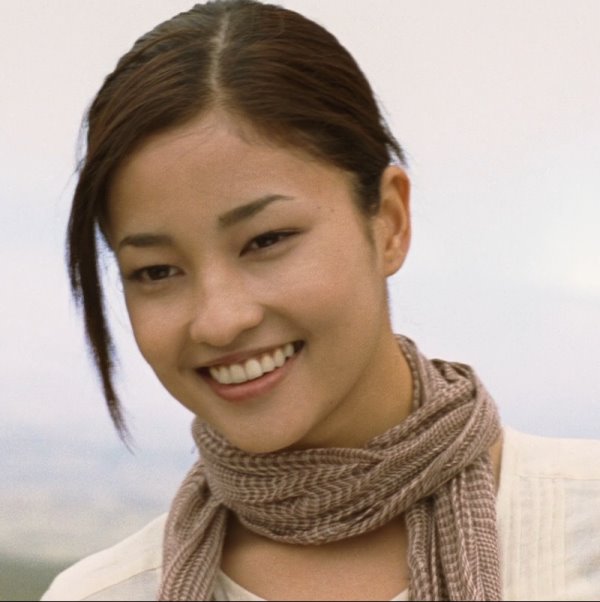 Definitely recommended!
Posted by: Steven Den Beste in Mystery Meat at 06:31 PM | Comments (5) | Add Comment
Post contains 152 words, total size 1 kb.
August 29, 2011
Mystery Meat -- Little Nemo in Slumberland
Winsor McKay was one of the standout comic artists in the early 20th century, with his weekly comic "Little Nemo in Slumberland". Each week he turned out a full page, and the drawings were lush and complicated. It ran from 1905 to 1914 in its original run.
Originally it was about the dreams of a boy named Nemo, who visited a place called Slumberland every night. And "surreal" doesn't begin to do it justice.
McKay was also a pioneer of drawn animation. He created a character called "Gertie the Dinosaur" and wowed audiences by standing on the stage in front of the movie screen and seemingly interacting with Gertie in real time. And McKay himself did a short animation of Little Nemo in 1911. (They animated about 2 minutes, and fleshed it out to a 10 minute feature with other material. The animation starts at 7:30.)
So it's appropriate that Little Nemo should end up an animated movie. The only concern, really, is, "Did they butcher it? Did they do it right?"
This was a big budget movie created in 1989 by a combined team from Japan and the US, and a bit of France.
My first reaction was astonishment, just from reading the credits. The story was written by Moebius. Chris Columbus helped with the script. (You may remember him as the guy who directed the first two Harry Potter movies.) And the "Concept for screen" credit goes to Ray Bradbury. The music was performed by the London Symphony. ANN says it cost ¥3.3 billion.
It's interesting how I keep recognizing names. Another I spotted was Brian Froud, who worked on "Labyrinth" with Jim Henson. Well, I have to look at something. The credits run almost three minutes and consist only of white text on a colored background. ...snore...
So is it true to McKay? Sadly, not really. The character designs owe more to emulation of Chuck Jones and Walt Disney than to McKay, and the Nemo character doesn't really act much like I recall the original acting. (You can see the original characters at the Wikipedia article.)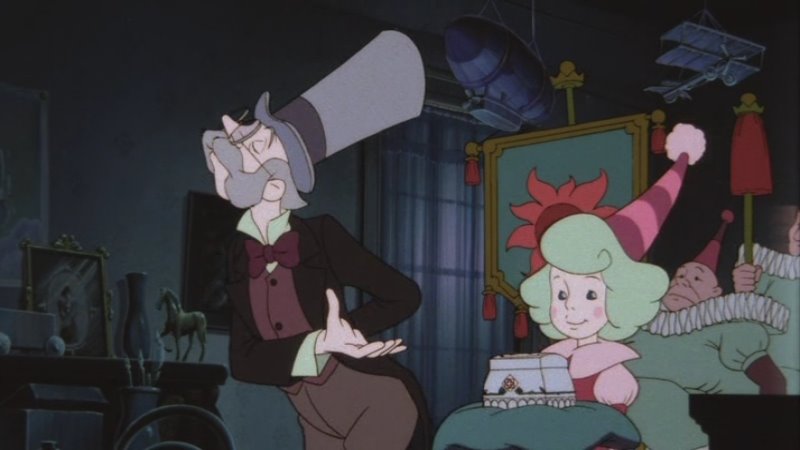 I suppose it was necessary to make some concessions to the different medium, but it's still a shame. Did they really need to give Nemo a cute animal sidekick? A flying squirrel named Icarus. There was never anything like that in the original.
And half an hour into it, I find myself wanting to start skipping. This is a real disappointment.
There's a brillliant sequence at the very beginning, pretty much a dream that turns into a nightmare, at the beginning. The rest of it? It's like someone read a third-party description of McKay's work and decided to do something a bit like it.
Dreams have a logic all their own. Things change in a dream; what you look at may have morphed from a moment before when you looked at it. McKay handled that beautifully in the original comic, but at least so far they've chucked that aspect of it entirely. That was the core of the story!
And Flip, from what we've seen of him, is an entirely different character. Where's the "Wake Up!" sign?
And then we get to the princess. And she's completely unrecognizable. They discarded the original character completely and started from scratch.
I stepped through the rest of it, and it was quite pedestrian. It wasn't "Little Nemo in Slumberland". The part that runs from 03:00 to 07:30 is brilliant. The rest is a complete waste of time. Not recommended.
Posted by: Steven Den Beste in Mystery Meat at 06:10 PM | Comments (8) | Add Comment
Post contains 592 words, total size 4 kb.
August 11, 2011
Mystery Meat -- Oblivion Island, Haruka and the magic mirror
4 minutes into Hottarake no Shima, and I got tears in my eyes. And there were I think three other scenes which did that to me.
This is a really good movie. Visually it is very imaginative. The eponymous "Oblivion Island" is very strange, very complex, very interesting. It's even rather terrifying some of the time.
At the 15-word-to-describe-it level, it's the same overall plotline as Spirited Away, in the sense that Haruka (the protagonist) goes through a life changing experience in a magical place and is a better person afterwards.
But as soon as you use 50 words, the movies bear very little resemblance.
Early on, they used a fair amount of shortcuts, with rendered characters composited into painted scenes in a few places. And I began to wonder about their budget. But as soon as we reached the "other side", it all got much better, and as the movie went on it only improved.
Now nobody would mistake this for a Pixar movie, especially in the character models. If I understood the credits, they used AutoDesk as the modeler and renderer, and that's maybe two generations back from what Pixar uses. So, for instance, Haruka's hair is painted onto a solid shape, with an alpha mask also painted on it. Poser had that 10 years ago.
They did a lot better for the scenery and the residents of the island, and in fact that worked. It made Haruka look a little bit out of place, which was good because she was out of place. Here's a 1080p grab showing her and... well... you'll find out for yourself who the other person is. Here's a scene after she's left the world we know. It's very definitely a "We're not in Kansas anymore" moment.
So, what's it about? Remember the itty bitty shrine that the sisters used for shelter in the rain, in Totoro? There were statues in it. That shrine was to Inari, the goddess of harvest. By tradition, she is served by foxes, and that's what the statues were. According to one legend, the foxes take objects which we have forgotten, take them away to a place where they will never be seen again.
That's the island. Haruka lost something, something she promised she would never forget. And she wants it back. That's what the movie is about, but I don't really want to say any more for fear of spoilers.
It's really good. And it fully justifies being seen in 1080p. Unlike a lot of anime we get, it isn't upscaled from 720p (or even from 480p). It was a theatrical release, and they rendered at full theater resolution. So it's sharp and gorgeous in 1080p.
Definitely recommended.
Posted by: Steven Den Beste in Mystery Meat at 08:03 PM | Comments (14) | Add Comment
Post contains 461 words, total size 3 kb.
76kb generated in CPU 0.1, elapsed 0.1111 seconds.
47 queries taking 0.0453 seconds, 144 records returned.
Powered by Minx 1.1.6c-pink.