May 22, 2013
A terrible attack
This is a horrible thing. Obviously it was intended to be horrible. (UPDATE: Two black guys in the UK captured a British soldier and beheaded him in public, then waited around for the police to show up, exchanged fire with them, and both were hit. Of course, they were yelling "Allahu Akbar". No word on whether either of them died.)
When I was reading it, there were two sentences that stood out for me and hit me in the head:
1: "They took 20 minutes to arrive, the police – the armed response."
2: "There were people passing by who were screaming and running away."
This was in the UK somewhere. What struck me when I read those things was, Here in Cowboy USA that's not what would have happened. At least some people who observed the situation would have gotten involved. If there had been someone with a concealed-carry they'd have stopped it.
And a 20-minute police response time to something like this is totally scandalous. If you disarm your citizenry, you should protect them better than that.
This is the result of draconian gun control. The bad guys have guns, the civilians are helpless, and when seconds count the police are about half an hour away.
Tell me again why, exactly, the British approach to this is better than ours?
UPDATE: "2 UK govt officials: London attack appears to be motivated by radical Islam"
No kidding! I wonder how they figured that out?
Posted by: Steven Den Beste in Weird World at 10:13 AM | Comments (6) | Add Comment
Post contains 248 words, total size 2 kb.
May 14, 2013
See no Evil
Sorry, I haven't had a lot to say recently. But today I got motivated to write about politics. I sent it to Gabriel Malor to post on Ace of Spades, but I'm feeling guilty about neglecting you all, so I thought I'd post it here, too.
UPDATE: It's been posted.
more...
Posted by: Steven Den Beste in Weird World at 01:53 PM | No Comments | Add Comment
Post contains 906 words, total size 5 kb.
May 09, 2013
Bing News: it swings, and it misses
After Google News larded up its page with a "local news" column that it didn't permit me to turn off, I switched over to Bing News. It has an undeleteable column, too, but it isn't as obnoxious. The Bing News column is labelled "You might also like" (a phrase I really despise, but anyway) and just now it had this in it: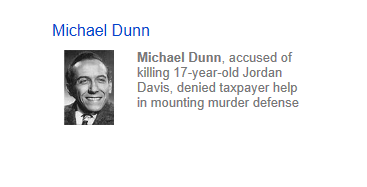 The picture caught my eye, because that's Michael Dunn. I have fond memories of him playing Dr. Loveless in the TV show "Wild Wild West" where he was a guest something like 10 times. Michael Dunn was a very intelligent man, and a fine actor. He had an amazing, totally unique voice. Smooth as silk; I could listen to him speak (or sing) all day.
Michael Dunn was also less than 4 feet tall. He died in 1973 at age 38 due to consequences of his dwarfism. I don't think he's the "Michael Dunn" who is having legal troubles right now.
Posted by: Steven Den Beste in Weird World at 06:49 AM | Comments (5) | Add Comment
Post contains 170 words, total size 1 kb.
May 04, 2013
May 03, 2013
A punchline missed
Today's "Real Life" has this punchline:
So, minor drawback. Amazon doesn't seem to sell "Boobs".
Sez you. I just did a search there for "boobs" and got 8736 results, including this one: NSFW
Man, don't they have fact checkers over there at Real Life? (heh)
(I wonder how many people did what I did?)
Posted by: Steven Den Beste in Weird World at 03:14 PM | Comments (1) | Add Comment
Post contains 57 words, total size 1 kb.
World's first entirely-3D-printed plastic gun
They've been warning it was coming, and now it's out.
It's pretty crude looking, but they had to make it that bulky so that the plastic could hold the stress of the powder charge exploding. Also, I think it's single-shot; you have to manually load a bullet each time.
The only metal part is a standard nail being used as a firing pin. (They also included a large metal part in order to comply with federal law, but I bet most people who fabricate the design won't include that.)
This first design is crude, but it won't be the last, and it makes a mockery of background checks and owner lists. Which means...
...which means the new focus of the gun grabbers will be ammunition sales. Until now, ammunition sales have been largely uncontrolled, on the assumption that ammo did you no good without a gun and gun sales were supposedly being carefully monitored. (Which is a laugh, but...) However, if people with a will can create their own guns, ones which are better than zip-guns even if not as good as the stuff Glock sells, then the opposite logic will apply: it doesn't matter if you can create your own gun if you can't get ammo for it. That's where we're headed next.
Moreover, someone, somewhere, eventually is going to argue that even if the Second Amendment protects individual ownership of guns, that there's no consititutional right to buy or own ammunition.
Just wait. Someone will say that.
Posted by: Steven Den Beste in Weird World at 09:19 AM | Comments (8) | Add Comment
Post contains 254 words, total size 2 kb.
May 01, 2013
Google Glass -- wrong answer!
Ask the device to Google something and, thanks to a Bluetooth link to your smartphone or the built-in Wi-Fi, it will search the Web almost immediately. I tried Googling the length of the Golden Gate bridge (8,980 feet), how to say "I love you" in Japanese ("

Watashi wa anata o aishite

"), and checking the weather ("No, it isn't raining in New York, the weather is 58 and clear").
That seems excessively wordy. What happened to good old "Daisuki!"?
Posted by: Steven Den Beste in Weird World at 01:15 PM | Comments (10) | Add Comment
Post contains 88 words, total size 1 kb.
April 24, 2013
Notes about the times
It looks like I had an indirect stroke of luck. My previous monster notebook failed on me in January, so I sprung for a new one to be my main desktop computer. And I was able to get it with Win 7 installed. Looks like I dodged the Win 8 bullet. It's been a long time since Microsoft has made a misjudgement this poor.
It'll be quite a while before I need another new computer, and I assume by that point this will all be straightened out. Word is that the sales rate for new PCs has dropped considerably, and a lot of people in the industry are blaming Microsoft for that. I imagine that a lot of computer manufacturers will be retreating to Win 7, until Microsoft can issue an "update" that makes it possible to not use that abortion of a new user interface.
(I've heard that the head of the Windows division was canned last fall just after the Win 8 release. Looks like he deserved it.)
This Penny Arcade is funny, and well drawn as usual. And the point it makes is a good one. But I'd like to point out that there really are women who are built like that. Most of them have health problems as a result; it isn't by any stretch of the imagination "normal". But they do really exist. There's never been a man like that, though.
There was a Russian girl who was a favorite of certain men's magazines maybe 15 years ago, named something like Julia Ivanovna, whose breasts were considerably larger than the one in that comic. No human physical feature naturally varies as much in size as women's breasts.
A lot of the women who pose for men's "Big 'uns" magazines use the money for breast reduction surgery, I've heard. Can't say I blame them, but it's nicely ironic. And it seems a shame. But then, it's easy for me to say that because I'm not the one having to haul those things around all day.
Posted by: Steven Den Beste in Weird World at 03:31 PM | Comments (18) | Add Comment
Post contains 343 words, total size 2 kb.
April 23, 2013
Ready for... Formula E?
It's a racing event, where all the cars are electric. My big question is what the power sources are? I assume they're using fuel cells; I can't imagine any other portable electric source that could create enough power to avoid being a joke.
F1 engines run on the order of 700 hp. That's about 520 kilowatts. The only batteries which can operate at that kind of power levels are silver-oxide batteries AFAIK, and there's no way they're using silver-oxide batteries.
These cars probably don't run 500 kw, but if they're less than 250 kw then the performance really would be a joke.
I think the most interesting part of watching this race would be the lack of noise. We've all seen clips from other kinds of racing, and the engine roars are impossible to miss. But electric cars are notorius for not making a lot of sound, and I think that tire noise would be the most prominent sound -- and that ain't very loud most of the time.
The first racing season will be 2014.
Posted by: Steven Den Beste in Weird World at 02:36 PM | Comments (15) | Add Comment
Post contains 180 words, total size 1 kb.
April 20, 2013
Gunshow "loophole"
One of the things the gungrabbers want to do is to require background checks for all gunshow sales, even when the seller isn't a dealer.
If that went into effect, I think I know how it would work out. The gungrabbers hope it would prevent private sellers entirely, but it wouldn't. Instead, the organizers of the gun show would set up a station to do background checks, probably next to a food court. If someone decided to buy a gun, they put down a deposit, and the seller gives them the form to fill out. They then go to the background check station, fill the form out, and hand it it. Then sit down for a cup of coffee or a snack. Once the check is done, their name is called and they're given a slip that indicates they passed. They then return to the seller, give him the slip and pony up the rest of the money.
The gun show might decide to make that the standard for everyone, not just private sellers. The background check station would have many clerks sitting at computer terminals, submitting the forms. And presumably the gun show would make arrangement with the state to have a big staff on hand to do the work at that time, so that it didn't back up unreasonably.
I can see people grumbling about this, but I can't see it as really all that big a hurdle. Just kind of annoying. The biggest headache would be for the people putting on the gun show, because they'd have to set up and staff the background check station. That's why they'd probably require everyone to use it, because they'd have to charge all sellers an extra fee for the service. (Flat fee? Or per-background-check? Probably both.)
What it wouldn't do is cut down on the number of guns sold.
Posted by: Steven Den Beste in Weird World at 06:31 PM | Comments (3) | Add Comment
Post contains 312 words, total size 2 kb.
72kb generated in 0.1626 seconds; 59 queries returned 170 records.
Powered by Minx 1.1.4-pink.