October 31, 2014
Shaula Gorgon says...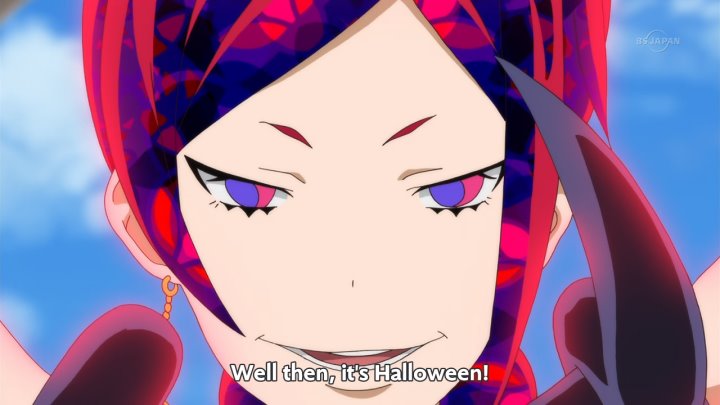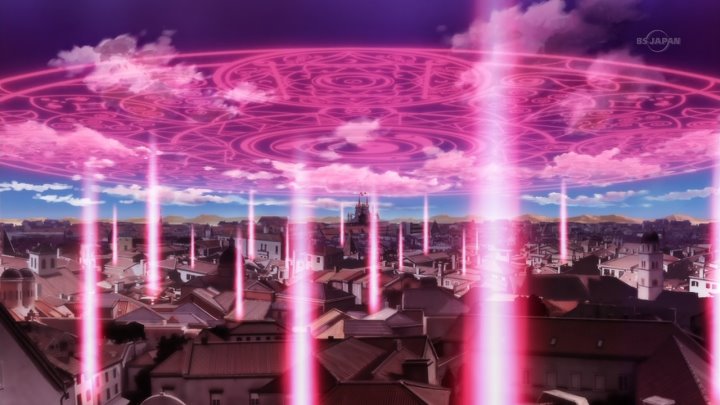 Posted by: Steven Den Beste in General Anime at 12:53 PM | Comments (1) | Add Comment
Post contains 3 words, total size 1 kb.
October 30, 2014
Nanatsu no Taizai -- through ep 4
This is really good! Another gem that I missed because I was repelled by the art. And then I saw a picture from the show that strongly suggested there was a giantess in it. And there is: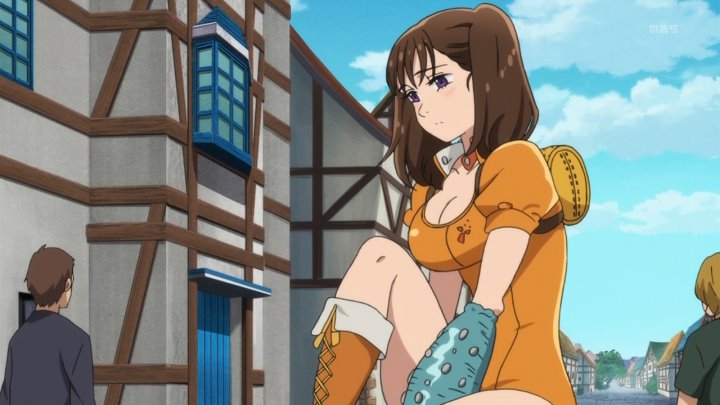 Even better, she's a tsundere the size of a house, and she has twintails, and she uses boku. If she was wearing glasses she'd be perfect, but I guess we can't have everything.
Her name is Diane and she's one of the "Seven Deadly Sins", the name given to a group of super-powered fighters who stand accused of all kinds of crimes which they probably didn't actually commit.
The leader of the group is that small blonde guy, Meliodas, and he's ridiculously laid back. He doesn't seem to get excited about anything. He's also a really deadly fighter when he wants to be. The group got separated 10 years ago, and he's been searching for them all. He has a tavern on the back of a giant green pig, and he travels from town to town looking for clues to his comrades.
Diane is the first one he finds. And she's just as formidable as she looks. She's in love with Meliodas, even though she knows there's no future between them. Still, she gets jealous of Elizabeth, the pretty princess who sought out Meliodas looking for his help.
That's not really a good explanation of what's going on; it's more complicated. But it's really well handled, and I really like Meliodas. He is as cool as cool can be.
I'm definitely going to keep watching. It comes out on Sundays.
UPDATE: "She has a balcony you could do Shakespeare from!"
Anyone here old enough to remember that? What's it from?
UPDATE: And I seem to have stumped everyone. It's from the "Peorgie and Mudhead" portion of the album Don't Crush that Dwarf, hand me the pliers by the Firesign Theater. Talk about an obscure reference; I apologize for it.
Posted by: Steven Den Beste in General Anime at 01:00 PM | Comments (3) | Add Comment
Post contains 312 words, total size 2 kb.
Oh, good grief
Tim Cook (CEO of Apple) just came out as gay. So now all the Mac users can add an additional layer of smug to their demeanor -- not ONLY are they using the finest computer in the universe, not ONLY is it non-Microsoft, but it's also politically correct! A blow against heteronormativity!
Moan... (Have I mentioned lately how much I hate Apple?)
Posted by: Steven Den Beste in Weird World at 03:54 AM | Comments (8) | Add Comment
Post contains 65 words, total size 1 kb.
October 29, 2014
World Series game 7
I'm watching the last game of the World Series on the web:
It's actually a very pleasant way to watch it, because I don't have to put up with any of the garbage that real TV tosses in. I just get the game action, including each pitch as it's tossed.
UPDATE: Pressure!
KC (home team) behind by 1. Bottom of the 9th and two men are already out, and Gordon is at bat. He singles to center and the fielder has an error and he takes 3rd.
And you want to think the next batter isn't feeling it? Unfortunately, he popped out to 3rd base, so the Giants won the game (3-2) and the series (4-3).
I've read people complaining that neither team was really the best in their league. Maybe not, but they gave us a real nailbiter of a series.
Posted by: Steven Den Beste in General Entertainment at 06:19 PM | Comments (6) | Add Comment
Post contains 146 words, total size 1 kb.
Strange Cameo
Over at Metanorn, there's a post about ep 3 of Yuuki Yuuna, which features this picture: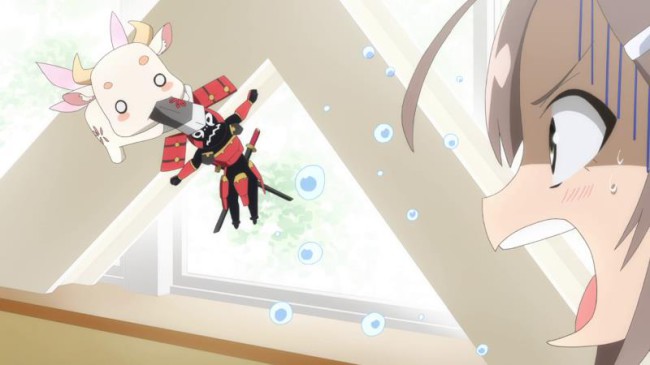 And ever since I first saw it, I've been wracking my brain trying to figure out why I recognize the cow. Finally I got it.
It's Aria the Mars Cat (with horns). What in hell is he doing in this show?
UPDATE: I've looked over the credits for the two shows, and I see nothing and no one in common. Different directors, different character designers, different production companies...
Posted by: Steven Den Beste in General Anime at 09:24 AM | Comments (2) | Add Comment
Post contains 86 words, total size 1 kb.
Relative threats
I think he's going to have a hard time scaring Australians, who live in a land full of deadly creatures who want to kill us.
Like monstrous venomous spiders. And poisonous snakes.
Oz is a land of danger; Aussies are used to peril.
UPDATE: Besides which, Halloween is a harvest festival, and it's spring in Oz right now.
Kind of like how "I'm dreaming of a white Christmas" doesn't really work there, because Christmas happens in the middle of the summer.
Posted by: Steven Den Beste in General Entertainment at 07:35 AM | No Comments | Add Comment
Post contains 83 words, total size 1 kb.
October 28, 2014
Into the den of the beast
My Oregon ID card was due to expire on my birthday (Thursday) so today my brother took me to DMV to get it renewed. (Acquisition of the wheelchair and slippers was part of the preparation for this mission.)
Actually, he took me there twice. The first time we found out that the rules had changed and I had to produce another piece of ID, so we had to return to my apartment to get my birth certificate.
It wasn't very crowded, and the woman who was managing the line recognized us as having been there earlier, and moved me to the front of the line -- which was nice of her. And it all went briskly. From start to finish, an hour and a quarter. (That's timed from when I left my apartment the first time to when I returned to it, so it includes two round trips in his car.) The actual time in DMV was less than 15 minutes.
Who says all government bureaucracies are terrible?
UPDATE: But when they took my photo they asked me to take off my glasses. So it doesn't look like me, because I always wear glasses. I can't see without them.
Posted by: Steven Den Beste in Daily Life at 09:40 AM | Comments (8) | Add Comment
Post contains 205 words, total size 1 kb.
October 27, 2014
Happy Birthday to me!
My brother came over today and took me on a shopping mission. It's the first time I've been out of this apartment since last Spring. My problem was that my feet have swelled up, and my shoes didn't fit any more, so I was stuck here.
We went to Beaverton Pharmacy, and I bought a wheel chair: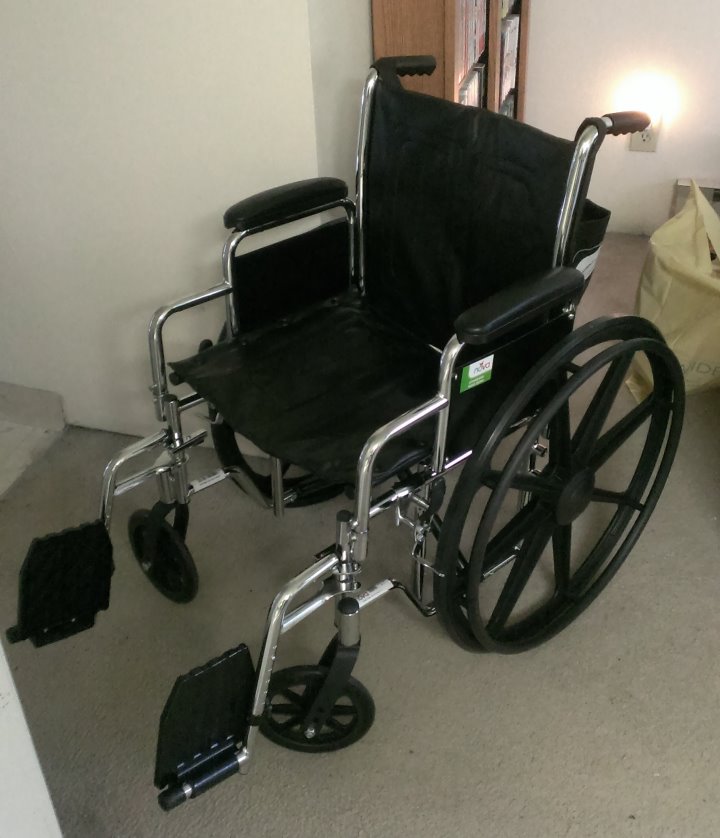 We also went to a shoe store and I bought a pair of slippers which were big enough to fit my feet.
Coincidentally, it's my birthday this week, and this is a really good gift. To me it represents freedom. I can now get out of this place, at least once in a while, and go further than the corner of the parking lot (which is about as far as I can walk anymore). I can go to restaurants. I can go to the transit mall and catch the train to my doctor's office. I can make it across Canyon to the Fred Meyer pharmacy for my prescriptions.
He also let me get a treat:
At my request we went through the drive-through lane at McDonalds. I've been dreaming about the taste of a Big Mac for a long time, and just now I got to taste it again, for real. It was just as good as I remembered. (It's the first time in about three years that I've had one.)
So today has been a good day.
UPDATE: No advice, please.
Posted by: Steven Den Beste in Daily Life at 04:00 PM | Comments (4) | Add Comment
Post contains 243 words, total size 1 kb.
October 26, 2014
Hmm... Upgrades!
And so, Dr. Bowman has upgraded Florence's security settings. I wonder what all changed?
One thing we know for sure: the "off" switch on the remote control no longer works on her. He said he was going to change that. But what else?
I wonder if he severely trimmed back the number of people authorized to give her orders? Or eliminated the list entirely? (Maybe he's the only one now?)
UPDATE: Small fridge moment: while he was working on her, he was close enough so that her transponder should have set off his security collar and zorched him.
But I guess we handwave that: he deactivated her transponder temporarily...
Posted by: Steven Den Beste in General Entertainment at 07:49 PM | Comments (6) | Add Comment
Post contains 111 words, total size 1 kb.
43kb generated in CPU 0.03, elapsed 0.1132 seconds.
49 queries taking 0.0881 seconds, 116 records returned.
Powered by Minx 1.1.6c-pink.