December 08, 2013
Mystery Ship
A long time ago I mailed Wonderduck a suggestion for a mystery ship and he didn't use it. (Which is fine; he isn't under any obligation.)
But I think it's noteworthy because of its history, so here goes:
As usual, no cheating.
Posted by: Steven Den Beste in Weird World at 10:42 PM | Comments (12) | Add Comment
Post contains 44 words, total size 1 kb.
Sekai de Ichiban -- forget it
I'm not going to make any more posts about new episodes of Sekai de Ichiban because I don't care any more.
I never cared much; I mostly followed it as a joke. It was never very absorbing even at the best of times, and with the end of the first plot arc, I find I don't give a damn.
I will be doing a post, probably next Thursday, about whether the first BD removed the censorship fog from the first episode's shower scene. That's not the same.
Sad to say, it will probably make a major appearance in the top rotation at some point. As stupid as the series is, it really was loaded with appropriate eye candy.
UPDATE: When it was first announced, I figured that Walkure Romanze would also be a good source for the top rotation. I only managed to watch two episodes of that, and the only report about it I've seem recently is that it did end up being as awful as I thought at the time. I don't know about any eye candy; seems to me that the women spend a lot of time in plate mail, which is only fan service if you have a really strange fetish. The rest of the time they were wearing stiff jackets, which equally misses the point. But maybe there were better things I missed. After all, it's an H-game adaptation, and it's hard to believe there isn't any fan service in it.
For all its faults, Yuushibu has had plenty of fan service, and it will definitely be a series I plunder.
Posted by: Steven Den Beste in General Anime at 01:07 PM | Comments (2) | Add Comment
Post contains 272 words, total size 2 kb.
December 06, 2013
Yuushibu -- ep 10
They're still telling story but it's still coming out slowly. Their decision to finish with the Amada arc is still looking like a mistake.
A couple of things happened in this episode, but not really very much. The story telling continues to feel really flabby.
more...
Posted by: Steven Den Beste in General Anime at 07:40 PM | Comments (6) | Add Comment
Post contains 240 words, total size 1 kb.
Unexpected celestial delivery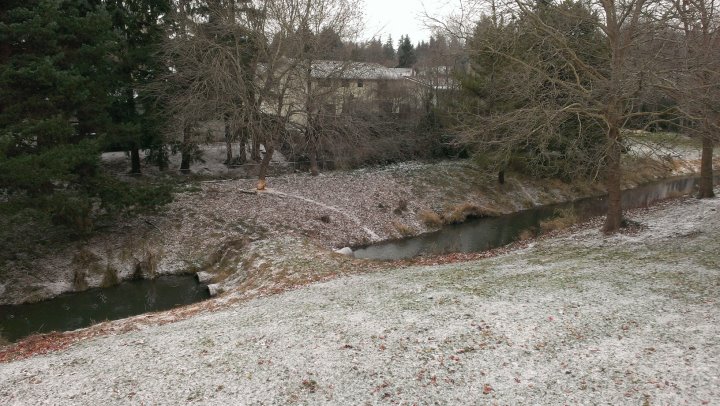 (Here's a bigger version). You can see the path the beaver has been using to get up to the tree it's attacking.
Posted by: Steven Den Beste in Daily Life at 09:16 AM | No Comments | Add Comment
Post contains 25 words, total size 1 kb.
December 05, 2013
Busy little beavers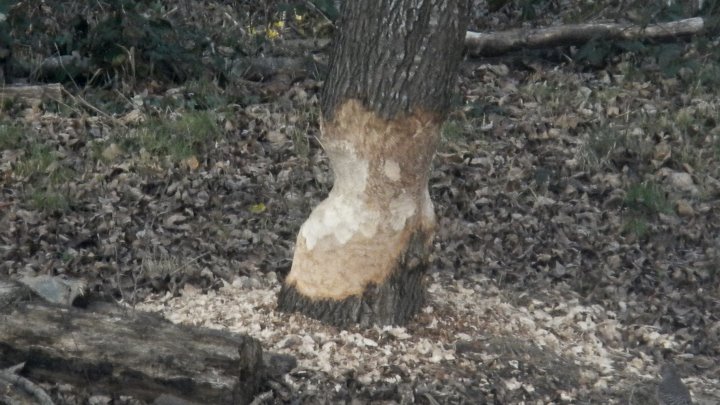 Seems one of the two trees was already completely ring-barked, so the handyman only protected the other one with chickenwire. Since then the beaver has been back more than once to work on this one, and you can see it's made a lot of progress.
Posted by: Steven Den Beste in Daily Life at 08:22 PM | Comments (1) | Add Comment
Post contains 48 words, total size 1 kb.
Phone charging.
My phone is an HTC Android "DNA" (AKA "Butterfly") from Verizon. It's a very nice phone which was absolutely the latest thing when I got it a year ago, and now Verizon doesn't sell it any more. I guess "new" gets old pretty quickly in this market. (Worse than when I was a phone designer.)
It only has one connector on it, a micro-USB. (The EU issued a regulation requiring all phones and similar devices to use that from now on. I generally am no fan of EU "design from the top by bureaucrats" regulations but this one made sense, with the idea being that it was stupid for every device to have to have its own charger, with a different unique connecter. So the charger that came with my first Kindle Fire works to charge the second one, and also works to charge my phone.
Part of why I bought a second Fire was that the connector on the first one broke, and it won't charge any more. And since I have had to plug my phone in twice a week, I've been afraid of the same thing happening to it.
A few days ago I heard someone referring to "wireless recharging" and it occurred to me that although such a thing is pretty new, maybe my phone is new enough to do it.
Well, it turns out it can. The keyword turned out to be "Qi" and it's a standard for wireless chargers. I just put in an order for one from NewEgg and it should arrive sometime next week. Once I have it, I should be able to charge my phone just by leaving it sitting on the charger pad.
One thing I'll be curious about: when I plug the phone in, there's an LED that turns amber while it charges, and turns green when it's finished. Will the same thing happen with a wireless charge? My guess is "yes".
Posted by: Steven Den Beste in Computers at 05:53 PM | Comments (8) | Add Comment
Post contains 325 words, total size 2 kb.
No problem!
Posted by: Steven Den Beste in Weird World at 11:47 AM | Comments (1) | Add Comment
Post contains 2 words, total size 1 kb.
I-400, in fact and fiction
At the end of the war, a number of Japanese submarines were captured by the Americans. Some of those were scuttled in Japanese waters, and 4 of them were brought to Hawaii and closely studied, then scuttled in Hawaiian waters. One of those latter was I-400, a submarine air craft carrier and lead member of a class of subs which were the largest ever built until the advent of boomers in the 1960's.
A few days ago it was announced that I-400 had been found. No one is talking about refloating it; it's in 700 meters of water, and it was originally sunk by torpedoes fired by USS Trumpetfish so it's pretty seriously ruined. But it's still historically interesting.
It's also anime interesting. Sister ship I-401 (sunk at the same time, and found in 2005 at a depth of 820 meters) is a central character in Arpeggio of Blue Steel, running this season.
Posted by: Steven Den Beste in General Anime at 11:21 AM | Comments (6) | Add Comment
Post contains 158 words, total size 1 kb.
I hate waiting for deliveries
Office Depot is bringing me something today, and they said it would be sometime between 8:30 AM and 7:00 PM. As Daffy says, Thanks for the sour persimmons, buster. At least Safeway gives me a 4-hour window, and if I was willing to pay more I could get a 1-hour window.
(It's a plastic floor mat to go under my desk chair. I've gone through three of those in the last few years, and my current one is a broken mess. This new one is going to be 1/8 inch thick, and I hope it'll hold up better than the others did. They were all thin and flexible. Each time I bought a new one, I thought I was getting something that would last more. The last one was polycarbonate, and it only lasted about 6 months.)
UPDATE: OK, 11:30. Not too shabby, and now I can take a nap.
UPDATE: The new one is much better at producing static electricity. Since it's on the floor next to my computer table, this could be a problem.
Posted by: Steven Den Beste in Daily Life at 10:18 AM | Comments (4) | Add Comment
Post contains 181 words, total size 1 kb.
44kb generated in CPU 0.07, elapsed 0.1917 seconds.
49 queries taking 0.1501 seconds, 119 records returned.
Powered by Minx 1.1.6c-pink.