March 10, 2014
Maken-Ki Two -- episode 8
I think this episode was even more perverted than the last one, about the teddy bear. In this episode, the principal overhears some girls laughing about her and she is infuriated. She decides to show the kids how bad things could be by temporarily resigning and temporarily assigning one of the boys to be principal. The choice for this role is Kengo, Takeru's perverted friend, and Kengo takes the opportunity to give in to all his wildest fantasies.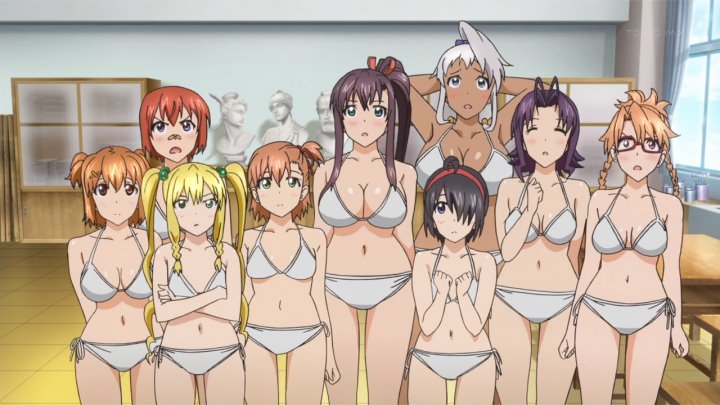 For instance, for art class he orders the girls to do body painting on each other while wearing bikinis.
There were a bunch of weird things, and eventually he orders the whole student body to the auditorium where the girls would compete in a strip janken tournament. That was one perverted step too far, and the girls revolt.
more...
Posted by: Steven Den Beste in General Anime at 02:57 PM | No Comments | Add Comment
Post contains 280 words, total size 2 kb.
March 08, 2014
March 07, 2014
Bleak bleak bleak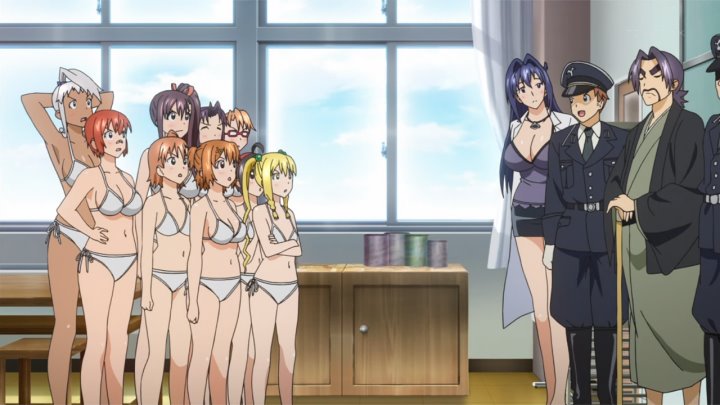 There hasn't been much activity around here because I don't have anything to say.
HorribleSubs has been pulling all the oxygen out of the room this season, and since I generally boycott them, on general principles, it leaves me at the mercy of other circles who themselves are not very motivated because Horriblesubs has no overhead (since they steal everything from CrunchyRoll or Funimation).
FFF is about 2 weeks behind on Witch Craft Works. Which, frankly, doesn't bother me much because I've lost interest in the show. Maken Ki is the only show this season I retain any interest in, and that only because of fan service. There isn't any story being told. The next episode should be strange; I'm looking forward to how this scene (above) comes about. (It's from the next-ep teaser.)
But in some ways it feels hollow. There really is a story, and it's pretty complex, and this season they threw it all away. Wikipedia reveals some of it. For instance, Kodama is a lot older than she looks. She isn't human, and she's something like 1500 years old.
But that's all gone this season and it's all boobs and jokes. Boobs and jokes are fine things, but it makes the show rather a trifle. And it's another case of HorribleSubs sucking the oxygen out of the room; SubDESU hasn't shown any urge to get the episodes out promptly.
You just can't get good help these days...
Posted by: Steven Den Beste in General Anime at 04:33 PM | Comments (1) | Add Comment
Post contains 228 words, total size 2 kb.
March 05, 2014
Performance
Ace says that mu.nu is under a massive spam attack today. I know that Wonderduck caught some of the flack. mu.nu is the same physical server as mee.nu (they're different virtual servers running on the same hardware) so indirectly it's possible for it to affect mee.nu performance, and I've noticed performance being poor a couple of times.
Be patient. I'm sure Pixy will do whatever he can to fix it.
Posted by: Steven Den Beste in Site Stuff at 05:52 PM | Comments (11) | Add Comment
Post contains 71 words, total size 1 kb.
Chekhov's Vial
"Chekhov's Gun" refers to a dictum from great author Anton Chekhov that if you write a scene with a gun hanging on the wall, that before your story is over someone better use that gun for something. Otherwise you shouldn't have put it in.
In one of the Freefall strips about 4 years ago, Sam stole a vial from EU and gave it to Florence. "It's a factory reset. You sniff it and it erases any direct orders your evil Human Overlords may have given you."
Ever since then I keep expecting it to get used. I'm sure it will be. But when? and for what?
I think now we're coming to that point. Florence has just learned a lot of things she shouldn't know, and eventually someone is going to give her a direct order not to reveal any of it to anyone. They may give her a lot of other orders which end up messing her up. She's going to use that vial to cancel them.
It's possible that Dr. Bowman will tell her something about the bolt-on brain design that is dangerous and not widely known, and that's what she'll be ordered to suppress. And after the override she'll tell the robots.
Posted by: Steven Den Beste in General Entertainment at 12:01 PM | Comments (7) | Add Comment
Post contains 207 words, total size 1 kb.
March 03, 2014
Found on the web
I don't know about you guys, but that's what my breakfast looks like.
Posted by: Steven Den Beste in Daily Life at 07:25 PM | Comments (11) | Add Comment
Post contains 17 words, total size 1 kb.
Hubris and Nemesis
At this point I can say that there's only one thing good about Obama being reelected in 2012: it means he's still President when the consequences of all his idiotic policies came due, and has to suffer the results.
Not as much suffering as the people of the US and the world, of course, but suffer he will.
Nemesis should result in humility, but in this case it probably won't. No matter what goes wrong, for Obama it won't be his own fault.
What's worse, from his point of view, is that he's well on his way to establishing a record to be ashamed of. Part of what has motivated Obama was that he was the first non-white to be President, and he wanted to leave office with a positive, praiseworthy legacy. But at this point he's right on track to leave office with the reputation of being the worst, most incompetent President in the history of the nation.
But it won't be his fault, you know.
Posted by: Steven Den Beste in Weird World at 06:55 PM | No Comments | Add Comment
Post contains 170 words, total size 1 kb.
March 02, 2014
The Oscars
The Oscars are a funeral for the living -- Greg Gutfield
And apparently tonight is the night.
I wouldn't know; I've never watched them and never will, and not just because I don't own a TV. Hollywood in general just isn't an important thing for me. The last movie I saw in a theater was The Matrix and it's been years since I bought a movie on a disc.
I bought the first four Harry Potter movies, but I never watched the last one.
As much as we bitch about the 90% of anime which is crap (and it's an even greater percentage) most anime is still better than most of what comes out of Hollywood any more.
UPDATE: Correction: it's been years since I bought a Hollywood movie on a disc.
I've bought several anime movies in the last couple of years: Haruhi, both Nanoha movies, Summer Wars, Strike Witches, and the Fairy Tail movie. And I'm ready to buy the Mouretsu Pirates movie and the Girls und Panzer movie as soon as they're willing to sell them to me.
Posted by: Steven Den Beste in Weird World at 06:35 PM | Comments (10) | Add Comment
Post contains 183 words, total size 1 kb.
53kb generated in CPU 0.07, elapsed 0.1493 seconds.
48 queries taking 0.0953 seconds, 142 records returned.
Powered by Minx 1.1.6c-pink.