January 14, 2009
Wild Wild West -- Deela
Another refugee from Star Trek: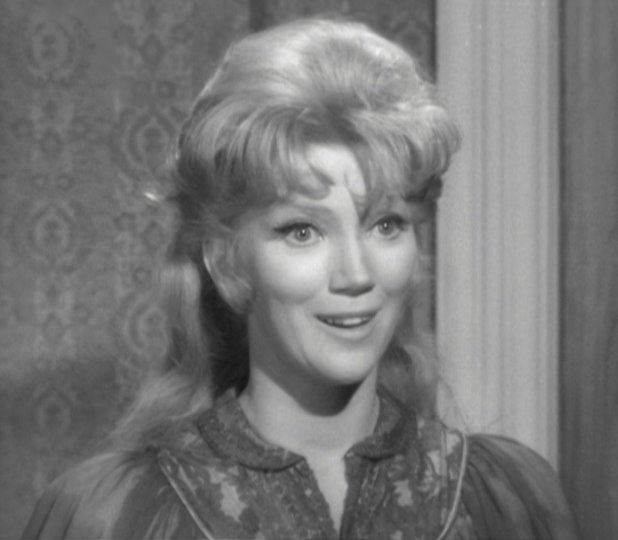 Kathie Browne
I recognized her but couldn't place her; I had to google to figure out which Star Trek episode she was in. (I hang my head in shame and lose 5 geek cred points.)
UPDATE: She was a lot of fun. It was a goofy episode, with the villain being Burgess Meredith.
Posted by: Steven Den Beste in General Entertainment at 08:40 PM | No Comments | Add Comment
Post contains 62 words, total size 1 kb.
January 10, 2009
Wild Wild West -- violins and violence
For the first season collection, at least, there's a little voiceover at the beginning by Robert Conrad about each episode. I've been skipping most of them, but I listened to the one for the fifth episode.
He says that Ross Martin really was playing the violin in this scene, and they recorded it as he was doing so. I was watching, and I believe it. The music was matching the bowing, and in particular it was matching the vibrato. Conrad said that in his younger years, Ross Martin was a concert-level violinist.
They took advantage of a lot of those kinds of things in this show. It turned out that Michael Dunn, who played Dr. Loveless, also had a musical act with a woman. She was also cast in the early Loveless shows, and in the first one they sing a duet.
Looks like ep 5 is going to be the first one where Artemus has a bigger part. I think it may have taken the writers a while to realize what a gem they got when they cast Ross Martin in that role. (Artie was always my favorite character when I was younger; he was the reason I watched the show.)
I'll post a "beautiful woman" picture from this episode once she appears. Don't know, yet, who it'll be.
UPDATE: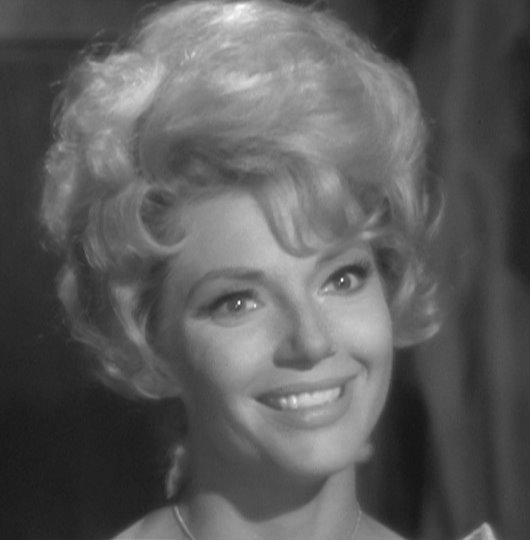 Ruta Lee I don't think this one was on Star Trek.
Conrad did all his own stunts, including all the fight scenes. And Martin did quite a few of his own, too. Artemus as a character wasn't as athletic as West, so Martin didn't have to do anything like as much, but he did fight scenes and a fair amount of other stuff. It's really pretty cool to watch.
Posted by: Steven Den Beste in General Entertainment at 12:56 PM | No Comments | Add Comment
Post contains 296 words, total size 2 kb.
January 09, 2009
Wild Wild West -- pretty girl #3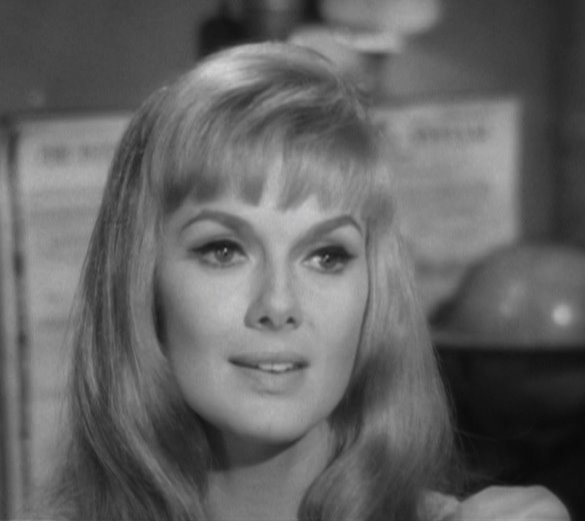 Leslie Parrish
I can see that this lady is quite attractive, but there was always something about her that repelled me. Partly I think it's because she just wasn't that good an actress, but there was something else. Even in a still photo, she still doesn't work. There's something that's just a bit off, though I'm not sure what it might be.
UPDATE: Now having watched three episodes, one thing I'm noticing quite clearly is that the Artemus character was much less important in the first season. He got a lot less screen time than I remember from the later seasons.
UPDATE: And here's #4, from episode 4:
Antoinette Bower
Interesting how much overlap there's been with original Star Trek, isn't it?
Posted by: Steven Den Beste in General Entertainment at 11:25 PM | Comments (5) | Add Comment
Post contains 20 words, total size 1 kb.
January 08, 2009
James and Artemus
I think that if I'm going to find out what kinds of Blu-ray discs are easily available to me, I'm going to have to walk over to Best Buy. I tried checking out Fred's DVD section just now, and they weren't really organized well. I asked specifically about any of the BBC or Discovery nature Blu-rays and they didn't have any of them.
While I was looking at the shelves, I noticed a couple of DVD bricks that intrigued me. Season 1 and season 4 of "The Wild Wild West".
I loved that show. I know exactly how they sold it to the network: "James Bond in the old west". But the character concepts for the two leads were very well done, and the casting was inspired. James Conrad as Jim West was always wonderful, and Ross Martin as Artemus Gordon was a joy. And of course, Dr. Loveless, the best villain the show had. I think he was in at least a dozen episodes. (UPDATE: IMDB says ten.)
I picked up both of those bricks. The series didn't have any kind of continuity, so there's no problem with having a gap. And between the two seasons I'm sure there will be at least a couple of Loveless episodes.
It looks like the first season was B/W. I never noticed that when I watched it, back in the day, because we only had BW TVs. I thought it ran on NBC, but maybe it premiered before NBC went full-color (along with adopting the peacock as its logo). I guess that explains why the fourth season cost $10 more than the first season.
UPDATE: My memory really is going bad. It was on CBS.
UPDATE: Another difference: for the first season (at least) they really had the train and used it in their filming. I remember that in the later episodes it was just stock footage.
Was that the engine from the Hoyt Hotel? I know the Hoyt Hotel engine was used in the series "Petticoat Junction", and later they cleaned it up and used it for the Bicentennial train, and I don't even know what happened to it later. (And I don't think the Hoyt Hotel even exists any more.)
Wikipedia says I'm right, at least for the pilot episode (which is what I'm watching now). But for the regular series they used a different one.
UPDATE: Part of the formula is beautiful women.
And in the pilot it's Suzanne Pleshette. She'll do quite nicely, thank you very much.
UPDATE: And she ends up with a pistol, which she fires at West. Seven times, without reloading. (Uh, yeah.)
UPDATE: And having finished the pilot, now I can understand why it was an easy sell to the network. It's really good.
Posted by: Steven Den Beste in General Entertainment at 03:50 PM | Comments (11) | Add Comment
Post contains 463 words, total size 3 kb.
25kb generated in CPU 0.03, elapsed 0.132 seconds.
40 queries taking 0.1086 seconds, 81 records returned.
Powered by Minx 1.1.6c-pink.