January 10, 2009
Wild Wild West -- violins and violence
For the first season collection, at least, there's a little voiceover at the beginning by Robert Conrad about each episode. I've been skipping most of them, but I listened to the one for the fifth episode.
He says that Ross Martin really was playing the violin in this scene, and they recorded it as he was doing so. I was watching, and I believe it. The music was matching the bowing, and in particular it was matching the vibrato. Conrad said that in his younger years, Ross Martin was a concert-level violinist.
They took advantage of a lot of those kinds of things in this show. It turned out that Michael Dunn, who played Dr. Loveless, also had a musical act with a woman. She was also cast in the early Loveless shows, and in the first one they sing a duet.
Looks like ep 5 is going to be the first one where Artemus has a bigger part. I think it may have taken the writers a while to realize what a gem they got when they cast Ross Martin in that role. (Artie was always my favorite character when I was younger; he was the reason I watched the show.)
I'll post a "beautiful woman" picture from this episode once she appears. Don't know, yet, who it'll be.
UPDATE: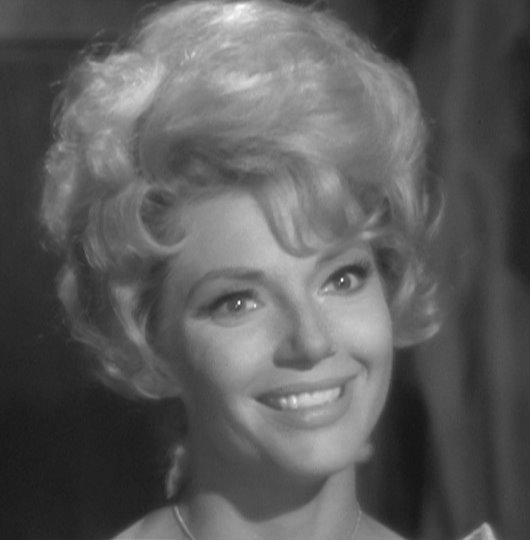 Ruta Lee I don't think this one was on Star Trek.
Conrad did all his own stunts, including all the fight scenes. And Martin did quite a few of his own, too. Artemus as a character wasn't as athletic as West, so Martin didn't have to do anything like as much, but he did fight scenes and a fair amount of other stuff. It's really pretty cool to watch.
Posted by: Steven Den Beste in General Entertainment at 12:56 PM | No Comments | Add Comment
Post contains 296 words, total size 2 kb.
Enclose all spoilers in spoiler tags:
[spoiler]your spoiler here[/spoiler]
Spoilers which are not properly tagged will be ruthlessly deleted on sight.
Also, I hate unsolicited suggestions and advice. (Even when you think you're being funny.)
At Chizumatic, we take pride in being incomplete, incorrect, inconsistent, and unfair. We do all of them deliberately.
How to put links in your comment
Comments are disabled. Post is locked.
6kb generated in CPU 0.0, elapsed 0.0125 seconds.
18 queries taking 0.0091 seconds, 16 records returned.
Powered by Minx 1.1.6c-pink.