January 09, 2009
Wild Wild West -- pretty girl #3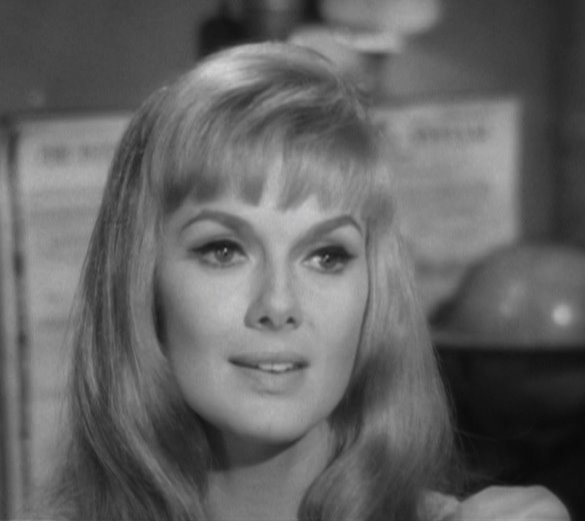 Leslie Parrish
I can see that this lady is quite attractive, but there was always something about her that repelled me. Partly I think it's because she just wasn't that good an actress, but there was something else. Even in a still photo, she still doesn't work. There's something that's just a bit off, though I'm not sure what it might be.
UPDATE: Now having watched three episodes, one thing I'm noticing quite clearly is that the Artemus character was much less important in the first season. He got a lot less screen time than I remember from the later seasons.
UPDATE: And here's #4, from episode 4:
Antoinette Bower
Interesting how much overlap there's been with original Star Trek, isn't it?
Posted by: Steven Den Beste in General Entertainment at 11:25 PM | Comments (5) | Add Comment
Post contains 20 words, total size 1 kb.
Posted by: metaphysician at January 09, 2009 11:33 PM (h4nEy)
Posted by: Steven Den Beste at January 10, 2009 12:13 AM (+rSRq)
Posted by: toadold at January 10, 2009 10:29 AM (zcbXo)
Posted by: Steven Den Beste at January 10, 2009 10:50 AM (+rSRq)
Posted by: Jaked at January 10, 2009 11:09 AM (N6Jlz)
Enclose all spoilers in spoiler tags:
[spoiler]your spoiler here[/spoiler]
Spoilers which are not properly tagged will be ruthlessly deleted on sight.
Also, I hate unsolicited suggestions and advice. (Even when you think you're being funny.)
At Chizumatic, we take pride in being incomplete, incorrect, inconsistent, and unfair. We do all of them deliberately.
How to put links in your comment
Comments are disabled. Post is locked.
7kb generated in CPU 0.04, elapsed 0.3861 seconds.
20 queries taking 0.3774 seconds, 22 records returned.
Powered by Minx 1.1.6c-pink.