October 18, 2009
Twin Angel OVA
I was going to do another Mystery Meat post today, this one on "Kaitou Tenshi Twin Angel OVA", but I couldn't watch it through. It was terrible. Just dreadful. It was blatantly a ripoff of Sailor Moon, complete with a mysterious guy (with white roses) who showed up to save the Angels at critical moment.
And just to show how derivative it was, there was a cybernetic tank straight out of the Ghost in the Shell movie.
Once the first battle was over, they switched to what I think was a middle school where our two cuties are students, being chewed out by the headmaster -- but I'd had more than enough by that point. I got about five minutes into the first episode of two. There's only so much pain I'm willing to tolerate on your behalf.
I guess I hadn't realized just how much Sailor Moon was imitated.
UPDATE: By the way, it would seem I'm not alone in holding this opinion about the show. I am currently running 93 seeds, and this is one of just 3 for which I have uploaded 0 bytes. (The other two being Melty Lancer and an obscure soundtrack.)
Posted by: Steven Den Beste in Mystery Meat at 02:24 PM | No Comments | Add Comment
Post contains 200 words, total size 1 kb.
October 17, 2009
Samurai Girl Real Bout High School -- Ep 13, end
Well, it wasn't bad. It wasn't great, but I'd put it considerably above average for a Gonzo show -- which is a case of damning it with faint praise.
The ending felt a little rushed, and a bit contrived, but it was satisfying, ultimately.
After the final critical battle, there's a brief "And life gets back to normal" segment, which includes this: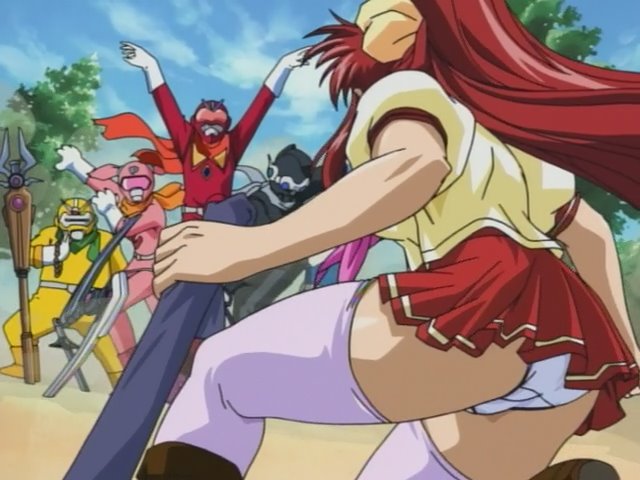 Another cornball group challenges Ryoko in K-Fight, and she's ready to go, and about to wipe them out.

And the committee is there to televise it, as always.
Surprisingly, the fan service was pretty mild. About 90% of it was Ryoko's panchira, but we're not talking full-screen zoom-into-your-face like with Strike Witches. It's about like those last two I just included, and nearly always it's very brief. No shower scenes, no nudity that I remember.
Some of the combat scenes are pretty badly animated, with lots of shortcuts, but several of them are surprisingly good, among the better ones that I've seen. No, they don't measure up to the fights in Jubei-chan, but nothing else does either. That's a pretty high standard. They're better than DBZ, for the most part, so it's pretty good.
The characters are pretty engaging, especially the two leading characters, Ryoko and Shizuma. I think that Shizuma changes more in the eyes of the audience over the course of the series than any other character, but the fan favorite is still going to be Ryoko, just because.
If I was going to rate this, I'd give it 2.5 stars and a thumbs up. It's not a waste of time. Well, most of it isn't a waste of time. A couple of the episodes were really tedious, and it's pretty crummy to have a recap episode in a series which is only 13 eps long.
It was fun, and I'm glad I watched it. I can imagine myself watching parts of it again.
UPDATE: In fact, I think I am going to watch it again, though with some skipping.
Posted by: Steven Den Beste in Mystery Meat at 08:54 PM | No Comments | Add Comment
Post contains 317 words, total size 2 kb.
October 14, 2009
Mystery Meat -- Welcome to Pia Carrot 2 DX
Today's Mystery Meat is "Welcome to Pia Carrot 2 DX". Which is probably a fan service show.
UPDATE: It turns out to be a non-H adaptation of a hentai series which was based on an H-game.
Is there anything consistently worse in anime than non-H adaptations of hentai? (Well, I suppose there's yaoi...)
more...
Posted by: Steven Den Beste in Mystery Meat at 05:26 PM | Comments (1) | Add Comment
Post contains 676 words, total size 4 kb.
October 12, 2009
October 11, 2009
Mystery Meat -- Melty Lancer
Today's Mystery Meat is "Melty Lancer". I downloaded it to get bonus points.
Turns out to be a science fiction series from Gonzo with lots of combat by six super-powerful women. They were some sort of special combat unit, or law enforcement unit, or something but the unit was disbanded a year previously. Now there's some sort of major threat.
A guy named Collins is pulled out of a cell in a high security prison by three political bigwigs who tell him they'll release him, if he takes command of a reunited Melty Lancer for one mission. Having nothing better to do, he accepts, but other than that he isn't really a factor in the first episode.
He's assigned an aide, a wimpy guy (you can tell because he's wearing glasses) who has been sent out to collect all the women who are scattered hell-and-gone around the galaxy. And he manages to do so early enough in the episode so that there's time for them to engage in a major battle.
I'm sure that the wimp has the same voice actor as Pyoro in Vandread, but it's not listed in that seiyuu's CV on ANN. It would help if I knew what the wimp's name was but I don't think they ever said.
Collins has the same voice as Samson in Banner of the Stars. I didn't really recognize any of the women's voices, though.
The art was mediocre and the animation pretty standard. Little or no fan service that I noticed. The voice acting was a bit over the top. Generally pretty forgettable and after one ep I am not really tempted to watch any more of it, even though there's a loli mahoutsukai and a loli catgirl in the group.
I guess there's a reason few people are seeding this one. Right now there are only two of us.
UPDATE: Today's series was going to be "Girl from Phantasia", but damn. I got five minutes into it and couldn't force myself to watch any more. The pain...
Posted by: Steven Den Beste in Mystery Meat at 05:22 PM | Comments (5) | Add Comment
Post contains 344 words, total size 2 kb.
October 09, 2009
October 07, 2009
October 03, 2009
Mystery Meat -- Koihime Musou
I was looking in my archives and saw that I never explained why this series is called "Mystery Meat". So here goes: I downloaded a whole bunch of stuff from BakaBT and started seeding it. For a lot of it, when I just look at the title, I don't have the slightest idea why. I know the main reasons why I picked things: for potential bonus points, or because of fan service, or because they looked like they might be good.
The Mystery Meat series of posts consists of me going out to my now-rather-large archive of downloaded fansubs and picking one about which I can't remember a damned thing, and watching the first episode and blogging about it as I watch.
Today's Mystery Meat series was going to be "Uta Kata", except that within 30 seconds of beginning to watch it, I remembered all about it. So we're going to try Koihime Musou.
more...
Posted by: Steven Den Beste in Mystery Meat at 08:43 PM | Comments (7) | Add Comment
Post contains 1091 words, total size 9 kb.
October 01, 2009
September 25, 2009
Mystery Meat -- Samurai Girl Real Bout High School
Our second Mystery Meat series is Samurai Girl Real Bout High School. I'm pretty sure I got this because it sounded like a poor man's version of Ikki Tousen. And also because of one or more keywords.
Blow-by-blow, plus 32 frame grabs, below the fold. A few of the grabs are NSFW, but it isn't anything like as raunchy as the last one.
more...
Posted by: Steven Den Beste in Mystery Meat at 05:33 PM | Comments (6) | Add Comment
Post contains 2242 words, total size 15 kb.
44kb generated in CPU 0.06, elapsed 0.1616 seconds.
46 queries taking 0.1111 seconds, 119 records returned.
Powered by Minx 1.1.6c-pink.