October 06, 2007
UFO Princess Valkyrie: who dealt this mess?
"Who dealt this mess?" That's the traditional lament of the card player looking at a lousy hand.
I just rewatched UFO Princess Valkyrie 3, the six episode series that didn't fulfill the promise of the second series. Alas.
There are all kinds of things wrong with this series, things that prevent it from being great. It's a fan service comedy, but that's a legitimate genre and it's possible to do that well. (See Hand Maid May.) You can tell good stories about good characters at the same time as you focus on the girls' tits in your art. Alas, this one didn't. It does plenty of focusing; that part's fine. It's the "tell good stories" part that's lacking.
One of the big problems with UFOPV is that Valkyrie is nine kinds of crazy. In an 8-card princess deck of wild cards, she's the strangest of the lot. Considering how strange most of the others are, that's really saying something.
She's even crazier than Chorus is at the beginning of the second series. And unlike Chorus, Valkyrie never gets her act together. Once the outside influence that was driving Chorus crazy was removed, Chorus really recovered. One of the pleasures of the third series is seeing how much better Chorus was doing. But through four series and a special, Valkyrie never really does.
UFOPV is for the most part a farce, and it's hard to tell a sensitive love story against a farcical background. The atmosphere is not conducive. One of the reasons the second series was the best of them all is that the farcical elements were toned down in favor of action-adventure, which is much more conducive to romance.
It took me a long time to really figure out the reason the series fails. It isn't because of Valkyrie; she's the second biggest reason. The problem is Kazuto. In a farce you need a sane one in the middle, around whom all the craziness circulates. The island in the storm, the anchor in the maelstrom, in a harem farce is usually the guy in the middle.
But he needs to be memorable, likable, believable as a character. He needs to be strong. He needs to know himself, believe in himself -- and the audience needs to know him and believe in him.
Kazuto isn't like that. He's a cipher. Kazuto doesn't have any character. After watching him all this time, I don't know what he's like. I don't know what he wants. Kazuto isn't a person, he's a trophy. He's a symbol.
So he doesn't serve that vital role of sane-man-in-the-middle, and without that the farce blows free of its moorings and crashes.
Yet the show is far from being a total failure. We're not talking Girls Bravo bad, let alone Eiken bad. Most of the characters in UFOPV are memorable and many are sympathetic. The women are gorgeous. And a lot of the stories are sweet and fun, while others are laugh-out-loud funny. I defy anyone to not grin while watching the first Fam episode (ep 1 of UFOPV3) when the meganekko army faces the nekomimi army with its giant cat tank.
With all its flaws, I like this series. And there has been something about it that has been itching me all this time. I think I've finally figured out what it is.
I've been watching a show made by an anime development team who are better than the material they're trying to adapt. In the cracks, and around the edges, where they have some freedom beyond the story handed them from the manga, they've managed to transcend their original material, and done some really good stuff.
I wish I could find someone who's read the manga. I'd like to ask them some questions about it. I'd be willing to bet money that Marduke and Murrenbach aren't in it. I bet those two were created by the anime team -- because those two guys plus Shiro have some of the best scenes in the series.
They get the best scene in the 6th ep of UFOPV3. The wedding is on, and there's a reception being held in a fancy floating chapel. Shiro, Marduke, and Murrenbach are invited, honored guests. And damned right, too: Shiro is family. Marduke and Murrenbach helped save Valhalla, the entire planet, at the end of the second series and they didn't even ask for pay. They went because their friend Kazuto was in trouble, and because their friend Shiro was going, and because men-of-action like Marduke and Murrenbach do not stand and watch when something big like this is going down.
So the three of them are honored guests. Their cab drops them off, and they swagger into the reception. They're bad-asses and they know they're bad-asses and they're proud of it. They're there at their friend's wedding and they're going to get drunk and have a good time. Nesty, admiral of the Valhalla fleet (and the 8th princess) drinks with them. Other naval officers whisper about them in awe, because all three of them have big-time reps.
And then Arseila the pirate shows up, and it turns out that she and Marduke are "old friends". It's a wonderful scene, funny and touching at the same time. I love those guys; they're the best thing in the series.
Was that scene in the manga? I bet not, because I bet that Marduke wasn't.
When the director is able to get the camera away from Valkyrie and Kazuto, the show is at its best. That's been the case all along. The best episodes in all of the series were the ones where Kazuto and Valkyrie have had the least amount of screen time. Which indicates a fundamental pathology in the original source material
My favorite episode of the third series is ep 4, which is about Raine. About Raine three times, in fact. It's really neat. It's sweet and touching. Valkyrie and Kazuto are in it for about 30 seconds.
When the camera is on Valkyrie and she's being angsty, that's when the series is at its worst. That's why ep 5 is my least favorite. It's almost painful to watch, but not in a good way. It's painful that I can't reach into the screen and whack Valkyrie with a clue bat.
That core part of the story, which must have come from the manga, is the worst part of the series. It's all around the edges, in places where the director got to add stuff to pad the stories out, where the quality shines through. This show is a lump of mud wrapped in gilt foil, delivered in a box made of silk.
And I think it must be the mangaka's fault. The name is Kaishaku. His other creations, which have made it onto the small screen? As card players also say, read 'em and weep:
Kannaduki no Miko
Kagihime Monogatari - Eikyuu Alice Rondo
Kyoshiro to Towa no Sora
Magical Nyan Nyan Taruto
Steel Angel Kurumi
Good Lord. The only one of those I've seen is Kurumi, and, man, was it bad. But just from the description of the others I can tell that they mostly sucked too.
Kagihimi Monogatari? Bunny girl warriors battle to recover pages from a lost magical book, the third Lewis Carroll book about Alice.
Kannaduki no Miko? 2 mikos and a mecha. You can't be serious.
And Steel Angel Kurumi? A complete train wreck.
It has to be the mangaka's fault. The two core characters in UFO Princess Valkyrie are the most repulsive (well, except for Inarba, who deserves tar-and-feathering). The further out you get in the peripheral characters, the better and more interesting they are (e.g. Raine, Marduke, and even Fam).
Sometimes when an anime is adapted from a manga, the anime team sees the fundamental weakness of the story and characters they've been handed and make wholesale changes. They should have done that for this series -- but I bet they didn't.
UPDATE: I've long had the suspicion that the reason Shiro was living in Kazuto's house is that he was hired by Mem to be a bodyguard for Valkyrie. I bet he's carrying lots of firepower (hidden somewhere about his person, and never mind where) and and can kick serious ass if he needs to. And I think even in the first series he was sending regular reports to Mem about what was going on in the household, which is why Mem didn't seem too surprised by any of it whenever she showed up. And I think that's why Sanada knew where to find Valkyrie in the first series.
If you think about it, Shiro would be a perfect choice. He's gutsy and resourceful and dedicated and I bet he's dangerous as hell in a fight, yet he looks like a plush toy and fits right in as Valkyrie's pet.
Does Kazuto know that about Shiro? My guess is that he does, or at least suspects. Otherwise, why would he let Shiro move in?
Posted by: Steven Den Beste in Valkyrie at 10:44 PM | Comments (3) | Add Comment
Post contains 1508 words, total size 9 kb.
September 04, 2007
UFO Princess Valkyrie 4: Three disappointments
At least three. I don't know why I expected anything better. Hope springs eternal, and I am ever a sucker, I guess. I hoped that it would be obvious to those who own this series that this was the last of it, and it was time to give us some closure -- at least a little bit of it, anyway. And they didn't.
Only two episodes, and they're both filler. Ye Gods. More, and lots of screencaps, below the fold.
I'd say that it was a spoiler, except that you can't spoil something that's already ruined.
more...
Posted by: Steven Den Beste in Valkyrie at 08:31 PM | No Comments | Add Comment
Post contains 935 words, total size 6 kb.
UFO Princess Valkyrie 4: Ultimate Miko
Posted by: Steven Den Beste in Valkyrie at 07:34 PM | No Comments | Add Comment
Post contains 6 words, total size 1 kb.
UFO Princess Valkyrie 4: Adding women
After two 12-ep series, one 2-ep OVA, and a 6-ep series, the last part of UFO Princess Valkyrie is another 2-ep series that ran on Japanese pay-per-view. So what's the first thing it does?
That's easy: introduce yet another mysterious girl. This one scares the heck out of Rika by appearing in, and then emerging from, a mirror:
Her name is Yumir, but I haven't watched enough yet to know anything besides the fact that she's Valkyrie's friend.
UPDATE: More NSFW below the fold
UPDATE: A family reunion?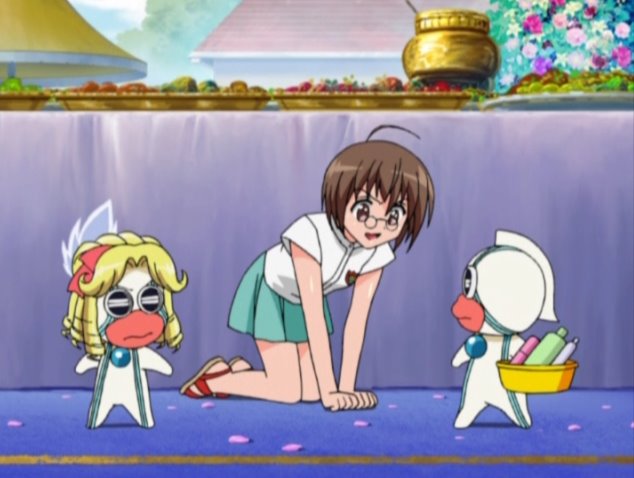 more...
Posted by: Steven Den Beste in Valkyrie at 06:26 PM | No Comments | Add Comment
Post contains 120 words, total size 1 kb.
August 08, 2007
Valkyrie 6: The Review
I've posted
my review
of UFO Princess Valkyrie 3.


Posted by: Steven Den Beste in Valkyrie at 11:24 PM | No Comments | Add Comment
Post contains 13 words, total size 1 kb.
Valkyrie 5: Kawaii!
Nekomimi meganekko meido? Have we melted the moe meter yet? (Try saying that three times fast.)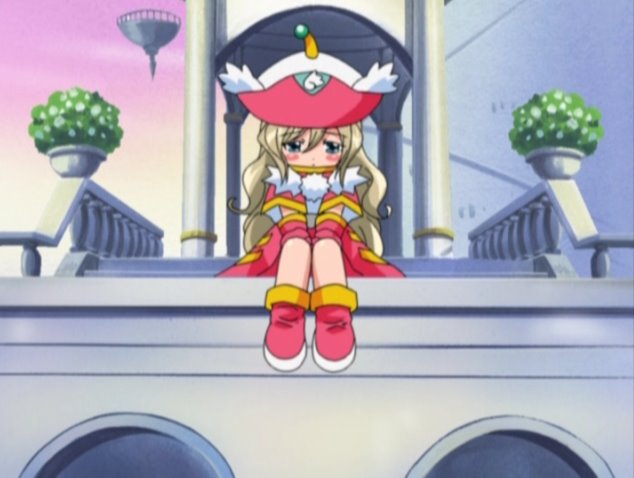 Aaaw. I think chibi-Raine could use a hug.
UPDATE: Below the fold
more...
Posted by: Steven Den Beste in Valkyrie at 08:55 PM | Comments (1) | Add Comment
Post contains 108 words, total size 1 kb.
Valkyrie 4: No brain, no pain
Raine is a puzzle. She's so laid back she's nearly comatose, and doesn't tend to sweat the little stuff. Even when everything is going completely to hell around her, she doesn't ever seem to get too worried.
It's easy to conclude that she doesn't get worried because she's too stupid to realize how much trouble she's in -- but I don't think that's the case. She can actually respond quite well to adversity when she needs to.
I think maybe the real answer is shown in the fourth episode of UFO Princess Valkyrie 3. Raine visits her favorite cosmetologist. (Pictures below the fold, plus a few mild spoilers.)
more...
Posted by: Steven Den Beste in Valkyrie at 08:39 PM | Comments (1) | Add Comment
Post contains 547 words, total size 3 kb.
July 14, 2007
Beefcake
It's never been a secret that the main reason for doing the UFO Princess Valkyrie series was fan service. And in all its incarnations (except the gawdawful one-ep special, about which the less said the better) they've always included establishing shots inside the Tokino bathhouse.
Just to make sure we know where we are, of course. Establishing shots. Lots of pictures of the patrons, on both sides of the divide.
The pictures on the women's side shows lots of alien women, but mostly they look like young, gorgeous humans with a few accessories such as horns, or odd ears; just enough of a difference to say "alien" without saying "ugly".
On men's side the aliens were usually far more varied and strange. When any humans were shown they were kids or old men. But not on this last DVD. In the fifth episode it's almost like they were sending up their own series. Two NSFW snaps below the fold.
more...
Posted by: Steven Den Beste in Valkyrie at 08:38 PM | No Comments | Add Comment
Post contains 202 words, total size 1 kb.
Princess Raine
Raine is so laid back she's almost comatose.
Actually, that's not fair. But one defining characteristic of her is that she doesn't freak out even in the strangest of circumstances. She just tries to cope with what's happening to her -- and she finds her feet faster than any other character would. For instance, if your hair salon uses a strange new skin treatment on you and it sends you traveling through time, wouldn't you be confused?
Raine isn't; she just adapts. Guards chasing her through the palace of Valhalla? Well, it certainly helps if you're a shape-changer, which she is. Just become one of the guards.
Meet an earlier, or later, version of yourself? Not a problem -- for her. Just go with the flow. It helps if you like yourself. It helps even more if you like yourselves
I knew from the previews that something odd was going to happen to Raine in the fourth episode of UFO Princess Valkyrie 3 but I didn't really know what it was. It's actually a sweet self-contained story, with the added benefit of letting us see more of how Chorus is getting along.
I used to think that Hydra was the most sane of the princesses. I didn't really consider Raine for that mostly because she comes off as such a flake. But maybe I've misjudged her. It may rather be that she doesn't sweat the little stuff.
I will say this: it's beyond doubt that Raine is the happiest of the princesses, the one who is most comfortable with herself and her life. And if in fact she is so adaptable, it explains why she is and was able to get along with Chorus so well, even when Chorus was so seriously screwed up by the voices in her head.
UPDATE: A bit of cheesecake below the fold.
UPDATE: A magnificent piece of dialogue below the fold.
UPDATE: Maybe the main reason Raine takes things in stride is because she knows things will turn out OK. What with the six-year-old version of herself in the habit of visiting her future twenty-something on a regular basis, it means that she knows that everything nothing in between will turn out to be a disaster.
more...
Posted by: Steven Den Beste in Valkyrie at 04:49 PM | No Comments | Add Comment
Post contains 569 words, total size 4 kb.
July 09, 2007
UFO Princess Chorus
They sure make them big and bouncy on Planet Valhalla -- except for Chorus. And they sure make them nuts there, especially Chorus.
Chorus was introduced in the second UFO Princess Valkyrie series. She's a denpa, a word that means she hears voices. It's a sarcastic term that implies that those voices are being received via radio waves. In real life it means someone's schizophrenic.
In anime it usually means they're psychic. In the case of Chorus, it means both. When she first appeared in the second series she was featured in two episodes and they were thoroughly annoying, as was she.
But as the "Valkyrie Ghost" story arc developed, they explained why she was so loopy. It turns out that she'd been receiving waves from the four lost princesses her whole life. It's no wonder she was screwed up. With the end of the second series, that got resolved, and one of the nice things to see in the third series is that Chorus is getting her act together.
She moves out of Rika's closet and gets herself a very small apartment in a rundown house -- but it's not a total dump. Raine and Chorus are the same age and roomed together in middle school and high school, and they are friends. In the second episode of the third series we see Raine visiting Chorus, and see that Chorus really has improved a lot. She's trying to fit in, trying to live as an Earthling, and though she's still sleeping in a closet, in most ways she's adapting well.
I admit it: that was good to see. Once I really understood what had been happening to her all her life, I really did feel sorry for her. Hers really was the happiest ending of the second series.
Seeing Inarba punish Chorus a couple of minutes after this screen grab really made me angry. Chorus didn't deserve it, and damned well has had enough trouble in her life. The punishment was stupid, and was intended to be a joke about otaku. On that level it did inspire a chuckle. But it reduced Chorus to tears, and made me really hate Inarba, the heartless bully, because the infraction for which it was inflicted was minor in the extreme.
So we got the second and last DVD of the third series coming on Friday. And I admit this, too: I'm looking forward to it. One reason is that I'm hoping for a bit more resolution on how Chorus is healing, and I think I'll get that.
I'm also hoping that eventually Akidra will kick Inarba's butt, but I don't think that'll happen. Alas.
On the other hand, what I do know is that the rest of this series is going to be really stupid. Really stupid. Even by the low standards set by this series, it's going to set all new levels of stupid. I hope my intellect will survive it.
But the Raine-concentration episode (#4) might well be fun, even if it is blitheringly stupid.
This is not a series which rewards close scrutiny. They have never explained why it is that Hydra continued to live with Akina in the second series, or why she always consents to have her power resealed by Akina, for instance, and that's a major plot point in the series. Just brush it under the rug and don't look too closely at the lumps.
So I'm not expecting miracles. But I do hope we get to see just a bit more about how Chorus is improving, since I'm not going to get the pleasure of seeing Inarba run over by a truck. Or beat up by Akidra.
Actually, it's an open question whether Chorus or Valkyrie was actually more crazy. What with Chorus's improvement, however, I'd have to say that by the end of the series Valkyrie has to get the nod.
Posted by: Steven Den Beste in Valkyrie at 10:40 PM | No Comments | Add Comment
Post contains 650 words, total size 4 kb.
38kb generated in 0.056 seconds; 53 queries returned 106 records.
Powered by Minx 1.1.4-pink.