March 02, 2012
Ancient mysteries
Or modern ones, anyway.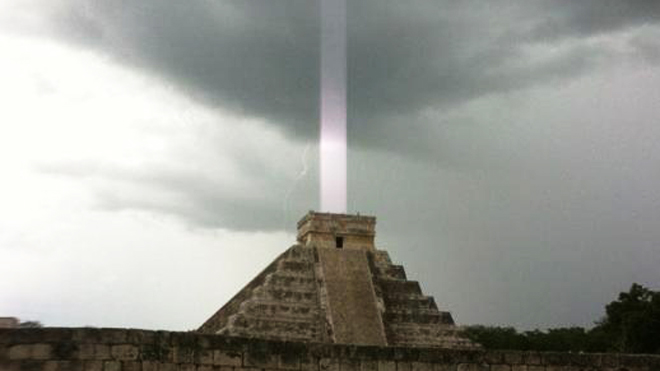 This picture really does look pretty cool. There's a pretty plausible technological explanation for it, but I'm sure it's gonna end up in some "ancient mysteries" web site without that explanation Real Soon Now.
Posted by: Steven Den Beste in linky at 03:24 PM | Comments (2) | Add Comment
Post contains 40 words, total size 1 kb.
February 07, 2012
January 03, 2012
December 04, 2011
November 29, 2011
Some random stuff
A reader just informed me that this year's SaiMoe winner is Railgun, Misaka Mikoto Onee-sama.
I just noticed a couple of days ago that Railgun's Saten-san has the same seiyuu as AsoIku's Eris -- and I sure didn't suspect. The voices don't sound at all alike to me.
Anyone interested in Russian guns? James says they're a bargain. And they aren't necessarily garbage, either.
Posted by: Steven Den Beste in linky at 09:16 AM | Comments (7) | Add Comment
Post contains 67 words, total size 1 kb.
November 28, 2011
October 31, 2011
Figurine site
There's a site I've been following where the owner buys a figurine and then does a pretty comprehensive photo shoot of it. Unfortunately, he hasn't posted any new ones since last June, and I suspect he's given up.
There was another such site I knew about a few years ago but lost, which had a far more comprehensive collection of photos. And just this evening, while digging through some old files, I found it again!
They have so many photo shoots that they've divided them up into five different index pages: one two three four five
Some of them are NSFW. So beware.
They're divided by series, and you probably won't be surprised to learn that the single biggest group is from Evangelion.
Fate/TYPE-MOON is the second biggest and Ikki Tousen looks to be third. The Queen's Blade section is pretty big, too. But there are a lot of series which got figurines which I never knew about (the figurines) and some where I wonder what they were thinking.
For instance: why (oh why) would anyone want figurines of the girls from Higurashi?
Posted by: Steven Den Beste in linky at 08:05 PM | Comments (9) | Add Comment
Post contains 185 words, total size 1 kb.
October 19, 2011
September 15, 2011
This image enchants me
APOD shows us a galaxy with a cloud of loose stars around it.
And when I look at it, I imagine what it would be like if one of those stars in the cloud above the galactic disk had an inhabited planet. That amazing spiral galaxy would fill the entire sky some nights. What would people on that planet think? Would they worship it? What would they name it?
(How did we English speakers end up with such an unromantic name for our own galaxy? "The Milky Way"? You must be kidding me. That was the best we could come up with?)
Posted by: Steven Den Beste in linky at 12:00 PM | Comments (1) | Add Comment
Post contains 106 words, total size 1 kb.
26kb generated in CPU 0.03, elapsed 0.138 seconds.
42 queries taking 0.113 seconds, 96 records returned.
Powered by Minx 1.1.6c-pink.