September 14, 2015
Automatic Update is evil
As if we didn't already have enough reasons to hate "Automatic Update" on Windows, it turns out that people who have automatic update enabled have been getting the Win 10 upgrade downloaded, 8GB of it, even if they haven't said they want it. It went out over the weekend.
It's for our convenience, you understand, to make the upgrade experience more easy and comfortable. And if you don't intend to upgrade, then it consumes downlink bandwidth and disk space for you automagically.
Tomorrow I'm going to watch carefully when I do my next manual update to make sure they don't toss in this same upgrade.
Posted by: Steven Den Beste in Computers at 01:48 PM | Comments (1) | Add Comment
Post contains 109 words, total size 1 kb.
July 08, 2015
July 01, 2015
uTorrent -- retreat
For a long time I was in the habit of leaving about 250 torrents running 24/7. That all ended when my WHS bought the farm and took most of my anime collection into the bit bucket, and I had to start over rebuilding my collection using my other NAS to hold the booty. Right now I have 58 torrents running but about 20 of those will go away in a couple of days. (For instance, 13 of them are individual episodes of Senran Kagura because I couldn't find a batch torrent for the series.)
When I first started doing torrents several years ago I didn't impose any limits on bandwidth usage, and I noticed that when I got really busy on uplink, suddenly it would cap at about 240Kbytes per second. Which if you do the calculation and allow for some overhead, is about 2 megabits. It was Comcast doing that, and just so that I didn't keep running up against their cap (and maybe get them mad at me), I set uTorrent to limit to 200K per second.
And a lot of the time I would saturate that, but a lot of the time I wouldn't. Last weekend I noticed something strange: every once in a while my uplink was suddenly plunge and spend a couple of hours pegged right at 50K. Then it would loosen up again. It made me worry that Comcast had decided to drastically lower the cap. But it also reminded me, back when I upgraded from uTorrent 2 to uTorrent 3, my uplink got a lot more finicky and was used a lot less efficiently.
So a couple of days ago I reinstalled uTorrent 2.2.1, the earliest install file I had retained, to be used instead of uTorrent 3.2.3. What I wanted to see was whether the older version would use my uplink more aggressively (i.e. more generously).
And it does. It's spent most of the last day pegged right at 200K, which is what I want. 3.2.3 almost never did that. The user interface is different, too, and I find I prefer the older one.
Which proves once again something that shouldn't really need to be proved: sometimes an upgrade is really a downgrade. (I'm looking at you, Microsoft Vista, and your younger sister Windows 8.) BakaBT doesn't permit any version of uTorrent beyond 3.3.1, and 2.2.1 is their recommended best version. And I think this is the reason why: the guys behind uTorrent made the newer versions try to game the tracker.
So I'm happy to retreat to 2.2.1 and I'll be sticking with it. For my purposes it's better than any other version, before or since.
Posted by: Steven Den Beste in Computers at 09:47 PM | Comments (10) | Add Comment
Post contains 448 words, total size 3 kb.
June 10, 2015
Recovering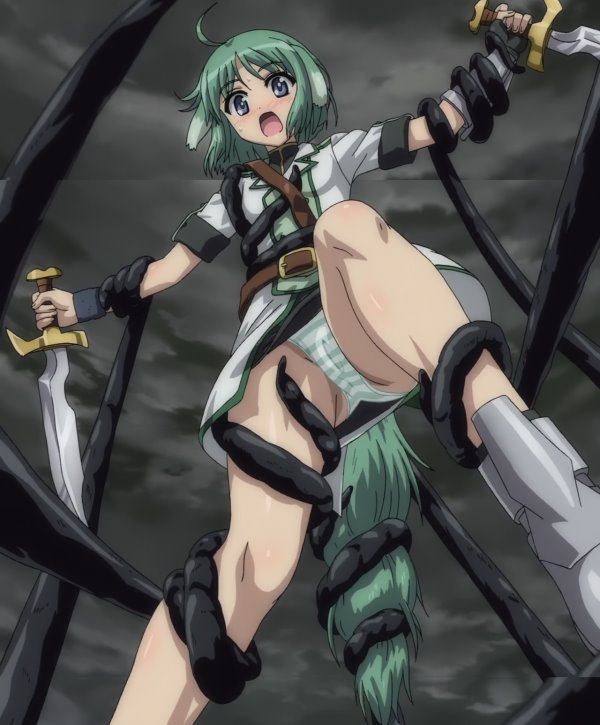 There was a couple of terabytes of anime on the server that died, but actually the vast majority of it was dusty, things I haven't looked at in months or even years. The number of shows I want access to is actually pretty small, and I've been doing some downloading today to catch back up.
First I downloaded Mouretsu Pirates, and then Dog Days S3 (see above). Right now I'm downloading Strike the Blood and when that's done (probably tomorrow) I need to find some reasonable way to download Nanatsu no Taizai. After that, Hyperdimension Neptune.
And that's probably all for the time being.
UPDATE: Actually, the first thing I downloaded was all of Nanoha Vivid to date.
Posted by: Steven Den Beste in Computers at 06:40 PM | No Comments | Add Comment
Post contains 119 words, total size 1 kb.
Windows 10
Why is Microsoft so eager to deploy Windows 10, that they're willing to give it away?
I can't figure out the story here. How do they win with this?
I read somewhere that they want to switch to "software as a service" pricing model, which means you don't own your Microsoft Software, you rent it, and pay continuously as long as you use it. Does that start with Win10?
(Also, what happened to Windows 9?)
Posted by: Steven Den Beste in Computers at 08:31 AM | Comments (19) | Add Comment
Post contains 77 words, total size 1 kb.
June 09, 2015
I feel sick
It's Tuesday, Microsoft Patch Day. My usual routine is to update my tablet first, just in case one of the patches causes it to brick.
If it's fine, then I update everything else: two computers running Win7 Pro and one running Windows Home Server 2003.
Unfortunately, the WHS ("deneb") halted in the middle of the update. I gave it half an hour, but the disk activity light showed no activity and it didn't respond any other way, so with great trepidation I power-cycled it.
And now it seems to be completely dead. Which is a great problem: that's where I store all my anime, plus a lot of other things.
I do have a backup of my anime, but I think it's last October.
Posted by: Steven Den Beste in Computers at 07:21 PM | No Comments | Add Comment
Post contains 127 words, total size 1 kb.
May 30, 2015
Marvelous, Sourceforge
I'm not a big one for Open Source, but I have been known to use it now and again. Word is that SourceForge has started wrapping their download packages with adware. Who knows what else is in there, eh?
In the Metafilter thread where I learned of this, someone also posted that uTorrent has started to do this, too. I bet that's why BakaBT doesn't allow any of the new versions of uTorrent.
UPDATE: I'm also getting tired of Adobe updates trying to impose McAfee on me, or Bing Bar, or Google Chrome, or any of a dozen other packages I want nothing to do with.
UPDATE: uTorrent 3.4.2 stealth-installed a bitcoin miner.
Posted by: Steven Den Beste in Computers at 04:16 PM | Comments (6) | Add Comment
Post contains 115 words, total size 1 kb.
May 28, 2015
Dodging bullets
I (deliberately) bought my current computer before Win8 came out, because I was sure it was going to be a trainwreck and I didn't want anything to do with it.
And I was right, and I'm glad I did.
My phone came out two and a half years ago, but we were brought up to the edge (Android 4.4.2) last Fall. I suspect we won't get any more updates for my model -- and again, I think I'm glad.
Google has gone nuts with the next version of Android. And I'm glad I won't be a part of it.
Thanks, but no thanks!
Posted by: Steven Den Beste in Computers at 05:33 PM | Comments (8) | Add Comment
Post contains 105 words, total size 1 kb.
April 07, 2015
Hey, Microsoft!
When I try to copy an MKV file into the "movies" directory on my HTC phone, Windows Explorer crashes.
An WMV file worked fine, however. Now to see what it does with MP4. And then see if I can dig out an AVI to try.
UPDATE: Those both copy fine, and play fine too. What the heck is the issue with MKV files?
Posted by: Steven Den Beste in Computers at 07:32 AM | Comments (5) | Add Comment
Post contains 65 words, total size 1 kb.
March 27, 2015
Sitemeter -- going to town, or going to hell
I've been noticing lately that links from some sites redirect to something called x.vindicosuite.com instead of going where I want them to. I've got it in my block file, so I just get a fail instead of the bogus advertising they're trying to feed me.
This guy says it's Sitemeter doing it. I have no idea if that's the case. This kind of random redirector is a common characteristic of certain pieces of malware, but Microsoft Security Essentials says I'm clean, so I don't think that's what's happening to me. Also, it isn't happening everywhere; only just a few sites (mostly PJ Media, but just now also Random Curiosity).
Anyway, you shouldn't see it happening here because I deleted Sitemeter months ago. If you do, I need to know about it.
If Sitemeter really is responsible for this, they've apparently decided to commit suicide. This is the kind of thing that can make a company a total pariah.
UPDATE: Yup, It's Sitemeter. I loaded the RandomC page into Firefox and stored it "web page complete" into a directory, then used WinGrep to search for "vindicosuite" and found it in a file called "counter.js". The first line in that file is:
// Copyright (c)2006 Site Meter, Inc.
I think I'll let them know.
UPDATE: And guess where it was loaded from?
http://s22.sitemeter.com/js/counter.js?site=s22randomc
OK, I'm blocking sitemeter.com now.
Posted by: Steven Den Beste in Computers at 06:30 PM | Comments (5) | Add Comment
Post contains 235 words, total size 2 kb.
60kb generated in CPU 0.07, elapsed 0.1789 seconds.
45 queries taking 0.129 seconds, 131 records returned.
Powered by Minx 1.1.6c-pink.