May 16, 2012
Mai HiME -- a strange cameo
One time I decided to watch Mai HiME, and I think I got up to ep 7. But it just seemed too silly and strange, and somehow I never got back to it.
It had a lot of omake when it was released on BD. 28 of 'em. But they aren't fully animated. Mostly voices over still images, sometimes with camera motions. Tonight I went through them all. The vast majority of them are either fan service or angst, if not both. But there were a couple which were weird.
Presented without comment:
Even weirder is that Arika makes a cameo appearance in one of them: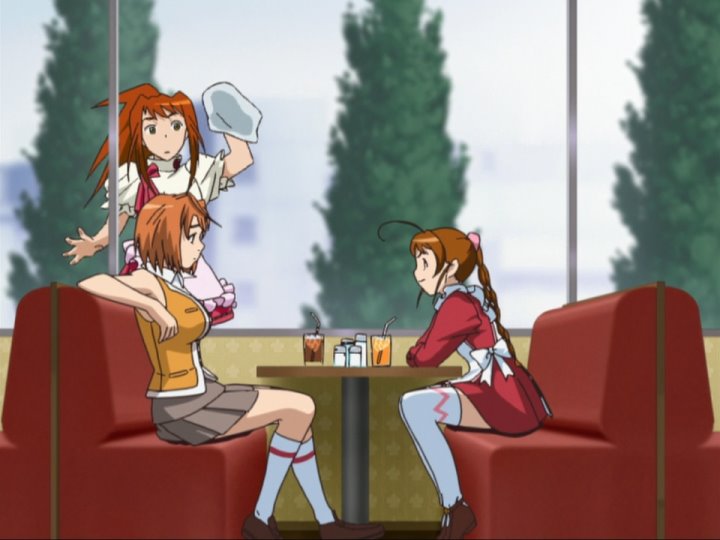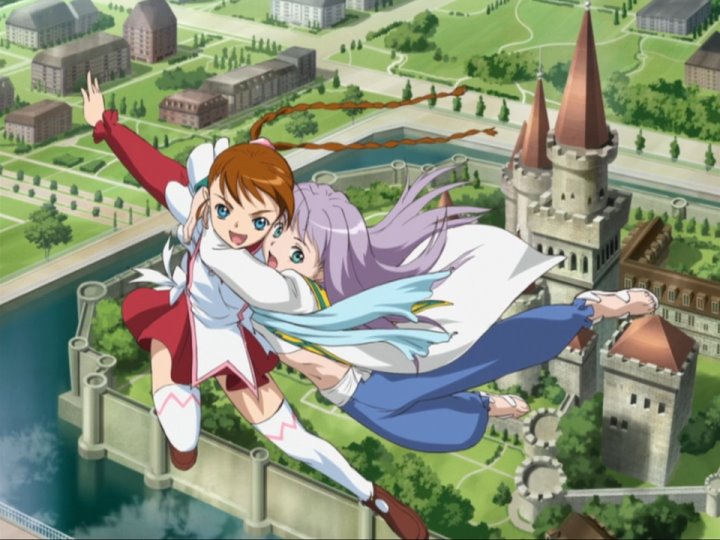 Which has me confused. Mai HiME came out before Mai Otome. Were they in the planning stages for the latter when they were working on the BD release of the former? How could Arika Yumemiya show up, not to mention Mashiro Blan de Windbloom? (Also, how is Arika flying without her robe?)
As to the show itself, I have a feeling I'm not going to watch any more of it. It just doesn't appeal to me. I am vaguely curious about what the heck is going on, but not enough to invest the time to find out.
Posted by: Steven Den Beste in General Anime at 08:24 PM | Comments (6) | Add Comment
Post contains 209 words, total size 1 kb.
Posted by: J Greely at May 16, 2012 08:52 PM (2XtN5)
Posted by: sqa at May 17, 2012 11:30 AM (fYnLL)
Posted by: Steven Den Beste at May 17, 2012 11:59 AM (+rSRq)
Posted by: ubu at May 17, 2012 09:34 PM (GfCSm)
Posted by: Steven Den Beste at May 17, 2012 09:43 PM (+rSRq)
Posted by: DiGiKerot at May 17, 2012 09:44 PM (PTuw/)
Enclose all spoilers in spoiler tags:
[spoiler]your spoiler here[/spoiler]
Spoilers which are not properly tagged will be ruthlessly deleted on sight.
Also, I hate unsolicited suggestions and advice. (Even when you think you're being funny.)
At Chizumatic, we take pride in being incomplete, incorrect, inconsistent, and unfair. We do all of them deliberately.
How to put links in your comment
12kb generated in 0.0374 seconds; 23 queries returned 25 records.
Powered by Minx 1.1.4-pink.