April 15, 2010
Zettai Karen Children -- ep 1
Level 5? Pbbt! How about three, count 'em, three level 7's? That's Zettai Karen Children. I just downloaded the whole series and watched the first episode. And it's not bad at all.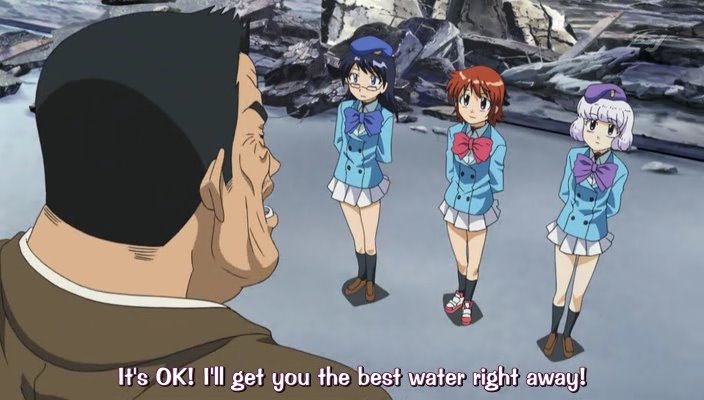 Here's our three magical girls. The one in the middle, with red hair, is Haruhi Kaoru. Some seiyuu can do different voices and not remind me of a signature part. For instance, Akina in UFO Princess Valkyrie sounds nothing at all like Sakamoto in Strike Witches, but it's the same seiyuu. (And she's in this show, too, but I haven't encountered her character yet.) Hirano Aya isn't as versatile, unfortunately, but so far Kaoru doesn't really sound a whole lot like Haruhi and I hold out hope.
Kaoru is a genki girl, with poor judgment, a hot temper, and enough telekinetic power to level a city block -- which she does in the first episode. She can also fly. And she likes looking at pictures of sexy women and ogling their boobs. Shiho calls her a tomboy.
On the left, wearing glasses, is Aoi. She's sensible, which you can tell because of the glasses. She tries to rein in Kaoru. She's a teleporter, and she's better at it than Kuroko, because she doesn't need to be touching something, or even very near to it, in order to teleport it. She's really fast, too, and can dodge incoming fire by teleporting out of the way. She's got the same voice as Mako in Saki.
Our remaining girl is Shiho. They call her a "psychometrist". If she touches a person she can read their mind. She can also do that indirectly, by touching something that the target person is touching. She's rather quiet, and according to the OP she carries a gun. Her seiyuu has done a lot of major roles, but none that I've seen.
This is Kouichi, our hero. He's twenty, but he's also brilliant, and courageous, and hits it off with the girls when he first meets them. Their previous handler, a woman, hated them. He likes them, and they like him.
They wear power limiters, which restrict most of their power most of the time. That woman held the device which unlocked the limiters. Anyway, Kouichi becomes their new handler. Their previous power limiters looked like dog collars. He designs new ones which are much nicer looking that they wear on their wrists.
All of them work for an organization called Babel, which is an adjunct to the police. There are a lot of espers running around, and many of them end up as criminals. In the first episode a loony-toon named Muscle Oukama goes on a rampage in Akihabara. He's a transmuter, I guess you could call it; he can fire a beam from his nether regions which converts objects, or people, to metal. This doesn't kill people it strikes, but they stay that way until he's captured at the end of the first episode and gets a power limiter of his own.
The overall feel of the show is borderline slapstick, and there's a lot of energy. The girls are friends. They're also really little, and really young. They didn't say how old they are in the first episode but I'm guessing they're still grade school.
It's not bad. I have no idea how long I'll stick with it, but I enjoyed the first episode.
UPDATE: Now having said all that, let's talk about the torrent. It's 704*400 and hard-subbed. Is this the best Chihiro could do? What in hell were they thinking?
Posted by: Steven Den Beste in General Anime at 08:42 PM | Comments (10) | Add Comment
Post contains 595 words, total size 4 kb.
Posted by: Wonderduck at April 15, 2010 09:39 PM (mfPs/)
Posted by: SlashZero at April 15, 2010 09:55 PM (1wwFR)
Posted by: Steven Den Beste at April 15, 2010 10:06 PM (+rSRq)
Posted by: Wonderduck at April 16, 2010 04:37 AM (mfPs/)
Posted by: Wonderduck at April 16, 2010 04:47 AM (mfPs/)
Posted by: Tom Tjarks at April 16, 2010 07:28 AM (GJA7G)
Posted by: Steven Den Beste at April 16, 2010 12:08 PM (+rSRq)
Posted by: Pixy Misa at April 16, 2010 07:24 PM (PiXy!)
Posted by: Steven Den Beste at April 16, 2010 07:30 PM (+rSRq)
Posted by: Pixy Misa at April 16, 2010 07:47 PM (PiXy!)
Enclose all spoilers in spoiler tags:
[spoiler]your spoiler here[/spoiler]
Spoilers which are not properly tagged will be ruthlessly deleted on sight.
Also, I hate unsolicited suggestions and advice. (Even when you think you're being funny.)
At Chizumatic, we take pride in being incomplete, incorrect, inconsistent, and unfair. We do all of them deliberately.
How to put links in your comment
Comments are disabled. Post is locked.
11kb generated in CPU 0.006, elapsed 0.0143 seconds.
21 queries taking 0.0099 seconds, 27 records returned.
Powered by Minx 1.1.6c-pink.