October 11, 2013
Yuushibu -- ep 2
The basic story hook here is that mana, magic, has the place in this world that electricity does in ours. But by its nature it isn't, and can't be, centrally generated. On the other hand, lots of people have magic power, and for a household there will be a small storage facility which someone (a resident) has to charge up once a day. Most of the magic appliances in the house draw their power from it. There are also appliances which draw their power from the person using them, like the hair dryer which blew up at the end of the first episode.
In this episode, Raul continues to train Fino, who initially has trouble with 7 critical phrases. I couldn't catch it but he runs through them and she copies them, except with minor changes which totally alter the meanings. So "I'll be right back with more" became "I want to see the gore". (Probably not a literal translation, but it's clear that the scene was an exercise in punning.)
At the beginning of the first episode, Raul was involved in a battle with three classmates, one of which was a blonde girl named Airy who got MCSA'ed. She shows up in this episode and she's in the OP and ED, so it's clear she's going to be a regular. Hardly surprising.
She runs into Raul during his lunch break, and he doesn't admit to her what he's doing. Then later he has dinner with the other two, guys, and it turns out that they don't have jobs because they refuse to give up on being heros. So the rest of the episode includes him feeling bad about losing his dream.
That sounds like angst, but it wasn't handled that way. It's a legitimate character moment for Raul, and it was handled well.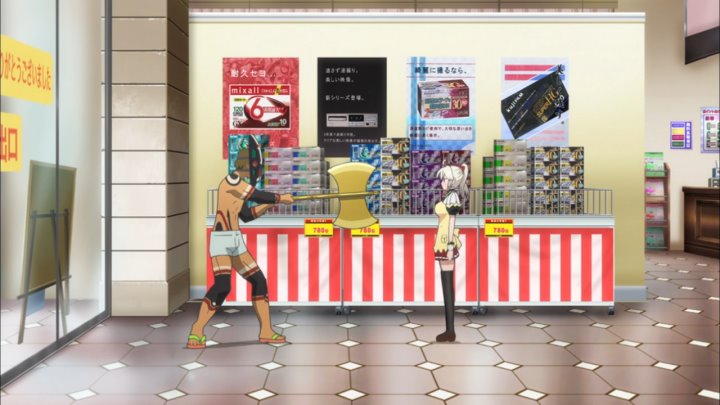 The high spot comedically was when someone tried to rob the store, wearing a voodoo mask and carrying a battleaxe. Nova is busy with a customer, and Raul is out at lunch, so Fino tries to deal with him. And she doesn't understand that he's trying to rob them; she thinks he's a legitimate customer and tries to deal with him on that basis. Raul comes back in the middle of it, and between the two of them they take the guy down, without any bloodshed and without destroying the store.
This image is from the ED (Sorry about the credits; there wasn't a clean frame of it):
Ordinarily I would say "Here's the harem." But not for this show, more on that later. On the far left is the store manager. Next is Nova, Raul's co-worker. The green-haired girl hasn't been introduced yet. The blonde in the middle is Airy, Raul's classmate; in the OP she's shown walking around dressed like a bunny-girl. Then Fino, the daughter of the demon lord, and the last two work in the quikimart next to the appliance store.
It isn't being handled as a harem, and that isn't the kind of story that's being told here. The writing in this show feels very fresh; there are so many tropes and cliches that could be used, and I don't see any of them happening: no accidental compromising situations, no nosebleeds, no tsunderes. (About that one, with Raul's combat training, anyone -- including any girl -- who tries to physically attack him will get a surprise.) And Raul isn't acting like a perv, and none of the girls are getting mad at him about things like that.
It continues to feel like "accidental magical girlfriend". So far they are primarily concentrating on the relationship between Raul and Fino -- but so far that relationship is entirely professional. It probably won't stay that way. I could be wrong, however; Airy may turn out to be the love interest. But I wouldn't be surprised at all if it turns out there isn't any love interest at all.
Another way this could go is to be about finding your dream, being happy with your lot in life. That's truly where I think this is going.
Posted by: Steven Den Beste in General Anime at 06:42 PM | Comments (13) | Add Comment
Post contains 685 words, total size 4 kb.
Posted by: topmaker at October 11, 2013 07:19 PM (2yZsg)
Posted by: Steven Den Beste at October 11, 2013 07:42 PM (+rSRq)
Posted by: topmaker at October 11, 2013 07:51 PM (2yZsg)
Posted by: muon at October 12, 2013 04:25 AM (4LL0R)
Posted by: Steven Den Beste at October 12, 2013 06:01 AM (+rSRq)
Posted by: topmaker at October 12, 2013 07:58 AM (2yZsg)
Posted by: Tiberius at October 12, 2013 08:25 AM (97M8h)
Posted by: wahsatchmo at October 12, 2013 10:54 AM (r4uXE)
Posted by: Avatar_exADV at October 12, 2013 02:38 PM (GJQTS)
Posted by: sqa at October 12, 2013 06:40 PM (rdcLU)
Posted by: Steven Den Beste at October 12, 2013 07:05 PM (+rSRq)
Posted by: sqa at October 12, 2013 07:29 PM (rdcLU)
Posted by: Steven Den Beste at October 12, 2013 07:30 PM (+rSRq)
Enclose all spoilers in spoiler tags:
[spoiler]your spoiler here[/spoiler]
Spoilers which are not properly tagged will be ruthlessly deleted on sight.
Also, I hate unsolicited suggestions and advice. (Even when you think you're being funny.)
At Chizumatic, we take pride in being incomplete, incorrect, inconsistent, and unfair. We do all of them deliberately.
How to put links in your comment
Comments are disabled. Post is locked.
16kb generated in CPU 0.0051, elapsed 0.0147 seconds.
21 queries taking 0.0108 seconds, 30 records returned.
Powered by Minx 1.1.6c-pink.