October 04, 2013
Yuusha ni Narenakatta Ore wa Shibushibu Shūshoku o Ketsui Shimashita -- ep 1
Apparently the official short version of the name is "yu-sibu", which is base URL of the official web site.
Anyway, my verdict? Not bad. Not bad at all. It's an unusual setting. I expected the store to be like the one in one episode of Petite Princess Yucie, or something from that strange street in the Harry Potter series, but it was actually more like Sears. They sell appliances, mainly, but also things like audio tapes.
Our hero is Raul Chaser. He was a hero in training, and then the Demon Lord got finished off, and the government decided it didn't need, and couldn't afford, the hero training school any more. So Raul and his classmates were summarily kicked out onto the street, with training and knowledge that were no longer of any use. So he's got a job, now, in what seems to be a cut-rate appliance store.
There is a lot of gainaxing in this show. The beginning was a group of five students engaging in a classic raid against monsters. One of them was a girl and she got MCSA'ed, but they showed her apparently wearing some sort of body stocking. It's obviously a "buy the BD" moment, and far from the only one.
I'm sure that on the BD there won't be any body stocking. (Magician's Academy had a scene like that. On broadcast all the naked people had skin dyed purple. On the DVD, they were normally colored and it was evident they weren't wearing anything.)
I have no idea whether she's going to be in the rest of the series, given that she didn't appear again after the OP, but I'd bet eventually that she shows up. In the mean time, Raul has a co-worker named Nova, who has big tits, and a boss who is a gorgeous woman with big tits. He buys his lunch at a corner grocery store, where the girl who works there has big tits. (Noticing a pattern here?) They all do a lot of bouncing. It would seem that no one has invented the brassiere in this magical world.
But the main part of the first episode is that a person comes in with a resume looking for work. The manager decides to hire, and assigns Raul to train the newbie. Which is odd: the newbie's resume says "child of the Demon Lord". But Raul has his instructions and proceeds to do his best with the newbie, which he thinks is a boy. Turns out she's a girl -- with big tits. (Of course.) And strange ideas about modesty. (For instance, if her breasts are partially covered with soap suds, she thinks that's good enough.)
Despite the swarm of gorgeous women, I didn't get the feeling that this was going to be a harem show. By the end of the episode it looks like it's a classic "accidental magical girlfriend" show, instead. The accidental girlfriend being Fino Bloodstone, daughter of the late Demon Lord, now out of a home and getting a job in the store to make a living.
It's a no-name cast. The seiyuu doing Raul is doing his first major part. The seiyuu doing Fino has only had one major part before, and as I ran down the cast no one had any huge amount of experience. Having said that, I didn't find any of the performances objectionable.
It wasn't bad. Not bad at all. And Raul doesn't seem to be a fuck-up; he does his job pretty well, and there weren't any accidental compromising positions. Also, so far at least no sign of a tsundere. (Fino would have been the natural choice for that if they were inclined to put one in the show, but if she were tsundere it would have been evident by the end of this episode.)
I don't think this is great art, but for ecchi comedy I've seen a whole lot worse.
Frame grabs, many NSFW, below the fold.
---
Magical Appliances R Us
These girls work at the grocery store where Raul buys his lunch. Actually, the girl on the right (flat-chested, the only one in the show) might well be a tsundere. But the left one likes Raul.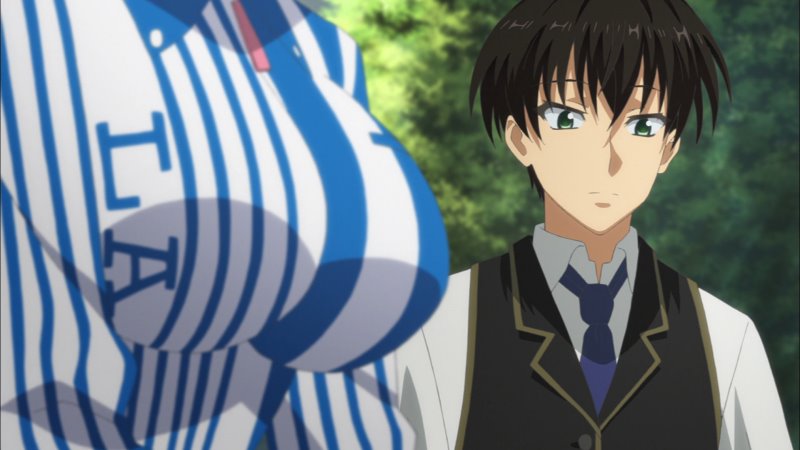 And her boobs sit down to talk to him while he's eating.
This is Fino, shortly after he discovers she's a girl.
Some time passes and he comes back to the store, only to find her washing her hair in the rear.
She isn't concerned that he's seeing her like that. Her breasts are covered, after all.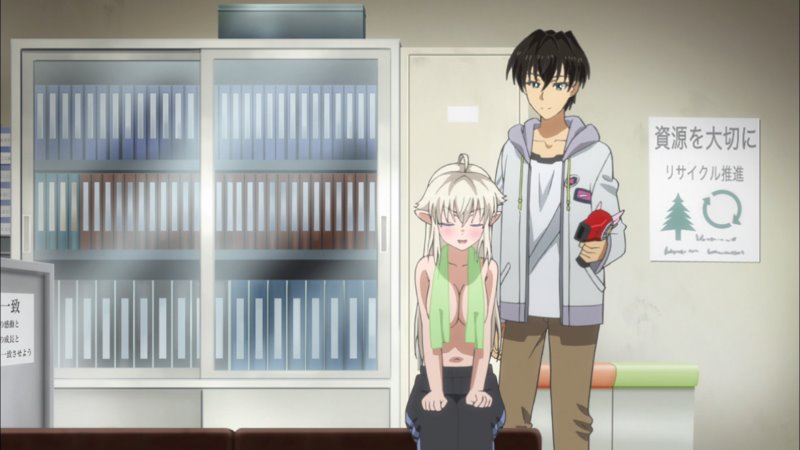 He uses a magical hair drier on her. Again, she apparently isn't concerned. There's the towel for modesty.
Posted by: Steven Den Beste in General Anime at 09:38 PM | Comments (5) | Add Comment
Post contains 788 words, total size 5 kb.
1
I actually liked ep 1. It's nothing super special, but it seems like it'll be watchable. Raul isn't a push over, he's just a competent guy in a field that no longer exists. Buggy whips and all that.
But, yeah, the breasts were bouncing a lot here. I think they have a new animation/CG blending system they're using, as they pulled a few zoom ins & outs that seemed more fluid that normal. Could explain how they got a lot more bounce with less work needed. (Yup, from the staff that brought you the classics of Queen's Blade)
I loved the little joke on the Demon conception of modesty. That one slayed me. Then... turbo button.
Oh, and Nova's skirt chaser with the Star Trek references. That was great.
Posted by: sqa at October 04, 2013 10:27 PM (rdcLU)
2
Agreed. Not the best thing ever, but it'll do, it'll do...
Posted by: Avatar_exADV at October 04, 2013 10:55 PM (GJQTS)
3
I guess in a world where every girl has an enormous chest, seeing boobs is no big thing.
Posted by: Mauser at October 05, 2013 12:39 AM (TJ7ih)
4
I'm thinking that the proper characterization of the show is "Accidental Magical Girlfriend from Mars". A lot of the comedy so far has derived from the fact that Fino is totally unfamiliar with the human world, and I'm sure that's going to continue.
Posted by: Steven Den Beste at October 05, 2013 07:46 AM (+rSRq)
5
Yeah, this really wasn't bad at all. It has a bit of a
Hataraku Maou-sama!
feel to it, but it certainly takes place in a unique setting. I like that Raul isn't really all that good at selling, but he's generally competent. And Fino offering her butt for the grabbing in order to properly establish workplace communications was funny.
This could work. So far, I only despise two series (
Golden Time
,
Diabolic Lovers
) of the seven or so I've seen of this season, which is pretty good.
Posted by: wahsatchmo at October 05, 2013 12:25 PM (r4uXE)
Enclose all spoilers in spoiler tags:
[spoiler]your spoiler here[/spoiler]
Spoilers which are not properly tagged will be ruthlessly deleted on sight.
Also, I hate unsolicited suggestions and advice. (Even when you think you're being funny.)
At Chizumatic, we take pride in being incomplete, incorrect, inconsistent, and unfair. We do all of them deliberately.
How to put links in your comment
Comments are disabled. Post is locked.
12kb generated in CPU 0.0046, elapsed 0.0156 seconds.
21 queries taking 0.012 seconds, 22 records returned.
Powered by Minx 1.1.6c-pink.