July 06, 2011
Yuru Yuri -- ep 1
Yuru-Yuri is "cute girls doing cute things" except that they're older, and there's sex involved. Or at least intimations of it.
It feels a bit like an attempt to subvert the "cute girls doing cute things" genre. It's very silly.
The characters are two 8th graders and two 7th graders. The parallel to Ichigo Mashimaro is pretty obvious and I suspect not accidental, though there's a two year difference. One of the older ones is Yui, who has dark hair and is the most sane and self-controlled. The other older one is Kyouko, the blonde, and she's nutso. So far, so good. Kyouko is a budding doujin artist, and her character is a magical girl named Miraku-run.
The redhead is Akari. She's one of the younger ones. She calls herself "Akari", and using your own name like that is a childish affectation, something kids usually outgrow by the time they're 12. Akari spends a lot of time crying; she may be intended to correlate somewhat to Matsuri.
Those three have been friends since grade school. The fourth, with pink twintails, is Chinatsu. Turns out she looks very much like Kyouko's Miraku-run.
When Chinatsu shows up for the first time, Kyouko comes on very aggressively to try to convince her to join the Entertainment Club. Yui bops Kyouko on the head and otherwise calls her off. And then we start getting yuri vibes: Kyouko gets a nosebleed looking at Chinatsu, and in the mean time Chinatsu starts having "onee-sama" vibes about Yui. At one point there's a three-way grabbing scene.
Akari isn't part of it. And we get something almost like a fourth-wall break, where they talk about how Akari had begun the show apparently as the main character, but her presence had declined. The other girls decide to figure out what to do about it. They each write something suggesting what should change. This was Kyouko's: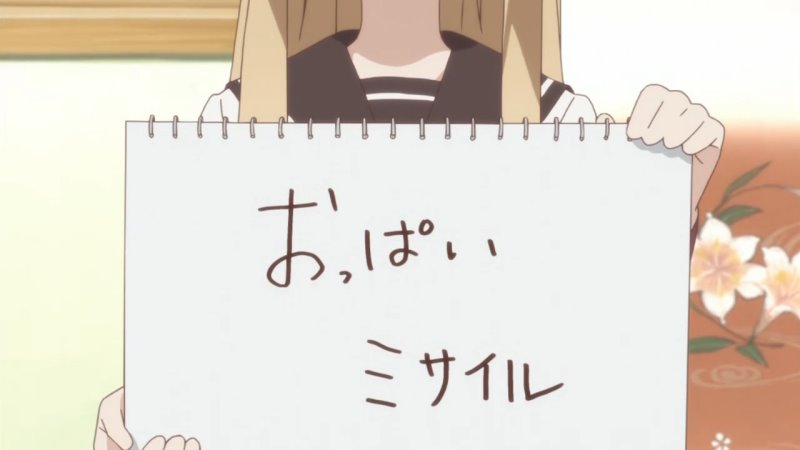 おっぱい ミサイル is oppai misairu i.e. "boob missiles", as the translators made it. And I admit I laughed out loud.
And it proceeded to get even stranger from there.
Oh, forgot to mention. Ichigo Mashimaro also had a perverted older girl, right? We didn't see her in the first episode, but it looks like Akari's older sister is all that. At the beginning, Kyouko peeked inside the older sister's bedroom, which had "absolutely no admittance" on the door, and found imouto games and imouto books, and loli pictures on the walls, and a lot of pictures of Akari herself. Plus a hug pillow with Akari's picture on it, and lipstick kisses on the face. And a couple of pairs of Akari's underwear, which Akari had been complaining had gone missing.
Kyouko got seriously freaked by that. I'm sure it's going to come up again.
What it is, is a humor series. What it isn't, I'm happy to say, is pedo bait. There wasn't any fan service to speak of. There was a scene with Kyouko looking up Yui's skirt, and a scene where Kyouko grabbed Yui's boobs, but no jiggle, no panchira, and no nudity.
The dynamic between Kyouko and Yui is very similar to Chika and Miu, except that Kyouko isn't the same kind of crazy as Miu.
Did I like it? I got mixed feelings. The potential is here for this to be seriously funny. (As it were.) But I don't know if they can keep it up, or if they'll head into the ditch with loli fan service. If they keep it clean, that'll help a lot.
Posted by: Steven Den Beste in General Anime at 05:52 PM | Comments (4) | Add Comment
Post contains 591 words, total size 4 kb.
1
I watched this first episode and didn't know WHAT to make of most of it, but the "analyzing Akari's lost Presence" bit was pretty funny.
Posted by: Dave Young at July 07, 2011 08:42 AM (0K+Kw)
2
...and found imouto games and imouto books, and loli pictures on the walls, and a lot of pictures of Akari herself.
Imouto is ones own little sister.
Thus, an imouto game ought to be something like baseball...or cribbage...and yet the context there...it bothers me.
Posted by: The Brickmuppet at July 09, 2011 12:18 PM (EJaOX)
3
I could have said "incest games and incest books" etc. but Imouto games are an actual genre.
Imouto games are the ones which were such a big part of "My little sister can't be this cute".
And for anyone not into that genre, they're right up there at 10 on the squck scale.
Posted by: Steven Den Beste at July 09, 2011 01:37 PM (+rSRq)
4
Ichigo Mashimaro

also had a perverted older girl, right?
Nobue? I think "perverted" is overstating things a bit. Nobue enjoys the antics of the younger girls, but considering they they constitute three cutinos and a chaon that's only rational.
Posted by: Pixy Misa at July 11, 2011 04:37 AM (PiXy!)
Enclose all spoilers in spoiler tags:
[spoiler]your spoiler here[/spoiler]
Spoilers which are not properly tagged will be ruthlessly deleted on sight.
Also, I hate unsolicited suggestions and advice. (Even when you think you're being funny.)
At Chizumatic, we take pride in being incomplete, incorrect, inconsistent, and unfair. We do all of them deliberately.
How to put links in your comment
Comments are disabled. Post is locked.
9kb generated in CPU 0.01, elapsed 0.0191 seconds.
21 queries taking 0.0131 seconds, 21 records returned.
Powered by Minx 1.1.6c-pink.