July 16, 2012
Upotte -- episode 1
Hello, boys and (girls? probably not, I would think) other boys. Today we're going to learn something, and have fun doing it!
Yes, Upotte is edyukayshunnal. It's also funny and ecchi. As to which of those is the real point of the series? Well, only time will tell.
Fact is, I don't know. When this originally broadcast I only watched the first two episodes, and then recoiled in squick. But fate has called upon me to review this piece of exploitative trash wonderful work of art, and who am I to deny fate?
Besides, I deserve it. I forced Wonderduck to review High School of the Dead, and I tried to stick him with this one, too. What goes around comes around.
Every post in this series, however long it goes (I may not last to the end) will contain spoilers and NSFW frame grabs.
---
I didn't keep up with downloading it when it originally came out, so I had to hunt around for a batch, and finally found one. Only problem is, it was subtitled in Arabic. So I found a different one, which I hope is in English and which is downloading as I write this. I still have the first two episodes from before, and I'll work with them while I wait. (It's on Crunchyroll, but I don't like taking frame grabs from Crunchyroll.)
I'm a bit surprised that it never showed up on BakaBT. It's been licensed by Sentai, so that's not the problem.
I was surprised to see that it only ran 10 episodes. I wonder what the story is on that?
The character designer also did the character designs for Ladies vs. Butlers and Kanokon, and it looks it. All the girls have round faces and look a little bit plump. They're also rather shapely, perhaps more so than we would expect for middle school girls.
It isn't just middle school. The academy in question also has a grade school section, and a high school section. What's unusual about it is that all the students are guns. Not just that they all own guns; they are guns.
Now if you find yourself asking how such a thing can be, well, then you shouldn't be watching shows like this, or even reading about them. We'll just cite the Rule of Cool and move right along. (Is there a "Rule of Stupid"?)
One of the points of this is that with each weapon being anthropomorphized as a cute girl, we can hear them talk about their various individual characteristics without being overwhelmed by pictures of machined metal. Some people like looking at machined metal, but more of us guys (since I seriously doubt any girls are interested in dreck like this) would rather look at chicks and pretend.
So...
Here are our four main characters: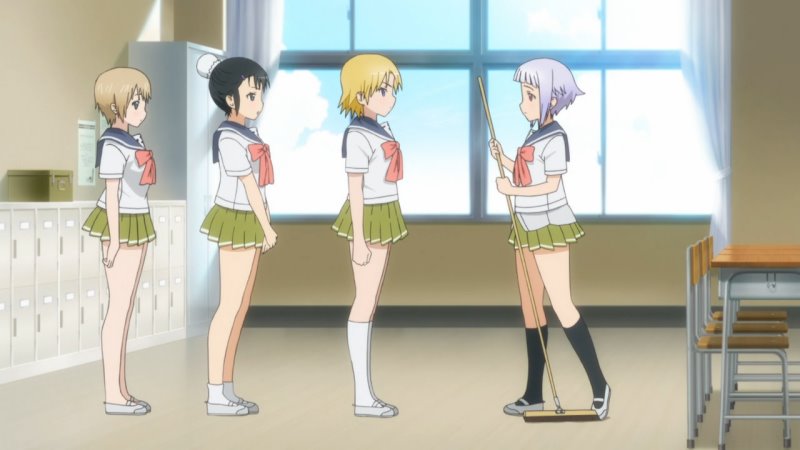 Eru, Shigu, Ichiroku, and Funko. Or rather, L85A1, SG550, M16A4, and FNC. It's an international school; Ichiroku is American and Funko is Belgian and... well, you get the idea.
You may notice that even for anime the skirts are amazingly short. Yeah. You're right. They are. Good job noticing that.
Our first episode begins with a character who seems to be intended to be the audience viewpoint character. IIRC he doesn't end up that way, and gets deemphasized later, but that's how he comes across in the first episode.
He is human, we are told, and has just gotten a job as a teacher at Seishou Gakuen. It's day before his first day and he's trying to find the school, and encounters one of his future students on the way, and... it's like something out of Hanamaru Kindergarten except with guns instead of moeblobs.
He manages to get sidetracked to a festival at a shrine. Some kids are at a cork-shooting booth trying to win something-or-other and the guy in the booth is being a prick. Funko takes a try at it, and does shoot it successfully, but the guy in the booth won't let her have it because of her school uniform.
So our teacher takes a try. And Funko gets hot and bothered watching him, with his perfect stance. And as he holds the cork rifle, she fantasizes about him holding her (as a gun) and gets flushed, and... "I'm about to shoot!" Um, yeah... "My hammer is going to fire..."
..moving right along...
It turns out that he misses. A bunch of times. And the corks ricochet and they all hit Funko in the head.
But since Funko is from the school he's trying to find, he asks her to lead him there. Well, and he follows her up a stairs, and the wind blows, and he sees that she's wearing a thong. This while she's telling him that she's FNC, a Belgian assault rifle.
Later at the dorm she takes a bath and fantasizes about him.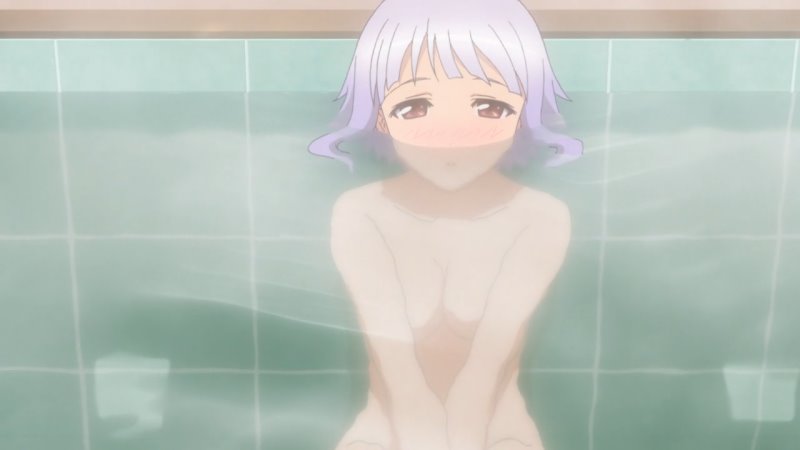 Next day! His first day! He is being led around the school by the principal and notices lots and lots of bullet holes. And signs on the walls that say things like "Do not fire in the Hallway" and "Keep Chamber empty in the classroom". "Keep your safety on at all times!!"
Morning routine is for all the students to be on the gun range.
That blonde in the front is Ichiroku aka M16A4.
And this one, with the brown hair, is Eru, L85A1.
FNC shows up late. She greets the teacher, and he can't remember her name. So he calls her "The one with the thong." There's a beat. And then she hoses him.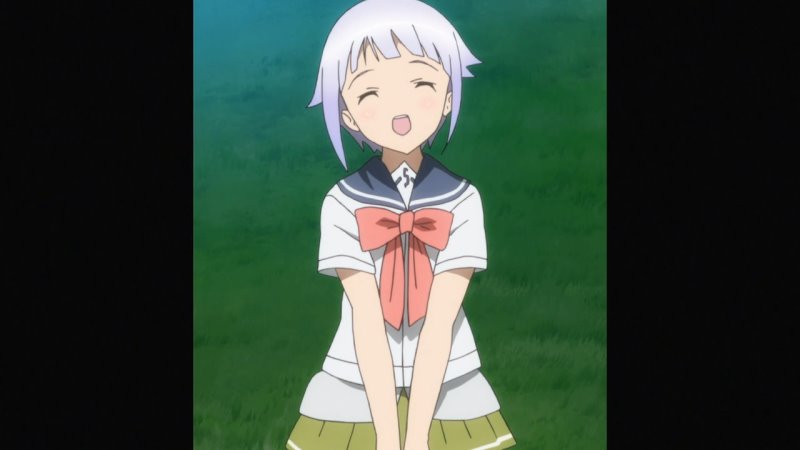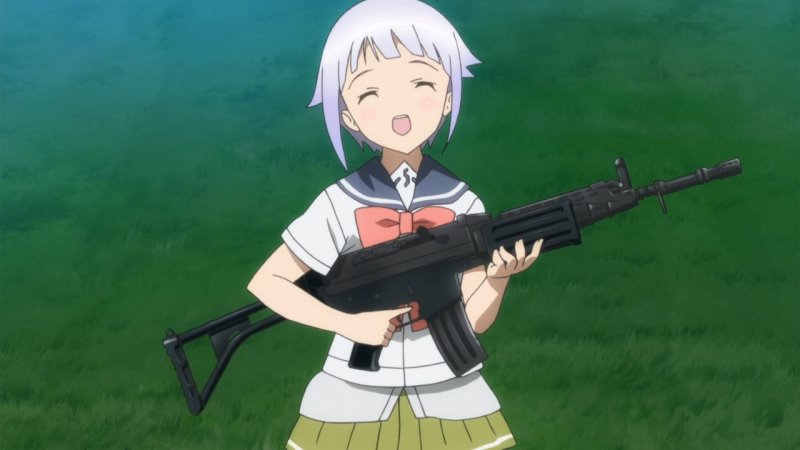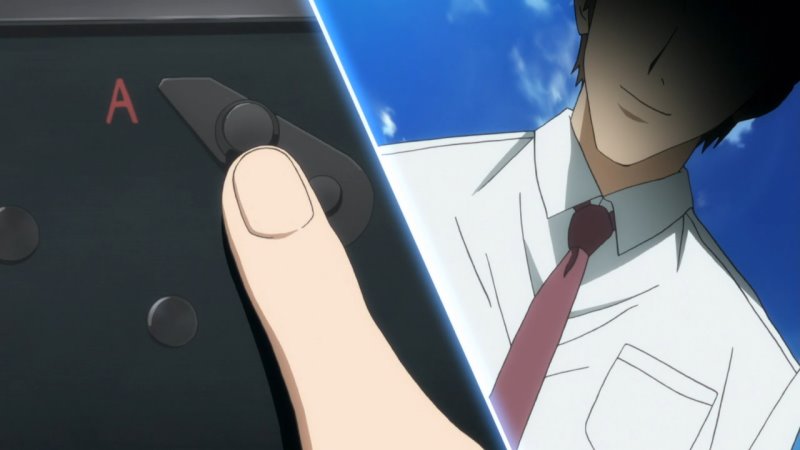 Our hero ends up in the hospital, and his first day will have to wait a while.
And now for some fan service: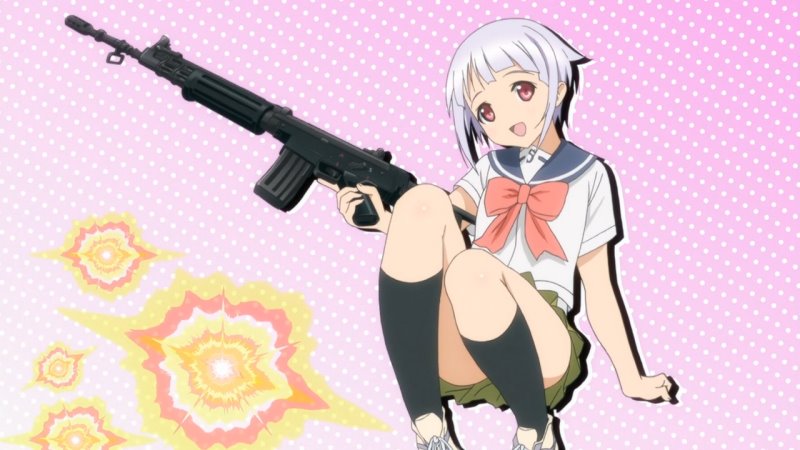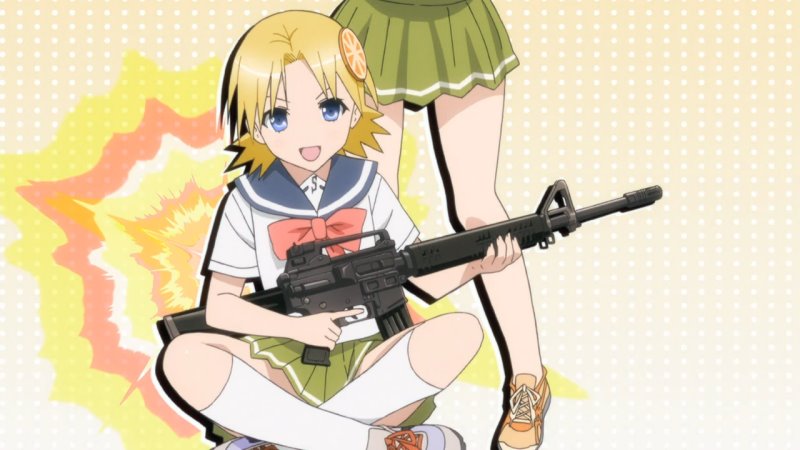 Back to the "story". The principal informs the class that the new teacher is in the hospital, as FNC sulks.
"What did he mean, calling me 'the girl with the thong'? I have a skeleton stock so I can't help it!"
I never really understood how those two were related. Maybe I don't have a dirty enough imagination.
And now for some more fan service:
Back to the "real" world: FNC is still hot and bothered and feels like her hammer is about to go off (there's all kinds of double entendres like that in this show), so she goes to see the school nurse. And gets told, "That part of you is extremely precious, so be sure to keep it clean and well maintained." uh-huh...
Eru (L85A1) comes in with a tummy ache. Seems she's jammed again. I gather that the L85A1 has a problem with that, and so its anthropomorphized form does, too. Anyway, the nurse comments that Eru's spring isn't strong enough, as she helps clear the jam.
The teacher has been in the hospital a week, and the four main girls decide to make a DVD for him to introduce themselves. Or rather, Shigu (SG550) does, and forces the other girls to participate. Time for some more fan service: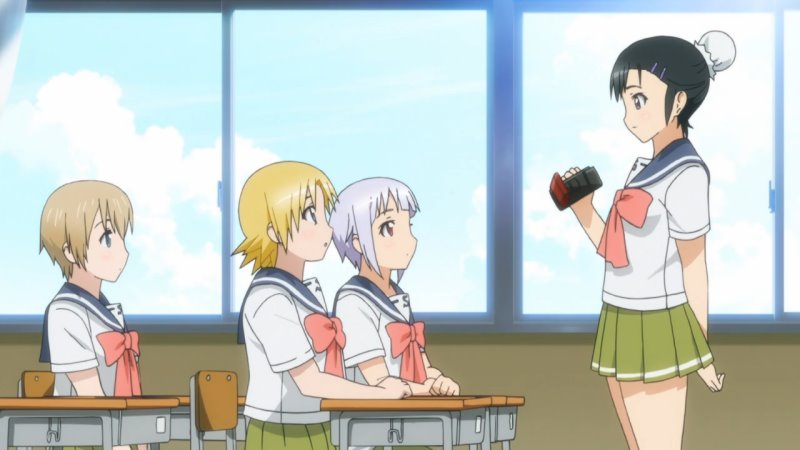 Grey-haired tsundere == FNC.
Black hair with a white hair bun == SG550. "I thought that carpet bombing was when they filled bombs with carpet." She's a ditz.
Blonde genki girl is Ichiroku, M16A4. She speaks in Osaka-ben for no reason. When she gets into something she works really hard. But she has to take a break when she does stuff. "That's because I only have a three-shot burst." (Is that true? Did they eliminate full-auto mode in the A4?)
Why does she wear an orange slice in her hair? We don't ask questions like that.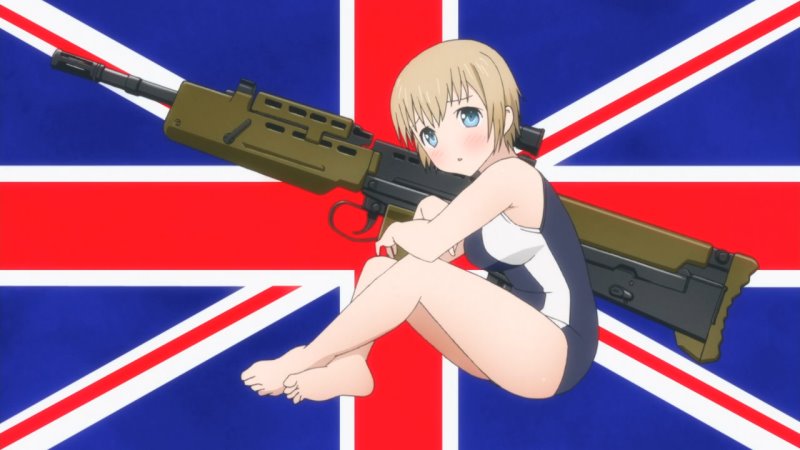 Brown hair is Eru, L85A1. She's British, so she has the biggest tits. (It's a trope in anime that all girls from the UK have huge breasts. And in fact that isn't totally wrong; I read the the average bra size in Britain now is a D-cup.)
So the girls finish their video and want to deliver it to him at the hospital. But FNC won't go in. And it turns out he's outside, and she runs into him again, and he mentions her thong again -- and she shoots him again. A bit more stuff, and the episode ends.
Posted by: Steven Den Beste in Cheesecake at 07:01 PM | Comments (18) | Add Comment
Post contains 1360 words, total size 9 kb.
Posted by: Steven Den Beste at July 16, 2012 07:27 PM (+rSRq)
Posted by: Wonderduck at July 16, 2012 09:14 PM (Kv7m+)
Posted by: Steven Den Beste at July 16, 2012 09:37 PM (+rSRq)
Posted by: wahsatchmo at July 16, 2012 10:44 PM (gY5xe)
Posted by: Jordi Vermeulen at July 17, 2012 12:56 AM (AJZdn)
Posted by: sqa at July 17, 2012 02:39 AM (5/dUV)
Posted by: Wonderduck at July 17, 2012 05:25 AM (cx8j7)
Posted by: Steven Den Beste at July 17, 2012 06:23 AM (+rSRq)
Posted by: Steven Den Beste at July 17, 2012 06:25 AM (+rSRq)
Posted by: Pete Zaitcev at July 17, 2012 07:35 AM (5OBKC)
Posted by: Steven Den Beste at July 17, 2012 08:12 AM (+rSRq)
Posted by: J Greely at July 17, 2012 10:06 AM (2XtN5)
Posted by: tellu541 at July 17, 2012 11:01 AM (Nu03Y)
Posted by: Mauser at July 18, 2012 01:58 AM (cZPoz)
Posted by: Steven Den Beste at July 18, 2012 03:52 AM (+rSRq)
Posted by: Pixy Misa at July 18, 2012 04:36 AM (PiXy!)
Posted by: Mark A. Flacy at July 18, 2012 04:41 AM (Zdi7L)
Posted by: Steven Den Beste at July 18, 2012 06:10 AM (+rSRq)
Enclose all spoilers in spoiler tags:
[spoiler]your spoiler here[/spoiler]
Spoilers which are not properly tagged will be ruthlessly deleted on sight.
Also, I hate unsolicited suggestions and advice. (Even when you think you're being funny.)
At Chizumatic, we take pride in being incomplete, incorrect, inconsistent, and unfair. We do all of them deliberately.
How to put links in your comment
Comments are disabled.
23kb generated in 0.0254 seconds; 21 queries returned 35 records.
Powered by Minx 1.1.4-pink.