December 05, 2009
To Aru Kagaku no Railgun -- ep 10
There's a word that's important in this series: chounouryokusha. It means "a person with supernatural powers". That's the word that is used for people like Mikoto.
That word also shows up in Haruhi; it's used to refer to Koizumi. In that series they translated the word as "Esper". In Index and Railgun the fansubbers are translating it as "ability user". Which ain't bad, but aint really stellar, either.
Not that I have any better suggestion. "Esper" doesn't work for this series because the powers are too varied.
I had a mild complaint about spoilers in the last post I did about this, so the rest of this, including spoilers, goes below the fold.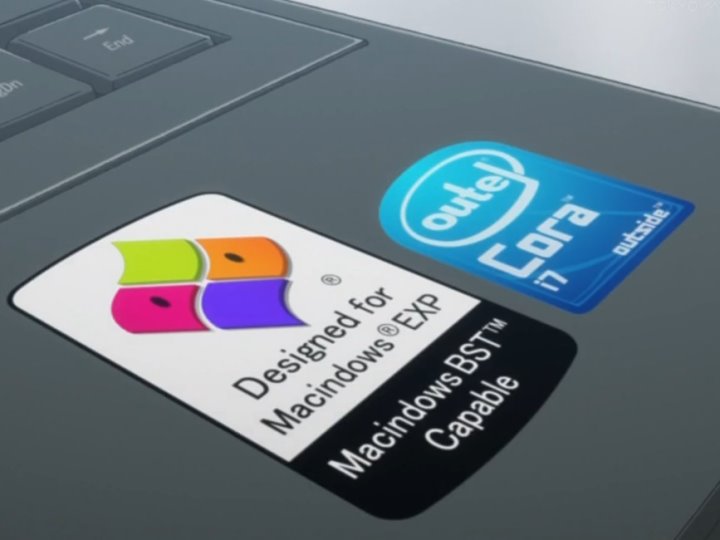 ...I'm not sure I want to know what "BST" stands for.
UPDATE: i'M GOING BACK THROUGH THE EARLIER... damned capslock button....
I'm going back through the earlier episodes taking frame grabs for the top rotation. And it becomes evident that even though the Kuroko character can be a bit annoying when she's in full-blown horny lesbian mode, the seiyuu is having the time of her life doing the part, and is doing a fantastic job. I bet those voice over sessions were a lot of fun.
---
The series did some rearranging with events in the earlier part of the manga, but they seem to be following the manga closely for the Level Upper story arc.
At the beginning of this episode Saten and her three friends used the Level Upper and all of them developed telekinesis. Then one of them passed out. Saten became afraid. From home she called Uihara and told her what had happened, and started crying. Uihara told her that even if she passed out, Uihara would find a way to wake her and everyone else. Saten felt better and thanked her.
Uihara runs through the city to Saten's apartment, and finds her passed out too. Once Saten is in the hospital, Uihara goes to the scientist, Kiyama. Kiyama leaves the room to make some coffee, and while she's gone Uihara finds a paper on Synthesia and puts all the pieces together. She ends up captured.
Meanwhile, Kuroko and Mikoto and another member of Judgment named Konori also put all the pieces together. The doctor at the hospital (the one who looks like a frog) showed them how all the patients had the same brain wave. At HQ, Konori does a database search and identifies that brain wave pattern as belonging to Kiyama.
The ep ends with Uihara handcuffed, being driven by Kiyama somewhere. The antiSkills (i.e. the SWAT team) are alerted that Kiyama should be arrested, and they've been told that she may be taking hostages. Mikoto asks to be allowed to help, and of course she's a major asset. Episode ends.
So next episode Mikoto takes on Kiyama, whose power is massively boosted by the Level Upper network. In the manga it was a hell of a battle. I have high hopes for the anime; they've been doing justice to the manga so far.
We had a debate on whether Railgun could do "dark". Certainly compared to Index it's a hell of a lot lighter, but the phone call between Saten and Uihara certainly counts pretty well. It hurt. (As it was supposed to.) And the next scene, it hurt even more when Uihara found Saten passed out, clutching the good luck charm her mother had given her.
One thing I particularly like about this series is the way that Uihara is changing in the eyes of the audience. To begin with she seems like a rather vapid character whose main job was to have her skirt flipped by Saten, but as the series has gone on we've learned that she's smart and resourceful and dedicated and loving and loyal.
And she is brave. Sitting in that car with handcuffs on, she isn't concerned with her own fate. She's still thinking about Saten and the other victims.
She's gone from silly to respectable in our eyes, and that is good writing. Other characters have more supernatural power than her, but spiritually I think she's the strongest of the four.
Another thing that was interesting in this episode is that Mikoto did some soul-searching. She's known for a long time that people admire her for her power and that a lot of people are envious of it, but it really hit her just how strong those feelings can be in others. She realizes that she's been callous about it.
Her "Power levels don't matter" approach, which is how she's been trying to deal with it, doesn't come across as sensitive. It comes across as slumming, as arrogance. And now she knows it.
Posted by: Steven Den Beste in General Anime at 10:46 AM | Comments (3) | Add Comment
Post contains 787 words, total size 5 kb.
1
I had a strong feeling you were going to write about this episode, especially after I saw the computer labels: "Outel Cora i7 Outside" indeed.
What's sort of ironic is that halfway through her conversation with Saten, it hit me... just what
is
Uiharu's power anyway?. And then Kiyama asked the same question. I suspect the answer is going to be quite surprising (no spoilers, anyone!).
Also,
Railgun
isn't as bad about lengthy monologues during battles as
Index
was, not by far-- which was my major complaint about it.. I'm really looking forward to the next episode.
Posted by: ubu at December 05, 2009 12:50 PM (XExaN)
2
People kept asking Bill Watterson about "the noodle incident" and Watterson would answer that it was funnier if he never explained what it was.
I suspect we'll never find out what Uihara's power is. I think it's deliberately tantalizing. What we do know is that it probably isn't very useful.
Posted by: Steven Den Beste at December 05, 2009 01:08 PM (+rSRq)
3
...just what

is

Uiharu's power anyway?
I believe I've come up with an answer to that very question, which
can be found HERE
.
Posted by: Wonderduck at December 05, 2009 03:28 PM (C32SO)
Enclose all spoilers in spoiler tags:
[spoiler]your spoiler here[/spoiler]
Spoilers which are not properly tagged will be ruthlessly deleted on sight.
Also, I hate unsolicited suggestions and advice. (Even when you think you're being funny.)
At Chizumatic, we take pride in being incomplete, incorrect, inconsistent, and unfair. We do all of them deliberately.
How to put links in your comment
Comments are disabled. Post is locked.
11kb generated in CPU 0.0177, elapsed 0.0416 seconds.
21 queries taking 0.0337 seconds, 20 records returned.
Powered by Minx 1.1.6c-pink.