June 04, 2014
Some random comments
First, when I first joined BoxBT (back before the palace coup), the unposted backlog tended to run about 30. After it became BakaBT, there seemed to be a rising tide of apathy on the part of the mods and the backlog rose and rose, finally peaking about 170.
But I have to give credit where it's due: about four months ago someone decided to make a concerted effort to work the backlog down. And today, for the first time in a long, long time, it was under 120. Good job! Keep it up!
Second, Pete? Girls und Panzer? Mouretsu Pirates? Puella Magi Madoka Magica?
UPDATE: Pete says "Any Ludicrous Concept Is Better With Girls (In Bikinis)". That would be Yuushibu.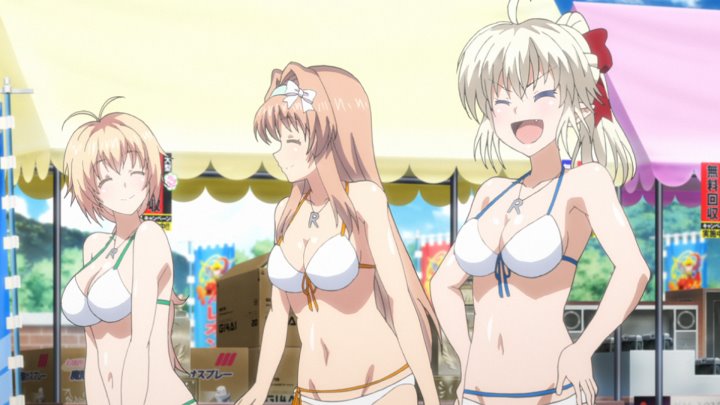 I wouldn't say that Asobi ni Iku Yo is one of the best shows of the last few years. As harem shows go, it's better than average. (Ichiban Ushiro no Daimaou is also better than average.) But the average is really lousy, so being better than average doesn't mean being excellent. And Yuushibu is better than average for harem shows. But they're all second rate.
I think Puella Magi Madoka Magica was excellent.
(Speaking of Yuushibu, I'm really rather surprised that we haven't seen a rip of the last BD yet. I guess beggars can't be choosers.)
Posted by: Steven Den Beste in General Anime at 02:31 AM | Comments (2) | Add Comment
Post contains 220 words, total size 2 kb.
1
What is the backlog? Requests?
Posted by: muon at June 05, 2014 03:39 AM (XIprt)
Posted by: Steven Den Beste at June 05, 2014 06:24 AM (+rSRq)
Enclose all spoilers in spoiler tags:
[spoiler]your spoiler here[/spoiler]
Spoilers which are not properly tagged will be ruthlessly deleted on sight.
Also, I hate unsolicited suggestions and advice. (Even when you think you're being funny.)
At Chizumatic, we take pride in being incomplete, incorrect, inconsistent, and unfair. We do all of them deliberately.
How to put links in your comment
Comments are disabled.
6kb generated in CPU 0.0, elapsed 0.0165 seconds.
21 queries taking 0.012 seconds, 19 records returned.
Powered by Minx 1.1.6c-pink.