November 14, 2014
So much for discipline
I can't stand it, I'm going to post 23 grabs from the Mouretsu Pirates movie, below the fold.
---

Hakuoh Academy's new look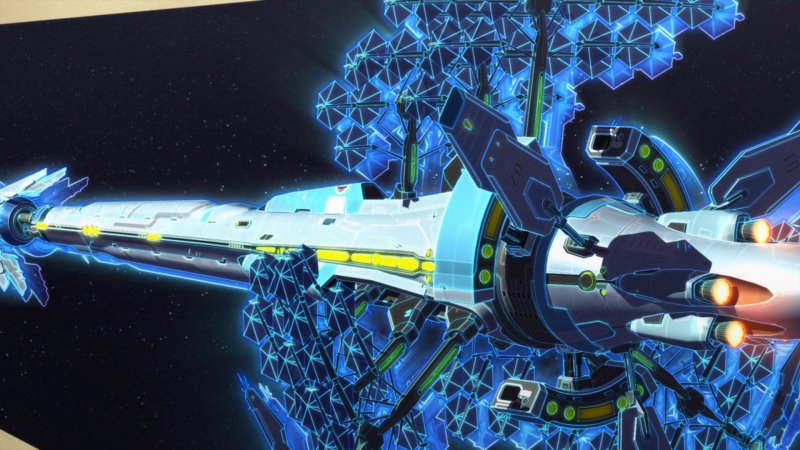 Odette II
By the way, I'm pretty sure I heard several members of the yacht club refer to "Odette-kun".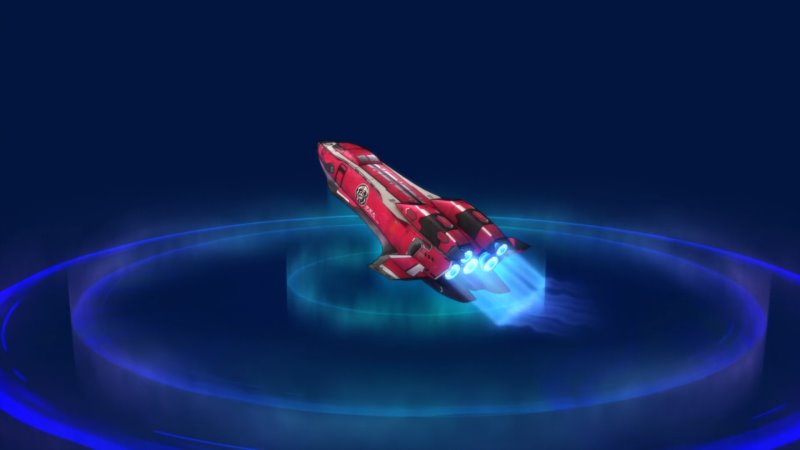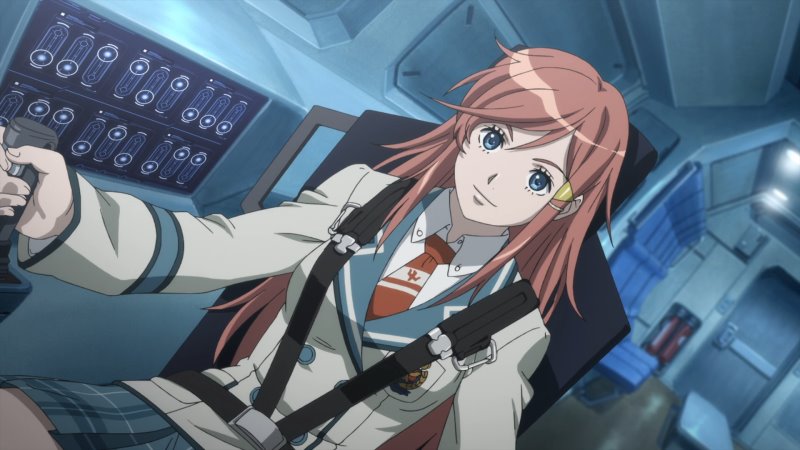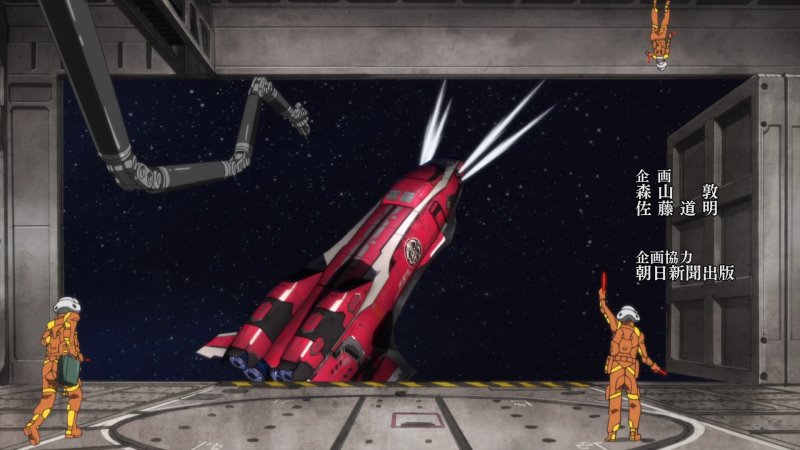 Marika flies up to Bentenmaru.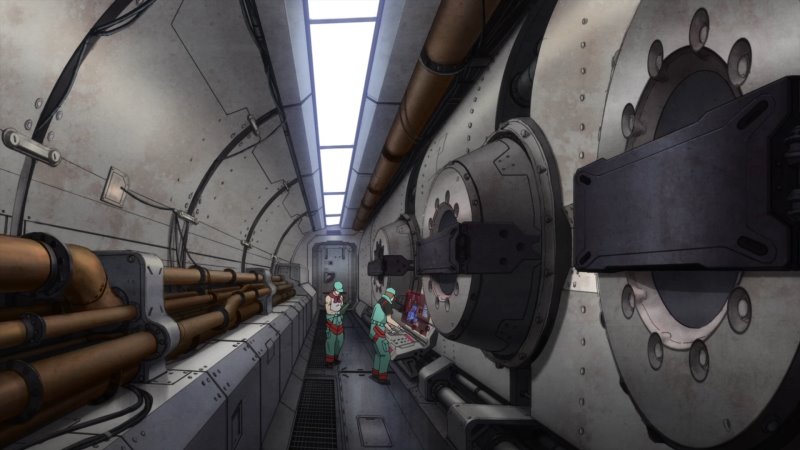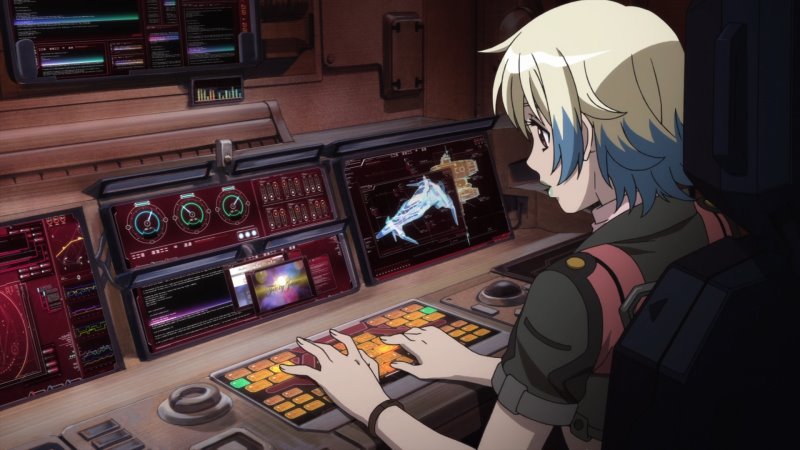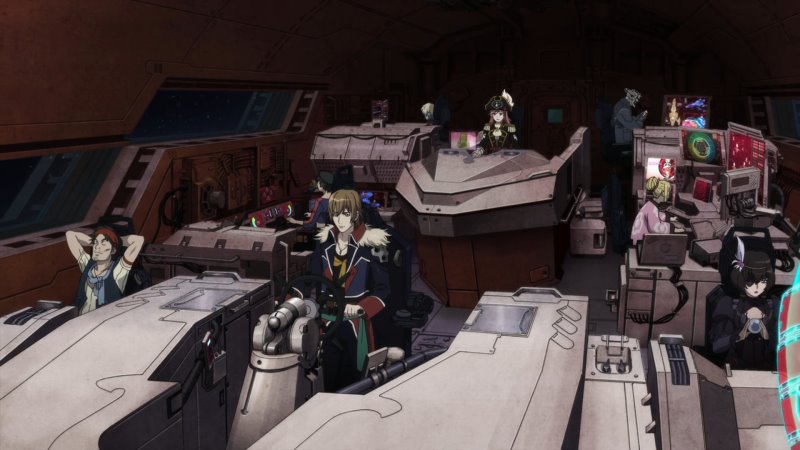 Now there's an obvious way to get from the upper deck to the lower one. Also, the upper deck doesn't move any more.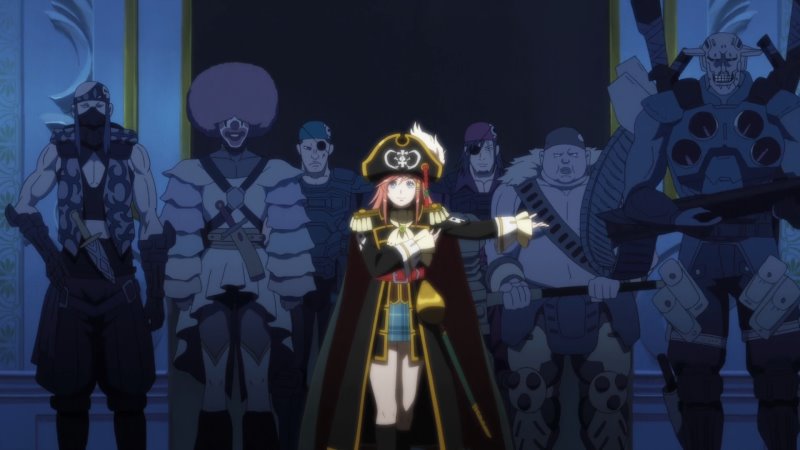 Clowns. It had to be clowns... Schnitzer's new design is on the right.
This is what hyperspace looks like now. There are channels in it, and part of navigating hyperspace is to move along the channels to get where you're trying to go. And that's why Luca's job isn't trivial; she's the one running the maze. But you can leave a channel and fly across emptiness to another, which is what's happening here. Doing so is dangerous, and you can end up thoroughly lost.
Kanata is too young to realize what a lucky bastard he is. (I figure he's probably about 12.)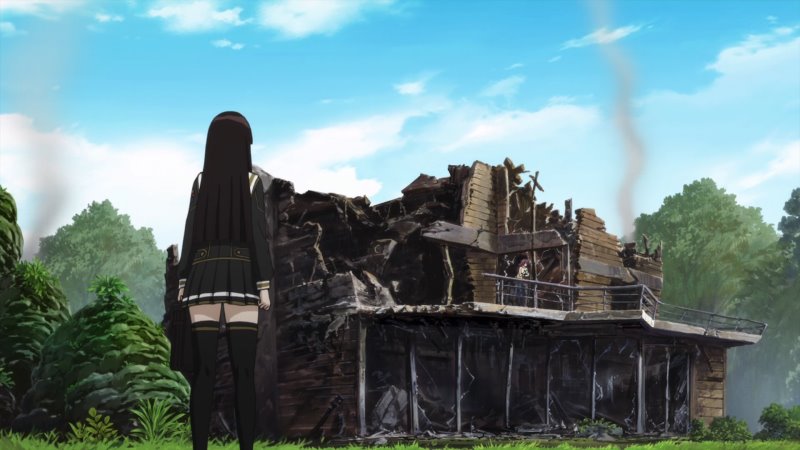 Chiaki shows up at Chez Kato for her first meeting with Ririka.
Ririka relaxes after the battle.
By the way, Ririka won. Here are the losers.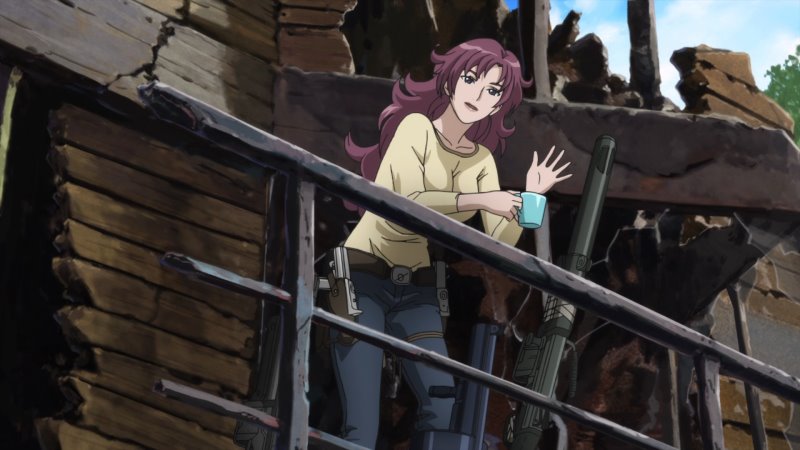 Oh, hi there! Nice day!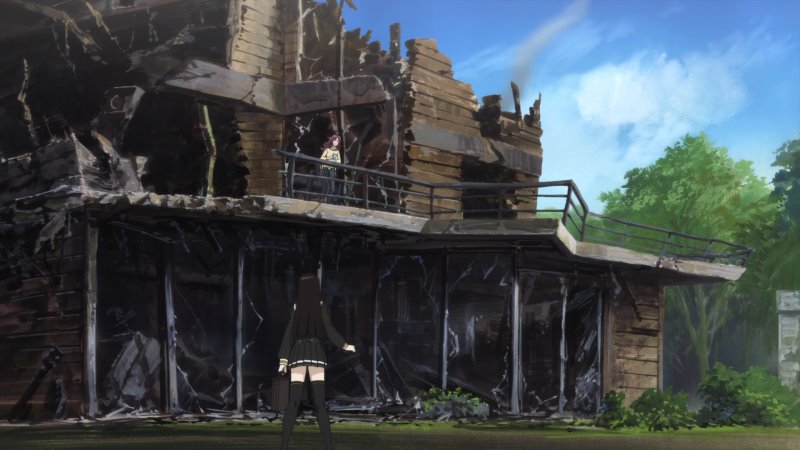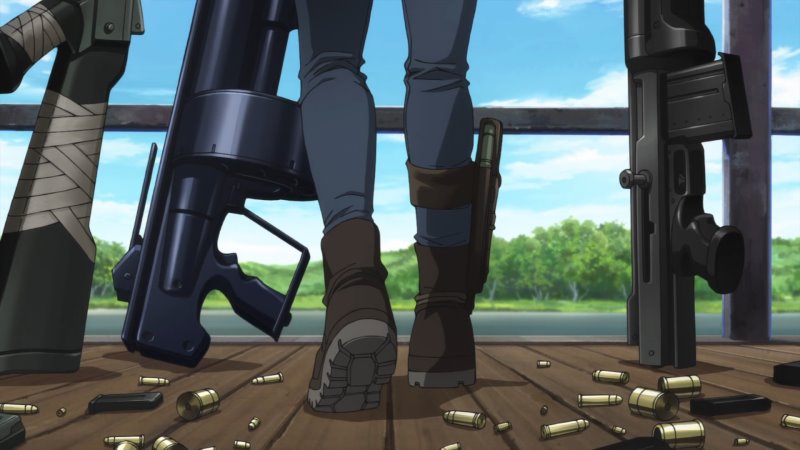 Here's how she won.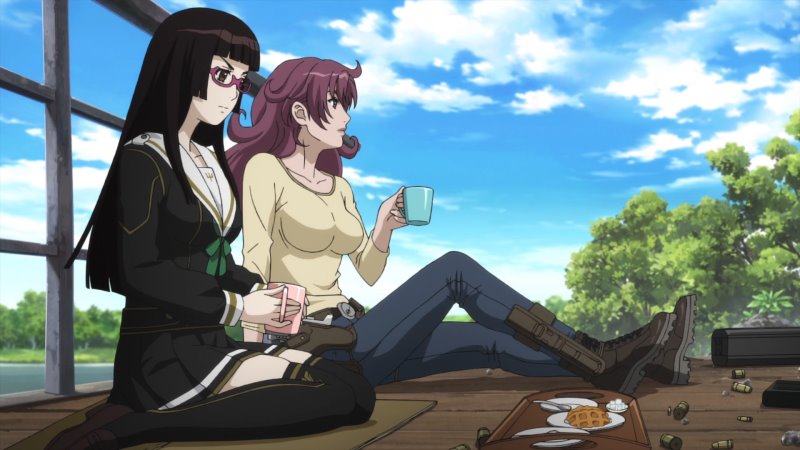 Ririka doesn't sweat little things.
"The Yacht Club awaits!" (Gruier painted it.)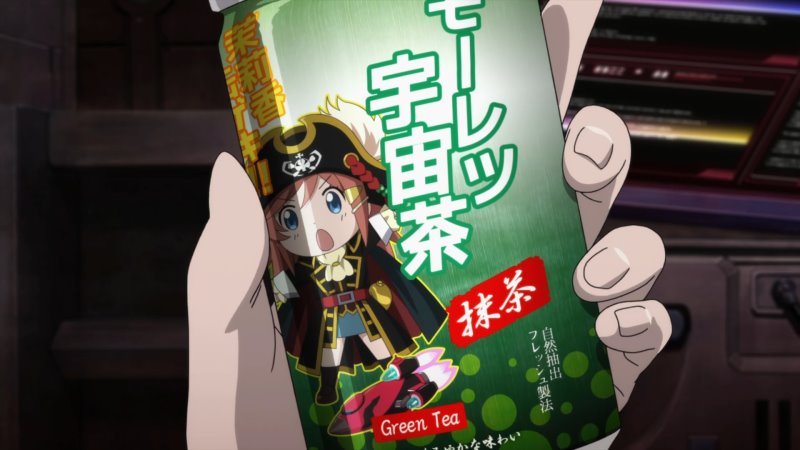 Bentenmaru is franchising its name and Marika's image. Which could only be worthwhile if they already are famous and admired, which evidently they are.
The Lamp House also got an upgrade for the movie.
Posted by: Steven Den Beste in General Anime at 11:08 AM | Comments (3) | Add Comment
Post contains 256 words, total size 2 kb.
1
Ririka: still the coolest mom in the universe.
In addition to the soda can, there are also wallpapers and screen-savers in several shots, and there's a quick glimpse of the book Schnitzer's reading, which looked like one of the light novels.
Kanata is just old enough to get uncomfortable waking up in bed with a 17-year-old hottie, especially after getting a peek down her shirt. Fortunately, he meets Grunhilde before he has time to get too hung up on an older woman.
-j
Posted by: J Greely at November 14, 2014 11:49 AM (fpXGN)
2
I saw this one time:
Lord, make me be fast and accurate.

Let my aim be true and my hand faster
than those who seek to destroy me.

Grant me victory over those who wish harm to me
and my comrades.

Let not my last thought be "if only I had more ammo."

And if today is truly the day that you call me home,
Please Lord, let me die in a pile of spent brass.
I think that's Ririka's attitude, too. And this wasn't her day to go.
Posted by: Steven Den Beste at November 14, 2014 12:02 PM (+rSRq)
3
I managed to catch Schnitzer's light novel this time. It's volume 3 of a mecha-musume story called 清き鋼の君だから ("because you're pure steel"). Sadly, it doesn't exist in our reality. The title looks like a spoof of 蒼き鋼のアルペジオ (Arpeggio of Blue Steel).
Continuity notes: it's spring break before Marika's senior year, and she's now the yacht club president.
-j
Posted by: J Greely at November 15, 2014 07:59 AM (1CisS)
Enclose all spoilers in spoiler tags:
[spoiler]your spoiler here[/spoiler]
Spoilers which are not properly tagged will be ruthlessly deleted on sight.
Also, I hate unsolicited suggestions and advice. (Even when you think you're being funny.)
At Chizumatic, we take pride in being incomplete, incorrect, inconsistent, and unfair. We do all of them deliberately.
How to put links in your comment
Comments are disabled.
9kb generated in CPU 0.01, elapsed 0.0258 seconds.
21 queries taking 0.0167 seconds, 20 records returned.
Powered by Minx 1.1.6c-pink.