November 19, 2014
Top rotation plunder update
Slowly but not-so-surely I'm working through a backlog of shows to augment the top rotation. (Which doesn't have enough pictures yet... ahem)
Some shows are more fruitful than others. I have on occasion tried a show and gotten two or three episodes in and only ended up with 10 or 12 grabs, at which point I give up. It's not that they're not good pictures, it's just that it's too much work to harvest them.
Some shows are very fruitful, on the other hand. Momo Kyun Sword is going to end up being about 170 grabs. Jinsei is about the same. Super Sonico was 119, and I really like how it looks. I wish there had been even more.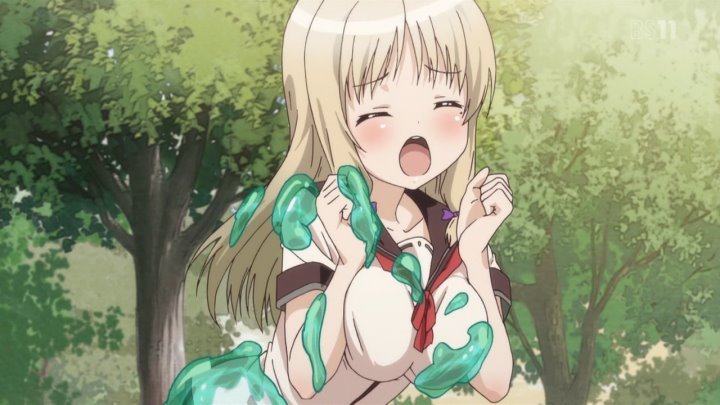 So anyway, I think I'm not going to try Ben-To. Shaga is gorgeous but I don't believe I can come up with enough shots from that show (without any guys in them) to make it worth the pain of going through it. (I'm willing to cut a bit more slack to shows I enjoy watching, but I'm sure that Ben-to is not going to be one of those.)
So I think my next victim is going to be Kono Naka ni Hitori, Imouto ga Iru! aka Nakaimo.
It's one of those incest-fetish shows, which makes it painful. But from what I've seen the cheesecake is plentiful and the guys aren't. And anyway it isn't really incest. Like a lot of such shows they cop out; according to Wikipedia the supposed "sister" turns out to be a step-sister. A different supposed sister turns out to be a cousin (which is legal in Japan).
Forward into the past!
UPDATE: nope nope nope NOPE NOT DOING THAT ONE!!! (barf)
Forget it!
Posted by: Steven Den Beste in Site Stuff at 07:33 PM | Comments (8) | Add Comment
Post contains 250 words, total size 2 kb.
1
"Forward into the past!"
Hah! Another Firesign Theater reference.
Posted by: topmaker at November 19, 2014 07:53 PM (2yZsg)
2
Did you hit some kind of land mine?
Posted by: Avatar_exADV at November 19, 2014 11:00 PM (ZeBdf)
3
NakaImo should be good fodder. Now, if it's OniAi, then you're going to lose it.
NakaImo is the MC somewhat being forced to find a wife at a top-flight school, yet his half-sister is there. The series is easily the "Best Written, Worst Premise" in Light Novel to Anime history. The anime felt exactly like someone was made to produce a series by an editor and definitely tried to make it work. It's a pretty bad series, but it's not offensively bad.
OniAi, eh, you might not make it through the OP.
Posted by: sqa at November 20, 2014 05:06 AM (ILFdI)
4
I think the worst incest-fetish show was the one which ended with the brother and sister committing suicide. (I don't remember the name.)
Thanks, but that's not one of my fetishes. I'll pass on it.
Posted by: Steven Den Beste at November 20, 2014 09:58 AM (+rSRq)
5
I'm in the anti-Wincest camp, for certain, but I don't recall that series.
I think the "cake" for the category is still Yosuga no Sora. But, that's pretty much just porn.
Though there's always Koi Kaze, which aired before getting ahold of Japanese Manga source information was easy. Was 3-4 episodes into that one before I figured out what that was about.
Posted by: sqa at November 20, 2014 10:32 AM (ILFdI)
6
Yosuga no Sora
was the one I was thinking of. (I knew it was "sora" something...)
Posted by: Steven Den Beste at November 20, 2014 11:41 AM (+rSRq)
7
I didn't name Youga no Sora because I thought you did not want the Herostratus effect.
Posted by: Pete Zaitcev at November 20, 2014 01:58 PM (RqRa5)
8
Avatar, I generally run through these kinds of shows in reverse order, in order to reduce the pain. In the case of Nakaimo, one of the scenes in the last episode was our hero on the floor and one of the girls on top of him humping him. (Clothed, but jeeze.) And I got halfway through that episode and didn't find a single picture I could use.
Nope nope nope nope nope...
Posted by: Steven Den Beste at November 20, 2014 02:13 PM (+rSRq)
Enclose all spoilers in spoiler tags:
[spoiler]your spoiler here[/spoiler]
Spoilers which are not properly tagged will be ruthlessly deleted on sight.
Also, I hate unsolicited suggestions and advice. (Even when you think you're being funny.)
At Chizumatic, we take pride in being incomplete, incorrect, inconsistent, and unfair. We do all of them deliberately.
How to put links in your comment
Comments are disabled.
10kb generated in CPU 0.03, elapsed 0.0225 seconds.
20 queries taking 0.0129 seconds, 25 records returned.
Powered by Minx 1.1.6c-pink.