December 14, 2014
Top rotation -- planning the plundering for fall 2014
In general this season started well, with several pleasant surprises, but it's turned out to be a disappointment. It's not the fault of the Japanese, for a change; the subbing circles have let me down. (sob, poor me)
But a lot of shows which I didn't think were worth watching might well still be worth plundering, and since the season is mostly over now I thought I'd check them out.
Amagi Brilliant Park: As far as plunder is concerned, the main problem is that Our Hero is on screen too much. Lots of otherwise good images are spoiled by having a guy (ick) in them. But it's not a total loss, and as long as the Elemental Idols get some reasonable screen time, there should be at least a bit of stuff worth taking.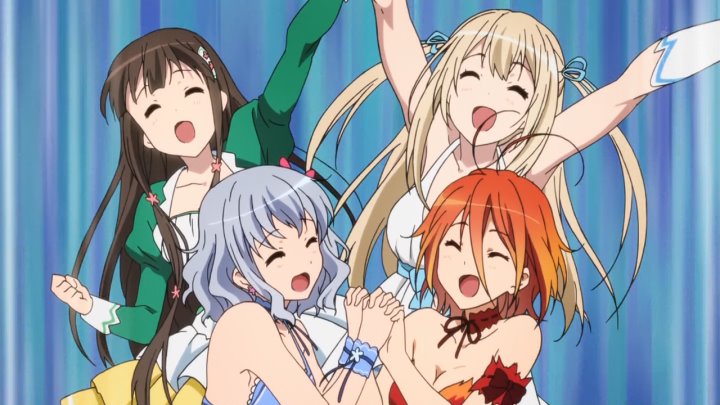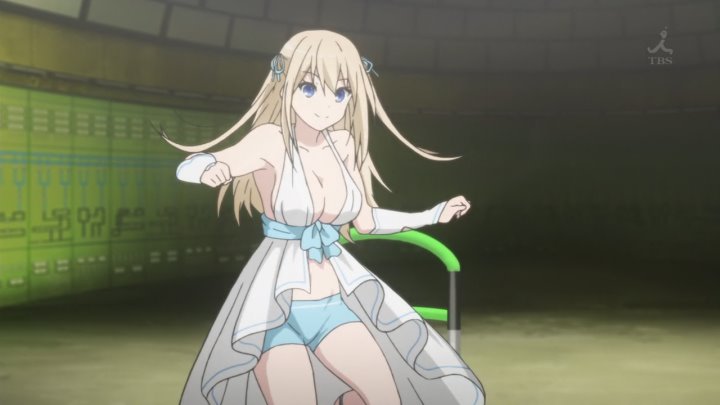 Especially Sylphy! There are some good images of Isuzu, too, but she always looks miserable and that doesn't make for good grabs. I figure it'll be low yielding but high quality.
Daitoshokan no Hitsujikai: Lots of cute girls, but Our Hero spoils most shots, and the school uniforms are not flattering. I think this one will turn out to be a total loss. (A quick scan through a few episodes didn't turn up a single image I though was worth taking even as an example.)
Girl Friend Beta: There aren't any boys who are speaking parts, and they only show up occasionally in crowd scenes. The girls are mostly nicely shaped. But the school uniforms are quite unflattering. The only outright cheesecake shot I found when I briefly scanned through the first 10 eps was the gymnast at the beginning of the first episode.
This was more typical. You can tell that they're girls, I guess. This probably will turn out to be a waste of time. I was hoping for a swimming pool PE scene, but there hasn't been one so far and the way the story is going there probably won't be.
Inou Battle wa Nichijou-kei no Naka de: Our Hero is on screen too much. (This is a common problem with harem shows.) Ep 10 was the first one I looked at, and it was a swimsuit episode. But the first half was lolis, and I despaired. However, the second half featured this girl:
So maybe. I figure it'll be low yielding but decent quality. Possibly 30 images, if that.
Madan no Ou to Vanadis: Not a problem. Elen alone is enough to make this one worthwhile, and there are several other women who make good appearance.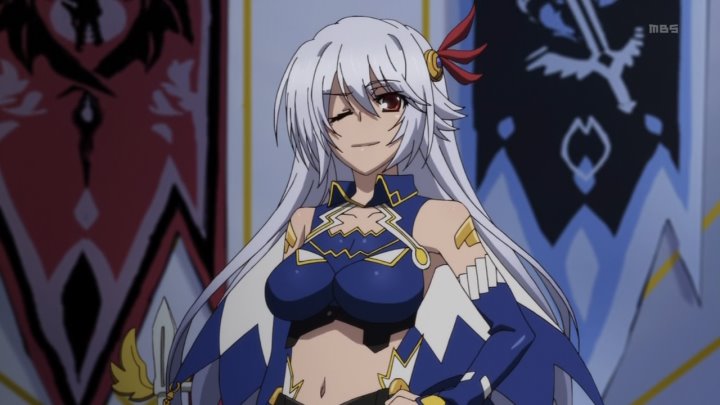 Nanatsu no Taizai: Elizabeth and Diane: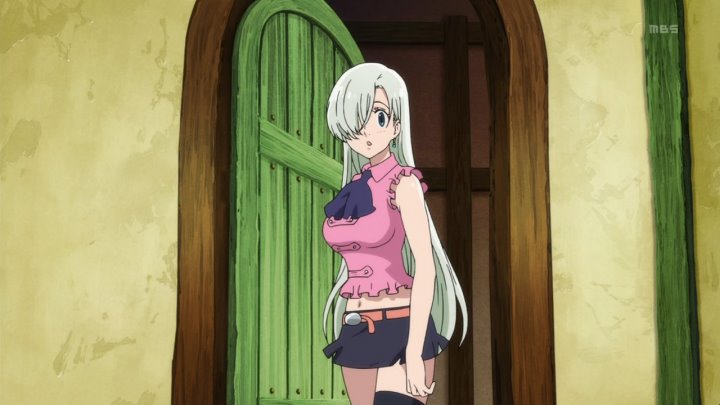 Especially Diane!
Ore, Twintails ni Narimasu: Toaru is certainly worthy of a place in the top rotation, and Yellow is good looking (even if I hate the character). As to the loli, um...
Trinity 7: Since these two girls are major characters, it's possible this will be worth plundering. It's really a question of what kinds of scenes they're in. Early on there are gratuitous ecchi scenes (which might be too ecchi for me), and later on the show gets grim and gritty.
As to other shows? I won't be doing Unlimited Blade Works. It's not the kind of show that will have the kind of images I want, and I don't feel like wading through it. (Besides, I did Carnival Phantasm.)
Denkigai no Honya-san appears to have some decent cheesecake but I think it would be too painful to dig them out. Same goes for Cross Ange. Grisaia doesn't have a lot of images I can use -- too many shots spoiled by Our Hero -- and it's a strange aspect ratio so it would be hard to trim to 600*375. (And I don't want to wade through all the blood again.)
Posted by: Steven Den Beste in Site Stuff at 05:14 PM | Comments (13) | Add Comment
Post contains 632 words, total size 4 kb.
1
I was wondering when you'd find the joy that is Sylphy.
She's just great.
Most recent eps of Nanatsu should be really good for plunder.
Posted by: sqa at December 14, 2014 07:26 PM (tEOgr)
Posted by: Steven Den Beste at December 14, 2014 07:57 PM (+rSRq)
3
Did
Gokukoku no Brunhildr
have any good ones?
Do you like the art in the new
Sailor Moon
series?
Posted by: muon at December 15, 2014 01:20 AM (XIprt)
4
Re Gokuko no Brynhildr, I don't really like taking shots from shows which feature a lot of dead and/or bloody girls. Even if the images I take are clean, they still remind me of the horror. (For instance, Kotori would have been an excellent source of plunder, except I can't forget what ultimately happened to her.) That's why I never tried to process Freezing, for instance. Trinity 7 is borderline and I might end up skipping it once I take a closer look at it. Oddly enough, Strike the Blood wasn't borderline.
These things aren't hard-and-fast rules; it's just intuitive on my part. Some series I don't want to be reminded of, and GnB is one of them. I don't regret watching it, but I don't want to watch it again.
Re Sailor Moon, I didn't really consider it. Such views of the art from that series I've seen makes clear that it isn't likely to have anything I would want to use. For one thing, the girls don't look like girls. A real girl has no straight lines; it's all curves. But Usagi looks like she's made out of soda straws. And all of them look like famine victims.
Posted by: Steven Den Beste at December 15, 2014 01:50 AM (+rSRq)
5
The Sailor Moon girls are supposed to be Japanese middle school students after all. You can probably criticize their legs for being too long. The
art
does seem to have improved as the series goes on.
Posted by: muon at December 16, 2014 01:57 AM (XIprt)
6
That's fine. They can look however they do. But I don't want them in the top rotation.
Besides which, middle school girls don't have to be made out of soda straws.
Posted by: Steven Den Beste at December 16, 2014 07:33 AM (+rSRq)
Posted by: Steven Den Beste at December 16, 2014 07:42 AM (+rSRq)
8
The mad scientist episode of
Vivi Dred Operation
... the most fun you can have doing a writeup while still feeling slightly greasy at the same time!
Posted by: Wonderduck at December 16, 2014 07:44 AM (jGQR+)
9
Nobody in
Denki-Gai
has grotesque mellons.
Posted by: Pete Zaitcev at December 16, 2014 10:43 AM (RqRa5)
10
I don't want them to be grotesque. (That's why Queen's Blade never showed up here.) But it would be nice if they were present. Leave us be frank: the top rotation is primarily a collection of cheesecake.
Whatever else this might be, it ain't cheesecake.
Posted by: Steven Den Beste at December 16, 2014 11:49 AM (+rSRq)
11
I like Sailor Moon; I even like the character designs. But it's a different style for a different audience. And there's no shortage of cheesecake in anime. Thank goodness.*
* "Goodness had nothing to do with it!"
Posted by: Pixy Misa at December 16, 2014 05:11 PM (PiXy!)
Posted by: muon at December 18, 2014 12:46 AM (XIprt)
13
Those kinds of magazine posters for shows are nearly always uncharacteristically racey.
Posted by: Steven Den Beste at December 18, 2014 07:28 AM (+rSRq)
Enclose all spoilers in spoiler tags:
[spoiler]your spoiler here[/spoiler]
Spoilers which are not properly tagged will be ruthlessly deleted on sight.
Also, I hate unsolicited suggestions and advice. (Even when you think you're being funny.)
At Chizumatic, we take pride in being incomplete, incorrect, inconsistent, and unfair. We do all of them deliberately.
How to put links in your comment
Comments are disabled.
15kb generated in CPU 0.01, elapsed 0.0305 seconds.
20 queries taking 0.0177 seconds, 30 records returned.
Powered by Minx 1.1.6c-pink.