April 19, 2016
Dagashi Kashi -- the plundering.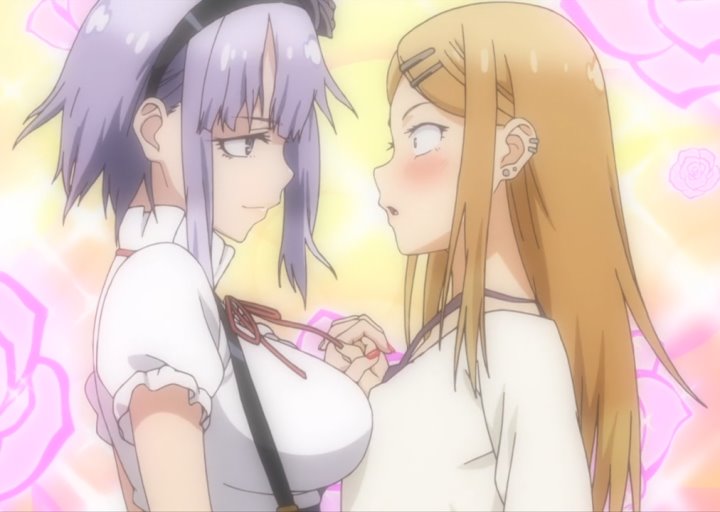 Boy, is that image deceptive. Anyway, I managed to get 87 candidates out of Dagashi Kashi. And there are maybe ten or so which seem to imply that there's some yuri going on. (Of course, there isn't.)
As to Gochuumon wa etc, I'm giving up on it. Too many lolis, and even the girls who are in high school look like lolis. I'll keep the 25 grabs I already took but I'm not going to process any more of it.
UPDATE: So, on to Motto To Love-ru. I seem to remember that the first To Love-ru series was varied and clever and funny, and (in the BD version) really rather ecchi.
I have processed the clean OP and ED and eps 10-12 and gotten 67 candidates already, so at least it's fruitful. But it's in a rut. Each episode has 3 parts and most of the 9 I've looked at so far are about some girl or other thinking she has fallen for Rito. I'm getting a lot of candidates but I feel like my brain is melting. I'm not sure I can spare this many neurons.
There's even some squick: one of the nine segments was about Mikan, Rito's younger sister.
Posted by: Steven Den Beste in Site Stuff at 05:28 PM | No Comments | Add Comment
Post contains 207 words, total size 1 kb.
Enclose all spoilers in spoiler tags:
[spoiler]your spoiler here[/spoiler]
Spoilers which are not properly tagged will be ruthlessly deleted on sight.
Also, I hate unsolicited suggestions and advice. (Even when you think you're being funny.)
At Chizumatic, we take pride in being incomplete, incorrect, inconsistent, and unfair. We do all of them deliberately.
How to put links in your comment
Comments are disabled.
5kb generated in CPU 0.0037, elapsed 0.012 seconds.
18 queries taking 0.0094 seconds, 16 records returned.
Powered by Minx 1.1.6c-pink.