May 20, 2015
Chooser version 60
Added 152 images from Nanoha Vivid. Total is now 5133.
By the way, a couple of times today when I've tried to load this site using IE 11, Chooser hasn't loaded. That could be because of the most recent Flash update (which I installed yesterday) and it could be because Pixy is messing around with the code. Either way, it isn't my fault and I don't know how to fix it.
UPDATE: In the first seven episodes of Vivid, I think these are my favorite images:
This is Rio kicking Sein into the next county after Sein sneaked up and groped Rio's chest.
After a day of team fighting, the four lolis are too sore to move.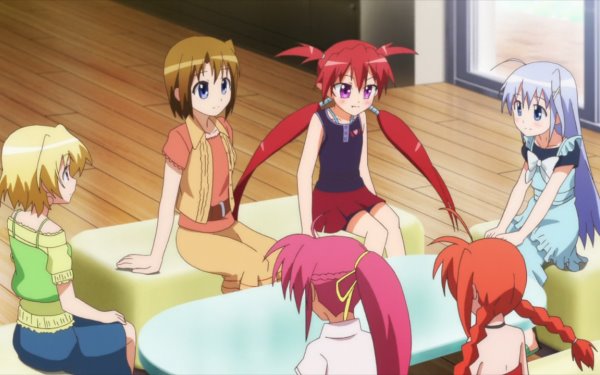 It's nice to see Hayate's family again.
One of the reasons I like this series so much is that it's placed 4 years after Strikers, and it's like visiting old friends. I also like the fact that it gives me a chance to see how much everyone has changed, and in what way.
Lutecia unquestionably has changed more than anyone else, and it's wonderful. Through most of StrikerS she spoke nearly in a monotone and seemed to be depressed all the time. At the very end she started coming out of her shell. In Vivid she's a genki-girl and obviously very, very happy and outgoing. It's wonderful to see.
Caro is continuing her study of magic and has learned how to do teleports. Agito and Rein have grown to normal size -- a huge surprise. Better, they get along now. Agito isn't baiting Rein any more.
Nanoha really has become the mama. She obviously is a very good one. Vivio is happy, healthy, strong, well behaved, friendly and outgoing, and it's apparent that Nanoha loves Vivio more than life itself. (I mean that literally. At the end of StrikerS Nanoha risked her life to save Vivio, and Vivio knows it.)
It's nice to see that Teanna is no longer driven. She had something to prove and it was warping her. Well, she's proved it now. She's become a shitsumukan, which was her goal, and that is no longer haunting her.
I'm really glad that Nove is a major character. She's a lot of fun, and I expect good things from her.
UPDATE: Whatever the problem is with flash and IE 11, it isn't Pixy's fault. I've been having problems with loading flashes on other sites not related to mee.nu. So it's an issue in the most recent update to Flash from Adobe.
UPDATE: I went to the Adobe site and downloaded an even newer Flash update, and now I don't seem to be having problems.
Posted by: Steven Den Beste in Site Stuff at 03:52 PM | No Comments | Add Comment
Post contains 445 words, total size 3 kb.
Enclose all spoilers in spoiler tags:
[spoiler]your spoiler here[/spoiler]
Spoilers which are not properly tagged will be ruthlessly deleted on sight.
Also, I hate unsolicited suggestions and advice. (Even when you think you're being funny.)
At Chizumatic, we take pride in being incomplete, incorrect, inconsistent, and unfair. We do all of them deliberately.
How to put links in your comment
Comments are disabled.
6kb generated in CPU 0.0, elapsed 0.0126 seconds.
18 queries taking 0.0089 seconds, 16 records returned.
Powered by Minx 1.1.6c-pink.