May 18, 2012
Shining Hearts -- ep 6
And so, in this episode, we meet the princess and prince. They send their doggy-girl maid to the bakery to get some bread: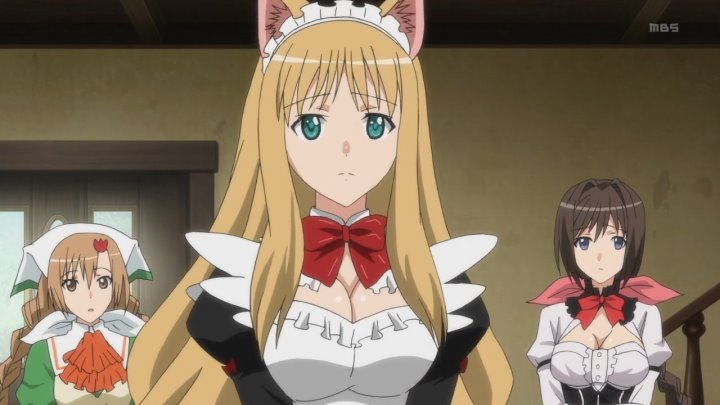 Her name is Rouna and she's a dojikko. In fact, the other characters call her that after she stumbles and falls one time. But she's also very handy with knives -- in more ways than one.
She delivers a very special order, which has to be specially made, and she helps them prepare it, and it turns out she's very good in the kitchen. Afterwards, all five go to the castle to deliver it.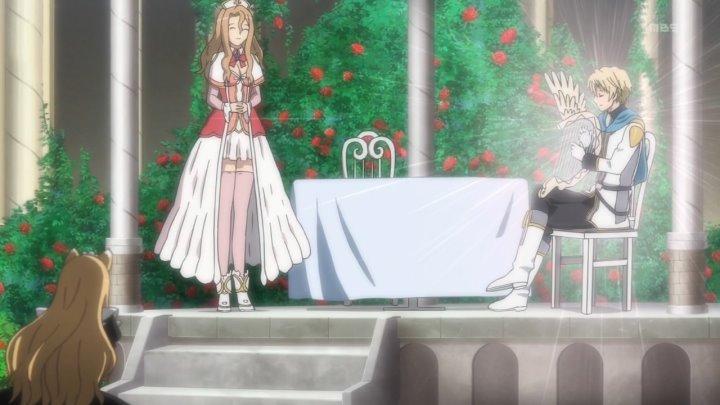 The princess seems nice enough, but the prince comes off as being a little dark, like maybe he's a villain. He's a bishie, so he has to be a bad guy, doesn't he?
At the very least he clearly has an agenda of some kind. (The kind of show this is, he probably isn't a bad guy and his agenda will probably eventually be revealed as being praiseworthy.)
The law on the island is that anything that come from the sea that isn't edible -- or alive -- has to be turned over to the castle to be evaluated. When Rick was washed ashore, the castle invoked that rule to take his armor and his sword. That's why he hasn't had them until now.
Seems that the castle has been getting robbed. Security there is very tight, with lots of soldiers patrolling, but the thief is way too good for them and they haven't caught him (her). They rather telegraph her identity; I guessed it immediately. Anyway, the prince talked Rick into helping. Rick is a master swordsman. The prince knew this from the stuff he was wearing when he washed ashore. The prince gave him his armor back, plus gave him a standard-issue sword.
Neris turns out to be a master archer. And even though she's clumsy, Rouna knows the castle and is extremely skilled throwing knives. So the three of them patrol the castle that night, and damned near catch the thief. She escapes just at the last moment, but Rick saw her clearly and knows who it is. (He kept it secret; next episode he's going to confront her.)
The fight scenes were pretty cool, and Rick really does seem to know his stuff. I suspect it will turn out that he's the best swordsman on the island, especially once he gets his own blade back. It's pretty clear that the prince thinks he is.
At the end our heroes got some sort of reward from the Prince, which we didn't get to see. Whatever it was, the girls liked it. My guess is that it's money and they'll be able to pay to get their oven repaired. Hank the Dwarf is in the next episode, and I bet they hire him to rebuild it.
UPDATE: The princess, on the other hand, is presenting a nicely calibrated zettai ryouiki, so obviously she's not a bad guy. Right?
Posted by: Steven Den Beste in General Anime at 09:09 AM | Comments (1) | Add Comment
Post contains 502 words, total size 3 kb.
1
Forgot to comment on this one.
Posted by: sqa at May 20, 2012 02:20 PM (fYnLL)
Enclose all spoilers in spoiler tags:
[spoiler]your spoiler here[/spoiler]
Spoilers which are not properly tagged will be ruthlessly deleted on sight.
Also, I hate unsolicited suggestions and advice. (Even when you think you're being funny.)
At Chizumatic, we take pride in being incomplete, incorrect, inconsistent, and unfair. We do all of them deliberately.
How to put links in your comment
11kb generated in 0.0112 seconds; 23 queries returned 20 records.
Powered by Minx 1.1.4-pink.