July 31, 2013
Senran Kagura omake 3
Well, if Don can play in my yard, then I can play in his. Only Don doesn't have a yard, so I have to play in Wonderduck's yard instead.
This is from Senran Kagura omake #3, below the fold, NSFW. Ikaruga and Katsuragi are taking a bath, and there's a ducky in the water with them.
UPDATE: Revenge is appropriate, I guess. And Kibitzing.
---
No, it isn't really that big. It's in the foreground.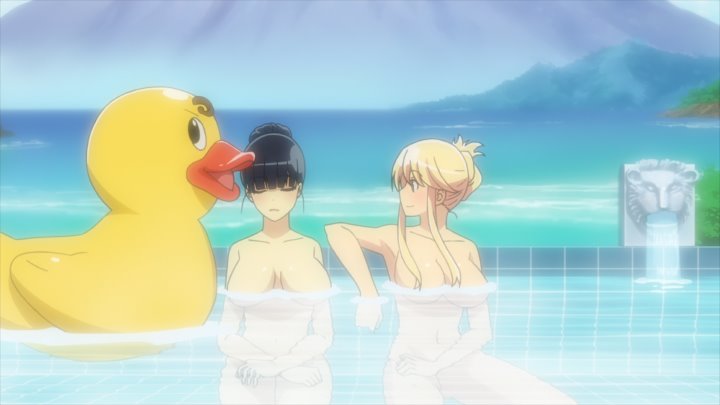 Floating across the screen...
GET OUT OF THE WAY, YOU STUPID DUCK! Dammit, where's my shotgun?
Posted by: Steven Den Beste in General Anime at 05:33 PM | Comments (4) | Add Comment
Post contains 94 words, total size 1 kb.
1
Four of them are out now. The first one was Katsuragi molesting Asuka.
The second one was Yagyuu molesting Hibari.
The third one was Ikaruga and Katsuragi taking a bath, and it ends with Ikaruga molesting Katsuragi.
The fourth one was Ikaruga deciding that Yagyuu and Hibari are gaining weight, and trying to put them through exercises, ultimately ending with compromising positions.
And none of them show any nipples. sigh.
Posted by: Steven Den Beste at July 31, 2013 05:37 PM (+rSRq)
2
Ah, fanservice series omakes are normally pretty over the top. This seems slightly more restrained.
Posted by: sqa at July 31, 2013 06:06 PM (a/IgQ)
3
These certainly are no threat to the all-time champion,
Juuden-chan.
Posted by: Steven Den Beste at July 31, 2013 06:30 PM (+rSRq)
4
No, it really
is
that big.
Posted by: Wonderduck at July 31, 2013 07:27 PM (7E0qe)
Enclose all spoilers in spoiler tags:
[spoiler]your spoiler here[/spoiler]
Spoilers which are not properly tagged will be ruthlessly deleted on sight.
Also, I hate unsolicited suggestions and advice. (Even when you think you're being funny.)
At Chizumatic, we take pride in being incomplete, incorrect, inconsistent, and unfair. We do all of them deliberately.
How to put links in your comment
Comments are disabled. Post is locked.
6kb generated in CPU 0.0055, elapsed 0.0175 seconds.
21 queries taking 0.0138 seconds, 21 records returned.
Powered by Minx 1.1.6c-pink.