March 04, 2013
Senran Kagura -- ep 9
This show certainly has become a melodramatic. The crisis is so hokey that it is more funny than terrifying.
One of the dark ninjas used her puppeteer power to take over the mind of Hibari. She then steals the "super ultra secret awesomely powerful ninja scroll". Then the puppeteer comes and gets the scroll from her in her room.
Well, Hibari then goes to the Snake Academy and changes sides. Yagyuu goes nuts about this and takes off and the other three try to find her and stop her. Asuka actually does, and dodges Yagyuu's attack and manages to stop her. And the rest of the episode was Hibari at the other school.
UPDATE: The first BD comes out on March 27, and it's listed as including an OVA. I predict that this is gonna be like Juuden-chan where the OVAs will have explicit nudity. Except that I doubt these OVAs will be as funny.
---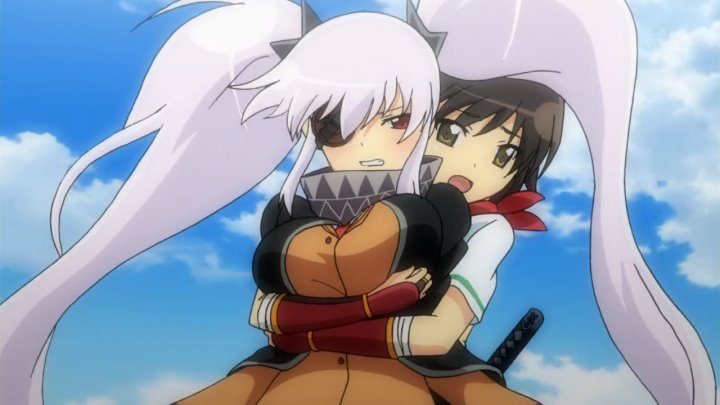 Posted by: Steven Den Beste in General Anime at 02:08 PM | Comments (1) | Add Comment
Post contains 160 words, total size 1 kb.
1
I never noticed before, but Yagyuu talks like a middle-aged (or at least adult) man. She uses "ore da" for "It's me" in this ep.
They really play up that the Snake girls are really comrades and don't back stab each other, which is rare for antagonist groups in an action series. The only other one I can think of is Hayate's group from
Nanoha A's
. Hibari gets thrown when realizes the Snake Girls are as devoted to their comrades as the Hanzo ninjas. Here's a poster of them from
Megami
.
For the OVAs, they might use stories from the Guren no Hebi manga. There's one where both groups are recover from a mission at the same onsen.
Posted by: muon at March 08, 2013 01:45 AM (jFJid)
Enclose all spoilers in spoiler tags:
[spoiler]your spoiler here[/spoiler]
Spoilers which are not properly tagged will be ruthlessly deleted on sight.
Also, I hate unsolicited suggestions and advice. (Even when you think you're being funny.)
At Chizumatic, we take pride in being incomplete, incorrect, inconsistent, and unfair. We do all of them deliberately.
How to put links in your comment
Comments are disabled. Post is locked.
6kb generated in CPU 0.01, elapsed 0.0635 seconds.
21 queries taking 0.0595 seconds, 18 records returned.
Powered by Minx 1.1.6c-pink.