August 10, 2009
Saki -- ep 19
Amazing. It's over.
Is anyone surprised by this outcome? Still, it was a hell of a struggle. More below the fold.
UPDATE: Actually, for me the big mystery is: when, oh when, will Saki and Nodoka start calling one another by their given names? They're still saying Miyanaga-san and Haramura-san.
UPDATE: I wanted to know what a "Rinshan Kaihou" was, and found this blog (NSFW). Explains it this way:
When you complete a kan (4 of a kind), you must draw an extra tile from the wall (that's why saki got to draw two consecutive tiles). If that tile causes you to win, it's a rinshan kaihou.
UPDATE: Calawain also posted about this. And DiGiKerot talks about it.
UPDATE: Kurogane, too.
---
Koromo raises her ki and one of the lights explodes. Then a camera goes out. Then there's a power failure.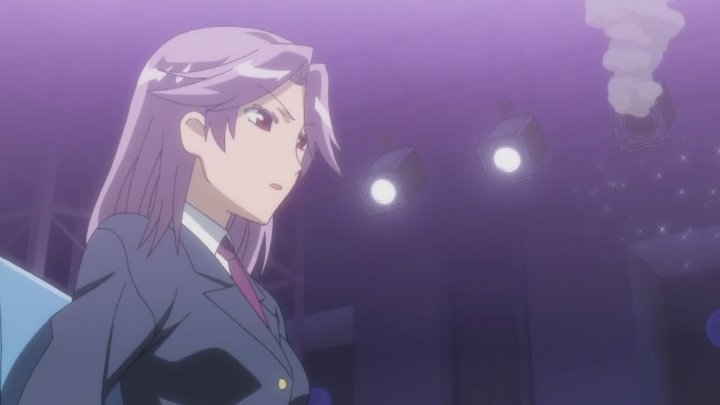 The room is totally black. Then Koromo raises her ki even further and she starts physically glowing. Then the power comes back up.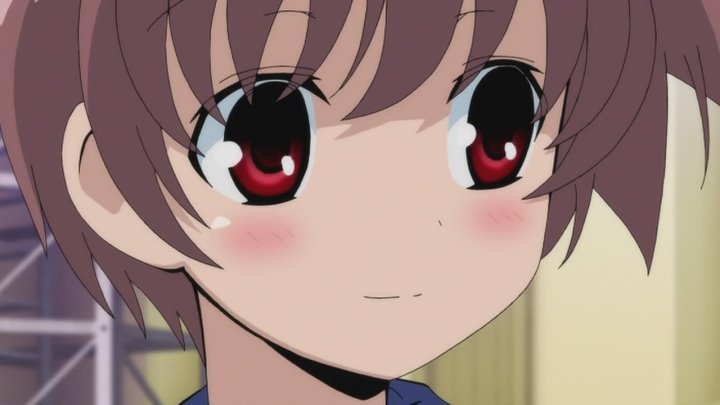 And Saki isn't intimidated. That quiet smile of hers can be frightening, since it indicates unshakeable confidence. Saki is certain she's going to win. But it's going to be an uphill climb. The scores currently are 38900 (Kana, Kazekoshi), 93400 (Yumi, Team Roadkill), 111800 (Saki, Kiyosumi), and 155900 (Koromo, Ryuumonbuchi). And there are only a couple more hands left.
We got a whole bunch of back story on Koromo which indicate why she's such a little monster. Her parents are both dead, and she's been living with Touka's family. Touka is her cousin. Touka promised her a lot of friends if she played mahjongg, but Koromo doesn't believe it's true. She thinks no one has fun when playing with her, and that no one really likes her. Koromo is revealed as being intensely lonely and emotionally isolated, even though Touka has been trying to reach out to her.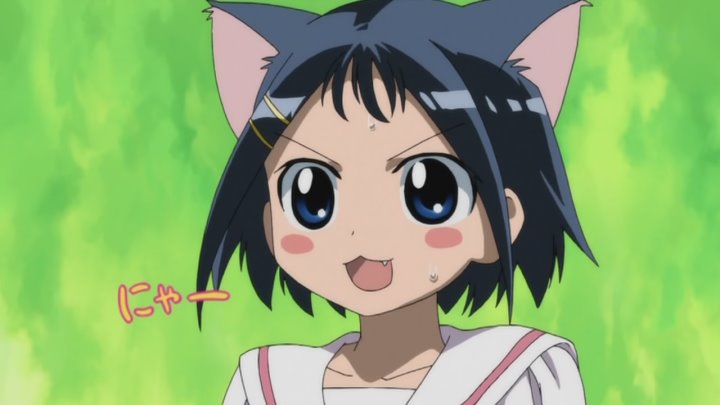 Kana, in last place, isn't beaten either. She's still confident, still making plans to try to win. She's in full-on catgirl mode (nyaa!).
But Koromo wins the next hand, extending her lead even further. She's now 63,500 points ahead of Saki, and the others are even further back. And there's only one more hand to play, unless Yumi (east) wins and keeps winning. Saki can only win one more time, no matter how things go because a win by anyone but Yumi ends it.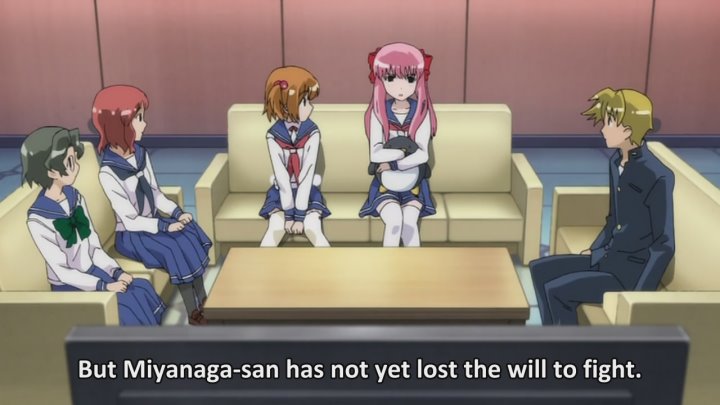 Back in their room, Hisa and Mako seem unreasonably calm and collected. They certainly don't seem dejected. Nodoka, too, still believes in Saki and thinks she can pull it out. Saki still has that quiet smile on her face, and her friends know what it means. She's enjoying herself and she's ready to kick butt.
Kana, in fourth place, gets the tiles to make a yakuman. It would be a big hand, but if she used it she'd still be in fourth place, and the game, and tournament, would be over. So she has to discard out of it.
Then Koromo gets a draw she doesn't know how to handle. Having Koromo be confused like that is really, really unusual. Her problem is that the obvious discard (the one-spot tile she just drew) would play into Saki's hand, but any other discard would ruin the hand she's building. She freezes.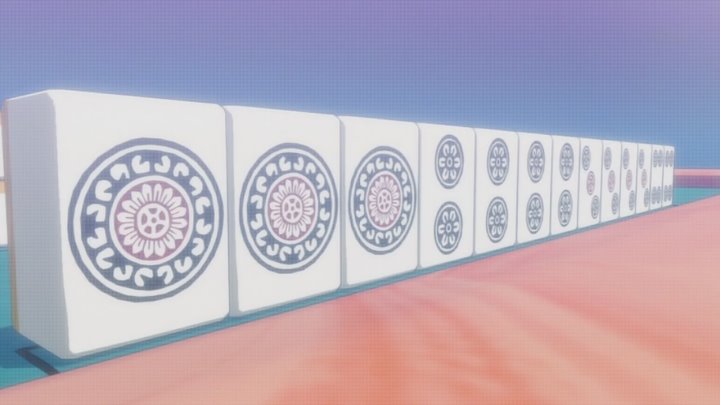 Saki's hand is really awesome. But Koromo isn't supposed to know everything she has, though she's figured out a lot of it. She knows that the one-spot tile she just drew is something Saki wants. So she freezes.
After a while, Saki smiles at her and talks nicely about how much fun she's having and how much she likes mahjongg.
Koromo finally decides that even if the one-spot discard would make Saki's hand, it wouldn't be enough points to win overall, so the discard is a safe one. Of course, she's aware that Saki can do miracles, but she doesn't think that even a miracle would be enough in this case. So she discards the one spot.
Except that Saki doesn't play it the way Koromo expects. "Gonna win on that?" Saki responds, "No, even if I ron on that I lose. However..."
And then Saki pulls her master stroke. She does a kan with three one-spots and Koromo's one-spot, and plays it as an open meld.
Mahjongg, especially the version they're playing, has extraordinarily complex scoring, and Saki has pulled out an obscure scoring rule. Since she's created a melded kan using Koromo's tile, then if Saki manages to win with a Rinshan Kaiho, all the points she gains will come from Koromo.
Having two four-of-a-kind in her hand, Saki can kan twice more and thus draw three more tiles. Her power is up, and Koromo can feel it. And every tile Saki draws is golden.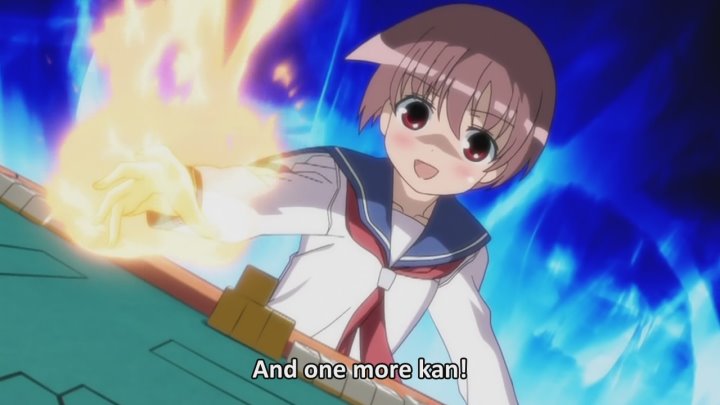 What Saki ends up with is 4 one-spots (including Koromo's red one-spot), 4 two-spots, 4 3-spots, 3 4-spots, and 3 5-spots.
Describing it in game terms is a mouth full: "Tsumo. All circles. All pons/kans. Three concealed pons/kans. Three kans. 1 red dora. Rinshan Kaiho. 32,000 points." And since all the points come from Koromo, she makes 64,000 relatively, which is enough to overcome Koromo's lead of 63,500. That's it; game, set, match. Kiyosumi wins it with a miracle play. In the main auditorium the crowd goes wild.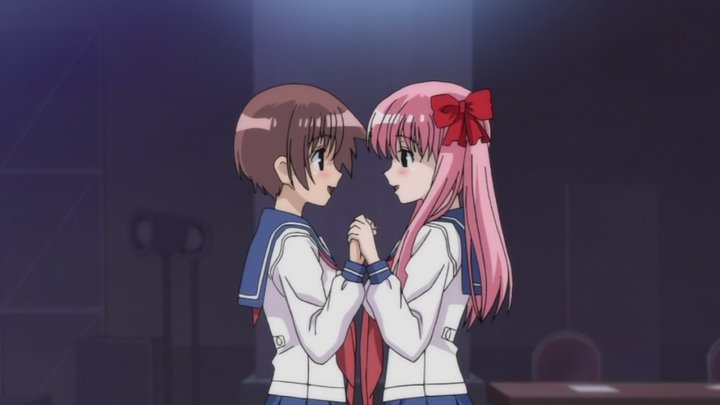 Nodoka runs to the playing room for some quick yuri teasing.
And then there's some character wrapup.
The teaser says that next week is a swimming-pool episode, but the real mystery is this: it's a 26-ep series, and this was ep 19. What are they going to do with the remaining 7 episodes? It's not enough time for any kind of deep story, but without one it'll all seem like anticlimax after this ep.
If they'd ended this tournament sooner, there would have been time for another arc. But as it is, anything they do is going to seem rushed, especially by the standards of the languid pace they used for this arc.
All these people are going to see each other again in a week, for the individual tournment for this region, and maybe that's what they're going to use to finish up the series.
Posted by: Steven Den Beste in General Anime at 10:55 AM | Comments (10) | Add Comment
Post contains 1031 words, total size 7 kb.
1
Is anyone surprised by this outcome?
After watching Tamaki, the unstoppable kendo moeblob, lose in
Bamboo Blade
, I figure anything is possible. So, not surprised per se, but a part of me expected it.
Posted by: Wonderduck at August 10, 2009 09:42 PM (VosBh)
2
Amazing show of sportsmanship from Kana. Yakuman hands are hands so good, so big, that you essentially quit counting how much better it is; the only way to do even better than that is through the kind of once-in-a-lifetime, what-the-heck-was-THAT impossibility that Saki pulled out of her hat, winning a "double yakuman". Cashing in a hand that size, even if it doesn't change the rankings, is no bad way to end a tourney, and would have been considerable ego salve for Kana. To sit on it, and let the other players play on, is a tremendous class act.
Saki's been pulling off rinshan kaihou since the very start of the series. It's one of the reasons that a purist might not be happy with it - there's absolutely no way to "try" to win off of one, as it requires both a lucky discard by the opponent AND a lucky draw.
Posted by: Avatar_exADV at August 10, 2009 10:52 PM (vGfoR)
3
The site Steven linked (too many
wawa'
s for me to type) had the best explanation of the whole pon, kan, chii nonsense I've seen. It also had a link to a flash version of the game on another site, which was pretty good, once I figured out that it was autodrawing for me, and I could only grab a tile from the player who discarded immediately before me (it tells you when that happens). I spent an hour playing the game and actually began to figure out some rules.
If I'd seen that site early on, I might have kept watching, but this show proved to me that sports anime is only interesting to the extent you understand the sport, even
with
cute girls and light yuri.
Oh, and I suck at mahjong.
Posted by: ubu at August 11, 2009 06:25 AM (i7ZAU)
4
Avatar, Kana didn't play her yakuman not because she's a class act (though she is) but because she hadn't given up on winning. Playing that yakuman would have cemented her loss, and she was still playing to win.
Winning scenarios for her were obscure and unrealistic but that's what she was playing for.
Posted by: Steven Den Beste at August 11, 2009 08:28 AM (+rSRq)
5
I don't know if I buy that. She's in 4th place, and the gap between Saki and 1st is 63.5k points... she would have had to have Yumi get something on the order of a double yakuman direct hit on Koromo, reducing Koromo's lead by 32k relative to Saki, THEN get a direct hit on Koromo for a double yakuman herself. That makes Saki's hand look like a good bet!
It's reasonable for a character to think "well, the chances of her getting a double yakuman off this tile are so remote that I'm okay"... the first time. "I just got hit with a double yakuman, so I'm going to recklessly deal tiles in this round even though I have the game wrapped up, because what are the chances I'll deal into two?" I dunno...
It might have been mathematically possible, just barely, but realistically losing the first big hand would ensure that the second big hand wouldn't be lost the same way.
Posted by: Avatar_exADV at August 11, 2009 09:45 AM (vGfoR)
6
Er, pardon. I meant to say "reducing her lead by 16k relative to Saki". And even in that scenario, Kana is -still- behind Yumi, because both of them got 32,000 points. It would only work if Yumi won a whole series of wins directly on Koromo, adding up to between 31.5k and 31.9k, and if Kana was 400 points or less behind Saki (which she wasn't, right?) Otherwise, for Koromo to fall enough to be in range of a single huge win from Kana, Yumi would have to win enough points off Koromo that Kana still wouldn't win anyway.
Posted by: Avatar_exADV at August 11, 2009 09:49 AM (vGfoR)
7
What she seems to have been thinking was that her chance was for a bunch of hands which ended without mahjongs, in which Yumi and Kana were both tenpai.
Each such would have whittled down the scores of the two leaders, Saki and Koromo.
Yeah, it was unlikely in the extreme, especially when you have the likes of Saki and Koromo in the game. But she was still fighting. She hadn't given up.
And if she'd taken her yakuman, it would have ended the tournament, and she would have had to give up that slender reed of 30 or so winless hands in a row.
Posted by: Steven Den Beste at August 11, 2009 09:58 AM (+rSRq)
8
But a hand without mahjongg would have ended the match. The rule is that you play another hand if East wins, not "you only stop if someone who is not East wins". So that wouldn't work at all, right?
Posted by: Avatar_exADV at August 11, 2009 01:47 PM (pWQz4)
9
I wouldn't know. I'm just repeating what they translated Kana's thought voiceover as saying. She seemed to think it would cause a repeat.
Posted by: Steven Den Beste at August 11, 2009 01:57 PM (+rSRq)
10
Pixy, my compliments on the usual amazing job against them, but the spaminators have found a breach in the defenses....
Posted by: ubu at April 14, 2011 11:40 PM (GfCSm)
Enclose all spoilers in spoiler tags:
[spoiler]your spoiler here[/spoiler]
Spoilers which are not properly tagged will be ruthlessly deleted on sight.
Also, I hate unsolicited suggestions and advice. (Even when you think you're being funny.)
At Chizumatic, we take pride in being incomplete, incorrect, inconsistent, and unfair. We do all of them deliberately.
How to put links in your comment
Comments are disabled. Post is locked.
18kb generated in CPU 0.02, elapsed 0.027 seconds.
21 queries taking 0.0153 seconds, 27 records returned.
Powered by Minx 1.1.6c-pink.