May 23, 2015
Re-Kan -- ep 8
Re-Kan is now revealed as being iyashikei ("healing") anime, which is a big surprise. Not that it's like that every episode -- the school festival episode, for instance, really wasn't -- but that's the main theme. Ep 8 is IMHO the best episode yet in the series, and really well handled.
There was an early RPG called "The Fantasy Trip". It was Steve Jackson's first attempt at doing that kind of game (and it eventually led to him doing GURPS). One of the nasties in the game was called a "revenant". It was the ghost of someone who died with something really important left undone, and they continue as a ghost in order to complete their business. A lot of the stories in this series are about ghosts like that, and this was one of them.
Two of the teachers in the school announce their engagement. They're both popular with the students, so obviously it's a big deal. Back in our favorite classroom, a little girl ghost in a white gown shows up. Initially the only thing she says is "Moriya, Moriya, Moriya". Amami's gang decide to try to teach her to speak, teaching her all kinds of words, and she picks it up fast.
Moriya is the name of the man who is getting married, and the gang does some talking to people. It turns out that when he was little his health was poor, and he spent a lot of time in the hospital. He shared a room with a little girl, and they became friends. He eventually got better and left. She didn't.
Amami invites him to the classroom to meet the little girl.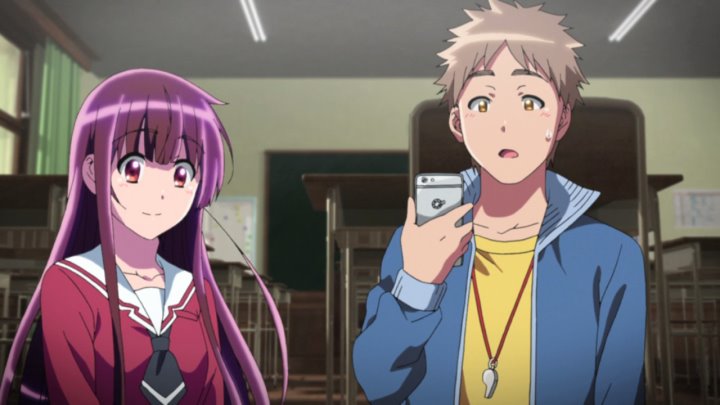 Amami takes her home that night.
I'm not going to say how it ends, except that I had tears in my eyes. I defy anyone to watch this episode and not feel that way at the end.
Much recommended! Even if you haven't been following this series, you should download and watch this episode. (There isn't any series-level plot line, so watching the episodes out of order isn't a problem.)
Posted by: Steven Den Beste in General Anime at 08:46 AM | Comments (4) | Add Comment
Post contains 351 words, total size 2 kb.
1
Very sweet episode. Just excellent all around, with none of the previous 4 koma problems that one or two of the episodes suffered from. This could almost be a stand alone OVA.
Posted by: wahsatchmo at May 23, 2015 10:30 AM (r4uXE)
2
Admit it. You had tears in your eyes.
Posted by: Steven Den Beste at May 23, 2015 10:42 AM (+rSRq)
3
I most certainly was not crying.
I just had something in my eyes, and that's why I was rubbing them with kleenex them while sniffling.
Truthfully though, on an emotional level, this episode was close to
Kowarekake no Orgel
in terms of expressiveness. It really connects with the viewer.
Posted by: wahsatchmo at May 23, 2015 12:56 PM (r4uXE)
4
There was an early RPG called "The Fantasy Trip".
Official First Friend of The Pond Vaucaunson's Duck and I used to play
Melee
,
Wizard
and
The Death Test
, the parents of
TFT
. I just wanted to say that.
And now I have. Thank you.
Posted by: Wonderduck at May 23, 2015 01:28 PM (jGQR+)
Enclose all spoilers in spoiler tags:
[spoiler]your spoiler here[/spoiler]
Spoilers which are not properly tagged will be ruthlessly deleted on sight.
Also, I hate unsolicited suggestions and advice. (Even when you think you're being funny.)
At Chizumatic, we take pride in being incomplete, incorrect, inconsistent, and unfair. We do all of them deliberately.
How to put links in your comment
Comments are disabled.
8kb generated in CPU 0.0044, elapsed 0.0124 seconds.
21 queries taking 0.0092 seconds, 21 records returned.
Powered by Minx 1.1.6c-pink.