June 20, 2015
Re-Kan! -- ep 12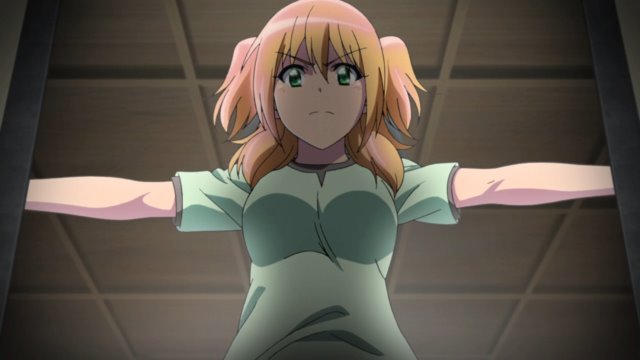 This was a real disappointment. After ep 11 built up beautifully to a crisis, ep 12 ruined it. The problem was that it didn't make any sense. Why was there a problem? What cause it? What was it that fixed the problem? They never bothered to tell us any of that.
The only thing that was good about this episode was that it allowed Inoue to shine in her full tsundere glory.
---
One thing was that they left it totally ambiguous whether the ghosts were actually gone, or whether it was just that Amami ceased to be able to see them any longer. There were scenes which implied the former, but Amami was convinced it was the latter, and the solution seemed to imply the latter. But it was her losing her power, why was it that the phone cameras could no longer see any ghosts anywhere? And why would she lose it, anyway?
There's a different answer which is held together by a thread but which makes a little more sense: the ghosts were trapped in the same room that Yuuhi has been in. When Amami cheered up, the morning glory perked up and bloomed, and the ghosts were released and came back. Well, OK, but what is the deal with the morning glory? Why would Amami's mood affect it, and what is it even there for?
No answer. Just bad, bad writing all around. Clearly this is the mangaka's original fault, but the anime director had an opportunity to fix it and didn't do so, so he's at fault too.
The series is episodic, so this doesn't ruin it overall, but it's a real lost opportunity and ruins this two-ep plot arc.
Posted by: Steven Den Beste in General Anime at 08:46 AM | Comments (1) | Add Comment
Post contains 288 words, total size 2 kb.
1
But it was her losing her power, why was it that the phone cameras could no longer see any ghosts anywhere?
My assumption is that cameras can only pick up ghosts in some vaguely defined proximity to Amami, since otherwise they would have been picking up ghosts everywhere all the time for over a century, and no one would be surprised by it (or Amami's power) by now. So with her power inactive, she can't do whatever it is she does that makes the ghosts visible.
That said, I definitely have to agree with your take on the episode; it's a sad misfire in what's otherwise been a fine series.
Posted by: Aaron Nowack at June 20, 2015 11:25 AM (KeXIC)
Enclose all spoilers in spoiler tags:
[spoiler]your spoiler here[/spoiler]
Spoilers which are not properly tagged will be ruthlessly deleted on sight.
Also, I hate unsolicited suggestions and advice. (Even when you think you're being funny.)
At Chizumatic, we take pride in being incomplete, incorrect, inconsistent, and unfair. We do all of them deliberately.
How to put links in your comment
Comments are disabled.
6kb generated in CPU 0.0066, elapsed 0.0156 seconds.
21 queries taking 0.0098 seconds, 18 records returned.
Powered by Minx 1.1.6c-pink.