February 24, 2013
Pronoun trouble
Pete laments a scanlation error where a female teacher gets referred to as "he".
There's one like that in Commie's version Dog Days Dash. During one of the battles one of the announcers makes reference to Leonmichelle and it got translated as "he".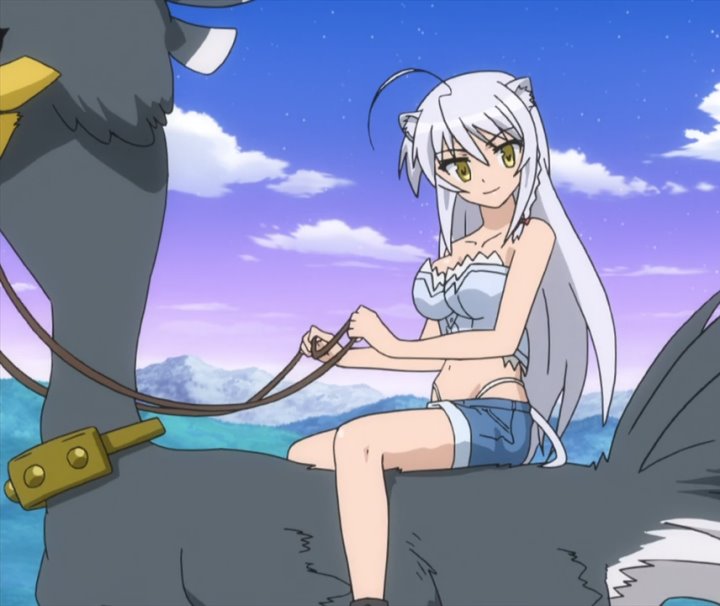 This is a guy?
Posted by: Steven Den Beste in General Anime at 11:02 AM | Comments (8) | Add Comment
Post contains 49 words, total size 1 kb.
1
This is a guy?
Only if she is a trap.
C.T.
Posted by: cxt217 at February 24, 2013 11:18 AM (3sPDg)
2
Stranger things have happened in anime, but it isn't the case this time.
Posted by: Steven Den Beste at February 24, 2013 11:49 AM (+rSRq)
3
Out of curiousity, was it just a bungled job by the translator? Or was it an actual language ambiguity in the original.
I ask because the first thing that popped into my mind is how "sir" is a masculine pronoun/title, yet in military usage it is applied to people of both genders.
Posted by: metaphysician at February 25, 2013 09:20 AM (3GCAl)
4
Japanese doesn't have pronouns. The words in Japanese which we call "pronouns" are actually words like "honey" and "Sweetie" and "dude" and "sonofabitch" in English. Most of them are not gender-specific.
There's a much broader range of those in Japanese than we have in English, and the ones which are used for self have connotations. It's interesting how such a wide variety of them are being (apparently deliberately) used in Dog Days. Couverte, for instances, uses uchi which I hadn't run into before.
Leo uses washi which is usually old-man speak.
Having said that; yeah, it's a translator error. There isn't any ambiguity in the Japanese in this instance.
Posted by: Steven Den Beste at February 25, 2013 09:33 AM (+rSRq)
5
You've run into it before, you just didn't notice it. Hayate from Nanoha uses it (as do several other Kansai-dialect speakers).
Posted by: Avatar_exADV at February 25, 2013 06:01 PM (GJQTS)
6
This is a surprisingly difficult problem. I made that error once with a major character in Inuyasha and it was weeks before the furor died down. (In my defense, it was this guy http://inuyasha.wikia.com/wiki/Jakotsu . If you type his name into google the second autocomplete result is "boy or girl?")
Steven do you remember what ep/time that was? I'd like to get it fixed.
Posted by: tellu541 at February 25, 2013 08:49 PM (DxoDJ)
7
Sorry, I can't find the place where Leo is referred to as "he". I'm looking at the Commie 720p broadcast version and I am pretty sure they didn't rip off Crunchyroll. I do have some other comments:
All through ep 2 the subtitles refer to her as "Leon" when the people are clearly saying "Leo".
Ep 2 13:48, Liscia's line "Aw man, it's so thick and hard" is going above her real line. It should just be "it's so hard". (Somebody's trying to be Freudian.)
ep 2, 14:31 Rico's line is translated as "Verty, let's go". It should be "Vert-nee" or "Big sis Vert".
ep 2, 15:37, Calloway's attack is translated as "Spinner Fire". It should be "Spinel Fire". Pastillage magic is called "crystal magic" and spinel is a gemstone. (Remember that one of Couverte's attacks is "Garnet Spark". Same kind of thing.)
Ep 3, 06:45. Rico's line is "hidoi dearimasu wa". It's translated as "how could you?!" but it really should be "That's mean!"
ep 3, 07:23: Framboise says something that's translated as "On the other, we have our Princess readying herself on the rooftop to counter the attack!" Problem with that is that Framboise is from Galette. Millefiore isn't his princess. The "we" and "our" are inappropriate.
Ep 3, 21:46 "Nowa" should change to "Noir".
Ep 9, "Leo" continues to get translated as "Leon".
Ep 9, 20:57, Shinku calls out to Eclair and they did her name wrong. ("Ecle"?)
Ep 9, 21:22. Percy refers to Harlan and Pickle as being Blanchirs. This is in the original Japanese, but it's wrong. Pickle (Rico's mount) is a Blanchir, but Harlan is a Cellkull. In the first series it's explained that there are rare Cellkulls who can fly with appropriate magic, and Harlan is one of them. (By the way, I love "Pickle" as a name!) Since it's Percy's mistake, probably the translation should preserve it since the translation should tell us what they say, even when it's wrong.
ep 10, 14:39, "Ecle" again. Should be "Eclair".
In general, someone really should make a pass through the whole thing and make all the names consistent.

Posted by: Steven Den Beste at February 25, 2013 10:17 PM (+rSRq)
8
"sore" can be used as a general pronoun, referring to something mentioned previously.
Posted by: muon at February 26, 2013 07:36 PM (jFJid)
Enclose all spoilers in spoiler tags:
[spoiler]your spoiler here[/spoiler]
Spoilers which are not properly tagged will be ruthlessly deleted on sight.
Also, I hate unsolicited suggestions and advice. (Even when you think you're being funny.)
At Chizumatic, we take pride in being incomplete, incorrect, inconsistent, and unfair. We do all of them deliberately.
How to put links in your comment
Comments are disabled. Post is locked.
10kb generated in CPU 0.01, elapsed 0.0198 seconds.
21 queries taking 0.0122 seconds, 25 records returned.
Powered by Minx 1.1.6c-pink.