October 11, 2007
Beckoning Chasm, this one's for you!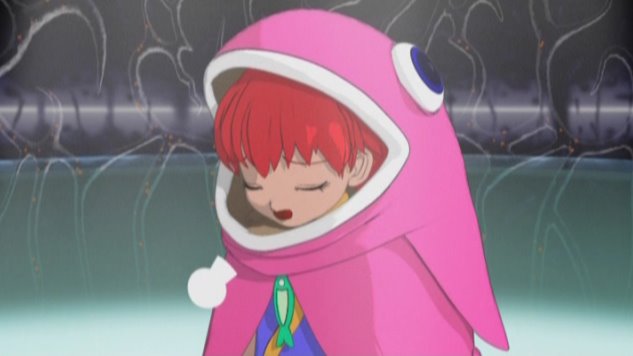 UPDATE: Man, the 3D episode sure is dark. People die, and there's blood, and body parts, and not a lot of laughs. Sheesh!
It looks like it is the beginning of a series, but of course there was never any more of it. I would guess it was a pilot and they decided against further funding.
I think I can understand why. Doing a road-story in 3D would be painful. You would completely overload your model makers and scene creators; there's simply no way you could turn out one episode per week. And as the story was presented, there would only be three continuing characters. You'd have to come up with models for major guest characters and crowd characters for each episode. It couldn't be done on that kind of schedule without a ridiculously large staff of 3D artists, and there's no way they could put together a team like that. The people just don't exist in the industry. Not yet, anyway.
As I was watching the anime, and even more when I was watching the 3D episode, I got flashes of Dai Mahou Touge, the black comedy in which the the world of bunny-rabbits and flowers of a magical girl is a thin veneer on top of a world of horrors and pain and suffering. We see at least a few hints of that in the Magical Play anime, and they don't make any bones of it in the 3D episode. Only they're not playing it for laughs. The 3D episode is only about two steps away from being a horror show.
Posted by: Steven Den Beste in General Anime at 08:11 PM | Comments (3) | Add Comment
Post contains 269 words, total size 2 kb.
1
Any details, for those unlikely to ever watch the show?
Posted by: metaphysician at October 12, 2007 06:44 PM (KVPNK)
2
Beckoning Chasm wrote to me the other day asking if I had a frame grab which included the standard "sigh" cloud-puff. I said I'd keep my eye open and post one if I saw it.
As to the show story, it's a spoiler:
Padudu gets lost in a forest and falls in a river. Since her cloak is a magical fish, she isn't in danger of drowning, but the river takes her into a town. It's not a very nice place. The mayor, a weird fat woman named "Coffee", feels some sort of gratitude or obligation to Purilun, the queen of the realm, and because of that thinks she need to kill all magical girls, such as Padudu. So Padudu ends up in jail, and is eventually condemned to death by combat in an arena.
Nonononn is in the same cell, chained up. Flashbacks suggest that at one time she and Purilun were friends, but Purilun crossed her. Since then, there's been a price on her head. Coffee decides to off them both at the same time, in front of her cheering citizens.
To carry out the execution is Coffee's pet panther, and I'm not speaking figuratively. Nononn is chained up and Padudu tries to fight the cat, but doesn't succeed. She eventually frees Nonononn, who knocks out the cat with one blow. For reasons not worth explaining, Padudu had been trying to use Nonononn's staff, and once she took possession of it, she used it to kill the cat.
The promise had been that if they won they'd go free, but of course Coffee has no intention of honoring that pledge. She pops out a magical microphone and uses it to battle Nonononn. Nonononn's staff has guns built into it, and eventually she kills Coffee by putting a bullet into the middle of Coffee's forehead. But this leaves Nonononn falling a distance that will surely kill her. At the last moment Padudu swoops in and grabs her, and they fly to safety. Seems that Padudu's cloak-fish gives her the ability to glide, even carrying a weight like Nonononn.
There's a lot of blood. Really rather disturbing for something that on its surface looks like a kid's show. And there isn't anything funny about what happens. Padudu is cute and idealistic and naive and a bit foolish, and Nonononn is older, wiser, more cynical, and thoroughly burned out. At the end Nonononn tells Padudu to go home and give up her dream, but instead we see them walking together, presumably to embark on further adventures.
It's described as an "alternate retelling", so it's not part of the continuity of the anime.
Posted by: Steven Den Beste at October 12, 2007 07:10 PM (+rSRq)
3
All right, I'm famous for having no taste--on the INTERNET! Awesome!
I may give Magical Play another chance, although to be honest I think I'd prefer to drink a gallon of gasoline (regular gas--I'm not that dim).
I will readily grant that the designs were pretty cool, and some of the ideas were interesting, and some of the jokes even made me laugh (moreso because they were so stupid than because they were really funny).
Overall though, I'm glad you liked it; I wish I had.
Posted by: BeckoningChasm at October 13, 2007 04:35 PM (pGYvN)
Enclose all spoilers in spoiler tags:
[spoiler]your spoiler here[/spoiler]
Spoilers which are not properly tagged will be ruthlessly deleted on sight.
Also, I hate unsolicited suggestions and advice. (Even when you think you're being funny.)
At Chizumatic, we take pride in being incomplete, incorrect, inconsistent, and unfair. We do all of them deliberately.
How to put links in your comment
Comments are disabled. Post is locked.
9kb generated in CPU 0.0043, elapsed 0.0121 seconds.
20 queries taking 0.009 seconds, 20 records returned.
Powered by Minx 1.1.6c-pink.