March 20, 2009
Pedobear
James isn't an anime otaku. (He's a gun otaku, which is cool.) But he is a regular reader (thanks!), and today he wrote and asked me what "pedobear" was.
Ah, yes. Pedobear is an internet meme from 4-chan. (Did it really originate on 2-ch? Wouldn't be surprised...) I wrote a couple of letters back to him, but I thought it would make a good post. So here goes.
A standard fan service trope in anime is girls who have cartoon bear heads on their panties. It's the kind of thing you'd expect from little kids, so it's often played as a joke that an older girl, middle school or high school, wears kuma-san panties. Indeed, the first Negima! anime series did exactly that.
In the first episode (or maybe it was the second) Negi sneezes and inadvertently creates a strong wind that blows Asuna's skirt up, revealing that she was wearing panties with a bear head on them. Which, for the director, serves the dual purpose of showing that she's kind of immature, and of giving him an excuse to show her panties. Plus then cueing a tsundere scene.
Anyhoo, once a long time ago someone came up with a character drawing of a bear. (By which I mean it was "drawn" using text characters.) And I think it's possible that that it was a reaction to this trope of panties with a bear head. That character-drawing is the original Pedobear, and they included it in the Negima!? series on a sign:
But it wasn't too long before someone created a real picture of him, and it became the iconic version:
It started getting used in joke pictures: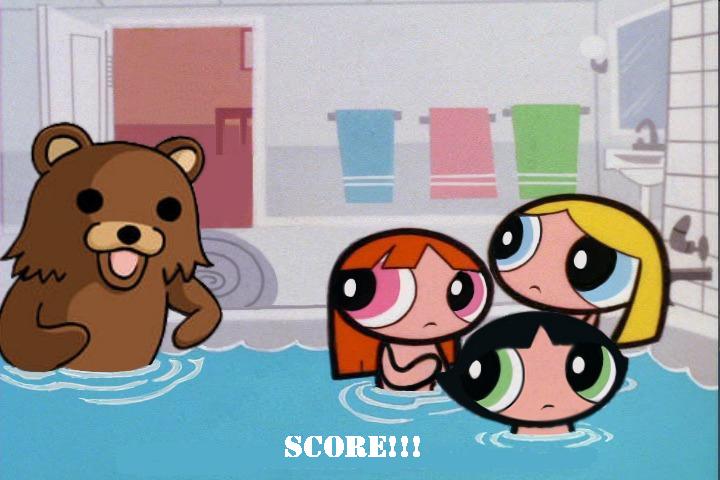 Those being, of course, the Powerpuff Girls.
Someone even did a "Magic, the Gathering" card for him: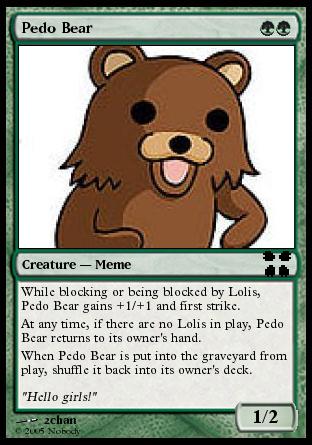 Part of the joke is that Pedobear is never drawn to be particularly ferocious. He's always cute and cuddly looking.
UPDATE: When I was looking for those pictures, I found out that someone had created a home page for Pedobear. ye Gods. They sell T-shirts, too.
UPDATE: As to why Shinbo, the director of Negima!?, included references to Pedobear in the series? Actually the backgrounds in the series are loaded with in-jokes and references. It's something of a trademark for this director that he does that. Every scene which shows a blackboard or a bulletin board will have things written which are quotes from other shows or references to them, for instance. There are lots of sight gags like that in the series, too. It's just something that it pleases him to do, and especially given Asuna's bear panties in the first series I can understand why he'd include a few references to Pedobear in the second one. It doesn't mean anything, though.
UPDATE: James responds.
Posted by: Steven Den Beste in General Anime at 09:34 AM | Comments (3) | Add Comment
Post contains 456 words, total size 3 kb.
1
Pedobear is definitely a 2ch meme. He might even predate 4chan (er, pre-date, not as in "predator", though probably that too.)
Posted by: Avatar_exADV at March 20, 2009 09:58 AM (7TgBH)
Posted by: ubu at March 20, 2009 03:07 PM (k2Gmf)
3
So he's not the patron saint of pedestrians then?
Oh...
How...awkward.
Posted by: The Brickmuppet at March 20, 2009 11:16 PM (NOj8q)
Enclose all spoilers in spoiler tags:
[spoiler]your spoiler here[/spoiler]
Spoilers which are not properly tagged will be ruthlessly deleted on sight.
Also, I hate unsolicited suggestions and advice. (Even when you think you're being funny.)
At Chizumatic, we take pride in being incomplete, incorrect, inconsistent, and unfair. We do all of them deliberately.
How to put links in your comment
Comments are disabled. Post is locked.
8kb generated in CPU 0.0043, elapsed 0.0119 seconds.
21 queries taking 0.0088 seconds, 20 records returned.
Powered by Minx 1.1.6c-pink.