October 04, 2010
Otome Youkai Zakuro -- ep 1
I just watched the first episode of Otome Youkai Zakuro, and I think it's going to be a winner. The name means "demon maiden Zakuro" and refers to the female lead in the show.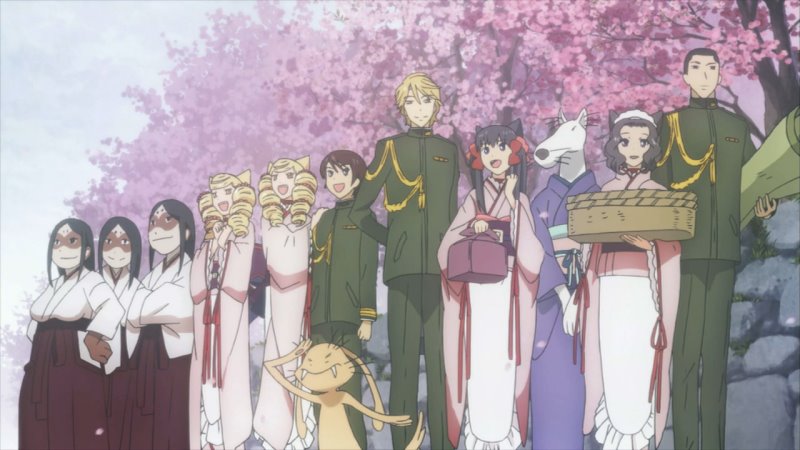 Here's most of the important characters in the cast. The three on the left are minor characters, but they remind me of some of the characters in "Spirited Away". Probably the resemblance is deliberate.
The two blondes are Hozuki and Bonbori. The guy next to them is Ganryu, and the three of them are assigned together.
The tall blonde guy is the male lead, Agemaki Kei. He's the son of a general, so there's a lot of pressure on him. He's also scared to death of spirits, and he nearly has a breakdown a couple of times.
He's assigned to Zakuro. She originally was completely opposed to the whole project, but she got entranced by the bishie's good looks, at least for a while.
The one with the animal head is Kushimatsu, and from her voice and the way she behaves, she's a middle-aged woman.
Next is Susukihotaru, and last is Yoshinokazura Riken, the last team. She's really shy, and he's kind of a classic stoic warrior type, very disciplined and seemingly emotionless. She ends up scared of him at least at first, but he overhears her saying that to Zakuro, and tries to be nicer to her.
The little guy in front is named Mamezo, and he introduces himself as Zakuro's artifact spirit. There are a couple of other little ones, who have the heads of pumpkins, and act like little girls. The three of them seem to be walking weapons repositories; when action begins late in the episode, the three of them draw cherry branches out of their mouths. Zakuro's then turns into a blade.
We learn that the four girls are not full demons. They're haafu, human/demon crossbreeds, with characteristics of both.
It's the late 19th century, and Japan is trying to westernize and modernize. The army is reorganizing along western lines, and the government has decided to change to the Gregorian calendar. Which really upsets Zakuro. She seems to have a grudge against all things Jesuit, which seems to be her epithet for anything that isn't classical Japanese, such as the practice of drinking milk as a beverage.
It looks like we're going to be watching a love story, but that could be OK given that the characters are rather nicely conceived.
Hozuki, Bonbori, and Ganryu will mainly be played for laughs. The other two couples have hurdles in their way, and we'll get to watch them cope.
In the case of Susukihotaru and Yoshinokazura, the problem is that she's shy and he's not very expressive. But it's obvious that he is aware of the problem and is going to try to work on it, and he's already making progress by the end of the first ep.
In the case of Zakuro and Agemaki, there's chemistry there. They each are both attracted to and repelled by the other. She alternates between being attracted to him for his looks and charm, and feeling contempt for him because he is terrified of spirits.
I didn't realize that this show was intended to be a comedy. I think I was expecting action adventure. But comedy it is, albeit with action scenes included.
The art and animation looks high budget. J.C. Staff isn't skimping. It's all very impressive, and I'm certainly going to be watching more.
Posted by: Steven Den Beste in General Anime at 09:45 PM | Comments (7) | Add Comment
Post contains 586 words, total size 4 kb.
Enclose all spoilers in spoiler tags:
[spoiler]your spoiler here[/spoiler]
Spoilers which are not properly tagged will be ruthlessly deleted on sight.
Also, I hate unsolicited suggestions and advice. (Even when you think you're being funny.)
At Chizumatic, we take pride in being incomplete, incorrect, inconsistent, and unfair. We do all of them deliberately.
How to put links in your comment
Comments are disabled. Post is locked.
11kb generated in CPU 0.01, elapsed 0.0634 seconds.
21 queries taking 0.0563 seconds, 24 records returned.
Powered by Minx 1.1.6c-pink.