September 01, 2012
Mystery Meat: Moe Can Change
Today's Mystery Meat is "Moe Can Change". It's a single episode OVA, so it could be anything at all.
At the beginning we learn that there's a new app for smartphones called "Moe Can Change". It allows the user to transform their clothing instantly. The company behind it is auditioning cute girls to be spokesmodels.
Our two main characters are Kiyan and Anna. Kiyan is a genki girl with red twintails and big boobs. Anna is taciturn and dark but not totally sour. Anna has a (younger?) sister named Kanna and one of the running jokes in the show is that Kanna wants to be included with the other two, but they either ignore her or do cruel things to her.
Kiyan and Anna have auditioned for the job, and are hanging out in a game store afterwards. They are stalked by a woman in a white lab coat and her assistant, a smaller girl with long black hair. The woman is Professor Lamb, aka "Hakase", and she's the one who came up with the technology. She gets the little one (who, it turns out, is an android) to give a smart phone to Kiyan, who is an airhead and doesn't ask any questions.
So... Kiyan and Anna end up in a park. Kiyan finds the app on the smartphone, and starts changing Anna's clothes. Anna eventually gets mad about it, so Kiyan changes her own. Kanna shows up and wants to play, and Kiyan puts her in an animal costume.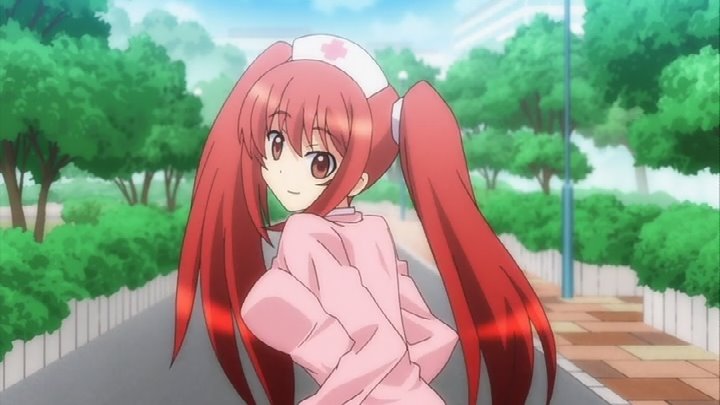 Seems that more changes than just the clothes. Kiyan had put Anna into a witch's costume, and Anna ends up making an energy attack. (Looks like a Genki Dama...)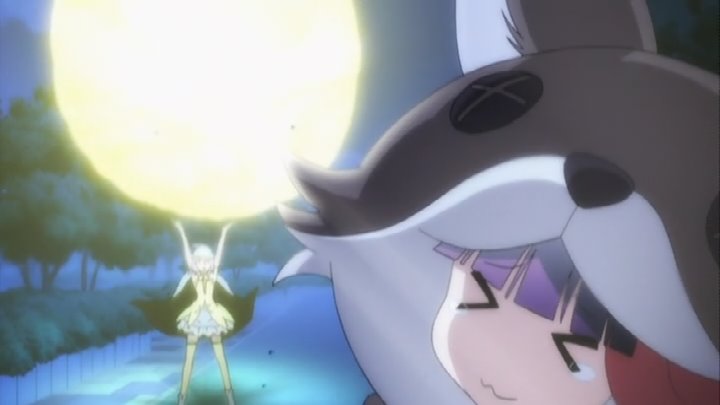 Um... and then Kiyan and Anna go to a desert shop. While they're there, all the girls in the shop start changing. Back in the kitchen, we find that Hakase is trying out another invention. The toppings on all the cakes cause the same kind of costume change as the smartphone app.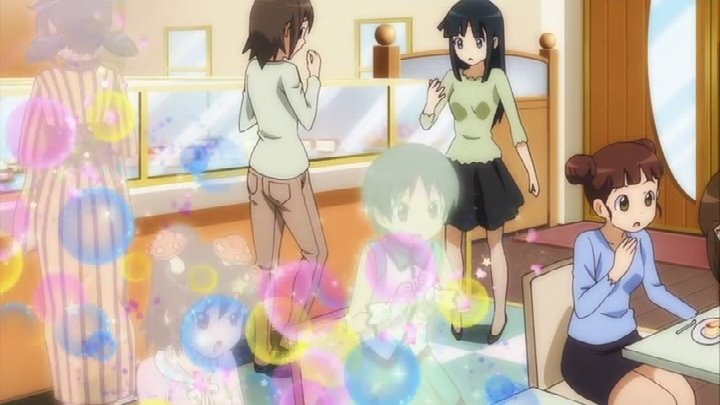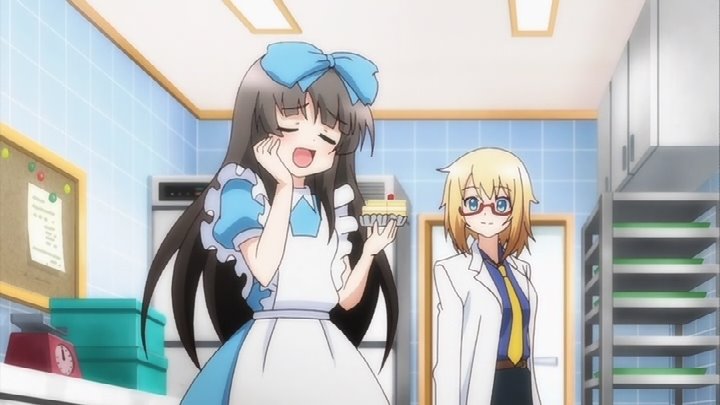 Eventually Hakase identifies herself to Kiyan and Anna, and takes them to her lab. And it turns out that all of this was a final test in the selection process. Our final scene is Kiyan and Anna being introduced to the press.
It's really very strange, and more than a bit frothy. And after I got done I wondered why in hell it even got made. So I did some searching.
"Moe Can Change" is a game for smartphones. It's kind of like "Princess Maker". You get (in virtual terms) an android daughter, and you can alter her clothing at will, and over the course of weeks (or longer) you're supposed to raise her. Or something like that. The game is free, but I assume there are wonderful extras you can buy which will make the game better; that's the usual trick these days. This OVA seems to be a publicity stunt for the game.
Recommended? Actually, yeah. There are worse ways to spend 20 minutes. But if someone tried to turn this into a series, I think I'd run screaming.
Posted by: Steven Den Beste in Mystery Meat at 07:22 AM | No Comments | Add Comment
Post contains 518 words, total size 3 kb.
Enclose all spoilers in spoiler tags:
[spoiler]your spoiler here[/spoiler]
Spoilers which are not properly tagged will be ruthlessly deleted on sight.
Also, I hate unsolicited suggestions and advice. (Even when you think you're being funny.)
At Chizumatic, we take pride in being incomplete, incorrect, inconsistent, and unfair. We do all of them deliberately.
How to put links in your comment
Comments are disabled. Post is locked.
7kb generated in CPU 0.0, elapsed 0.0173 seconds.
18 queries taking 0.0126 seconds, 16 records returned.
Powered by Minx 1.1.6c-pink.