February 23, 2013
Mystery Meat: Higurashi no Naku Koro ni Kira
I admit; I downloaded this in search of cheesecake for the top rotation. May I present, for your viewing pleasure, Magical Bijin Rika-chan?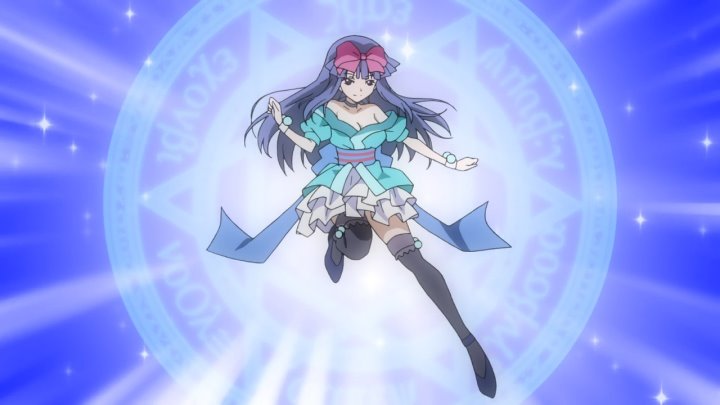 And, to make a complete set, Magical Loli Rika-chan: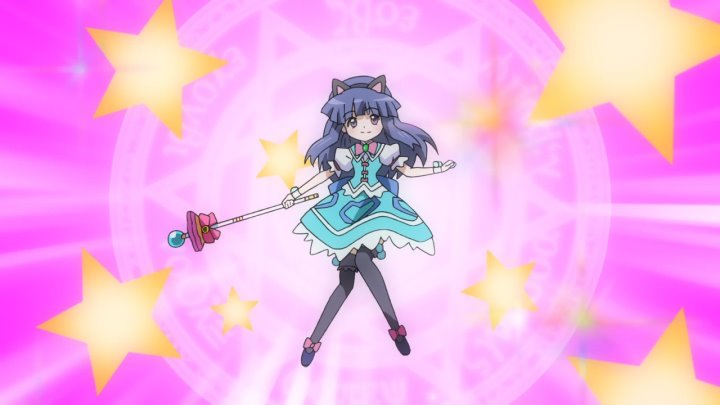 I hoped that this would be like Nurse-witch Komugi compared to Soultaker. Soultaker is a horror title, but Komugi leaves all the horror behind and is basically a fan service romp.
Well, this left all the horror of Higurashi behind, and found all new horror instead. And didn't manage to find any fan service to speak of.
It's four episodes, each one standing alone. Those pictures are from the second one, in which Rika and Satoshi end up in a parallel universe where Rika is a magical girl who defends against a group of four adults who are evil magicians. Once Rika finds out what's going on, this is her reaction: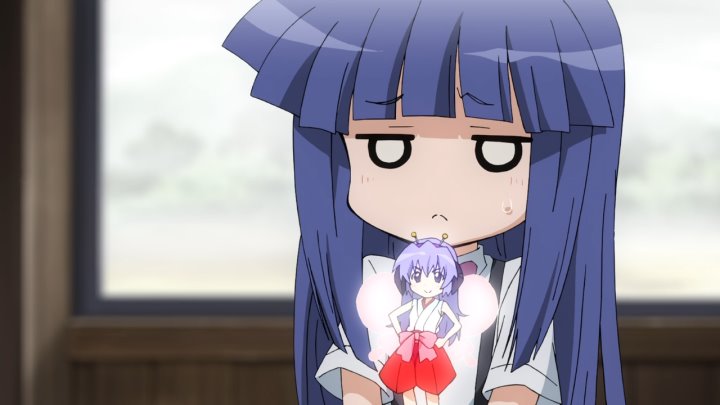 The fairy is Hanyuu, and this isn't the strangest thing in the episode.
Episode 1 was Keiichi, going through a series of nightmares, each of which ends with him waking -- into the next nightmare. The third one was about a pair of twins where one twin was trying to set up the other twin with Keiichi. And the fourth episode is about a (even younger) Rika coming in from an alternate timeline, and meeting the current Rika. All of them are extremely spooky, even the first one, which was supposed to be funny.
It's a strange experience. It would probably have been a stranger experience if I had watched the main show, but I remain convinced that it isn't the kind of show I'd like.
And, it didn't yield enough interesting shots to be worth incorporating into the top rotation.
Posted by: Steven Den Beste in Mystery Meat at 09:05 PM | Comments (5) | Add Comment
Post contains 292 words, total size 2 kb.
Posted by: Wonderduck at February 23, 2013 09:45 PM (+SPIN)
2
In the fourth episode of this one, one of the twins carries a pistol in a shoulder harness. She never draws it and it isn't a plot element; it's just part of her character art.
Posted by: Steven Den Beste at February 23, 2013 09:48 PM (+rSRq)
3
The "When they Cry" series, from what I know, isn't even in your general part of the universe for what you'd like. But at least those two pics were okay. Too bad there wasn't more.
Posted by: sqa at February 24, 2013 02:24 AM (dvTNf)
4
The pistol is actually an airsoft gun. From what I remember, it's never actually brought up even in the main series, but it's revealed in supplemental material. It's kinda weird that she carries it around almost all the time she's not in her school uniform, but no one ever comments or asks about it.
Posted by: EYanyo at February 24, 2013 10:52 AM (RXa2b)
5
In the manga, it gets revealed as a airsoft gun when she pulls it on Keiichi, scaring him, and then shoots a pellet at his forehead. Mion (that's the one with the gun) uses it to win shooting games, like the festival they go to.
Posted by: muon at February 25, 2013 11:19 AM (jFJid)
Enclose all spoilers in spoiler tags:
[spoiler]your spoiler here[/spoiler]
Spoilers which are not properly tagged will be ruthlessly deleted on sight.
Also, I hate unsolicited suggestions and advice. (Even when you think you're being funny.)
At Chizumatic, we take pride in being incomplete, incorrect, inconsistent, and unfair. We do all of them deliberately.
How to put links in your comment
Comments are disabled. Post is locked.
8kb generated in CPU 0.0107, elapsed 0.0183 seconds.
20 queries taking 0.0129 seconds, 22 records returned.
Powered by Minx 1.1.6c-pink.