November 10, 2010
Mystery meat -- X, the movie
Well, you can't get more mysterious than naming something "X", can you? It's a horror title from CLAMP, the all-girl orchestra. Seems to be the sequel to, or culmination of, a TV series they did. Art and animation style looks like late 1990's.
The rip is awful. It's from an American DVD release, and it's letter-boxed, which means the theater-level graphics are reduced even more than usual. And whoever did the rip decided to store it in "ogm" format, using DIVX for the video codec. Between the minimal source and the compression, the result isn't very satisfying.
Not that it really affects things much. The animation isn't all that great even for TV, let alone for a theatrical release. Not impressive at all. Slow frame rates, lousy looking art, and everything is really dark.
I got 40 minutes into it, and decided I'd had enough of CLAMP's tricks. Dear CLAMP: making everything too dark to see doesn't equate to lots of atmosphere.
There's some sort of world-changing confrontation coming. 7 dragons of Earth will battle 7 dragons of Heaven, and the balance of power rests with a guy named Kamui. Whoever convinces him to join their side wins. Those dragons? Well, they're people, too, with special powers.
Kamui himself doesn't seem to want any part of this. His only interest is in protecting two childhood friends of his, a brother and sister.
At the beginning, one dragon from each side squares off in the middle of Tokyo. They toss energy blasts at each other, not very convincingly, and a building gets destroyed, and the dragon of Heaven is killed, leaving the balance 6-7.
For something so spectacular, you'd think CLAMP could keep my attention, wouldn't you? But I had the following two reactions: 1. Toriyama did this kind of story better. 2. Ikki Tousen: Dragon Destiny did it better, too.
It's a pretty poor show that can't even top Ikki Tousen in story telling, don't you think? But when the dragons show up and start fighting in the last ep of ITDD, they look better and the animation is more fluid, and in pretty much every way it's more interesting and fun. Even air-headed Hakufu is more interesting than CLAMP's pantheon here.
Heroic leads in the dark: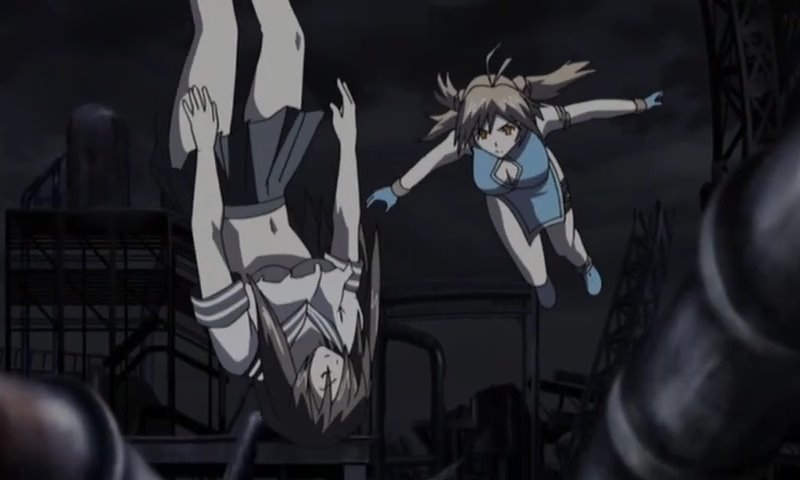 Supporting girl characters: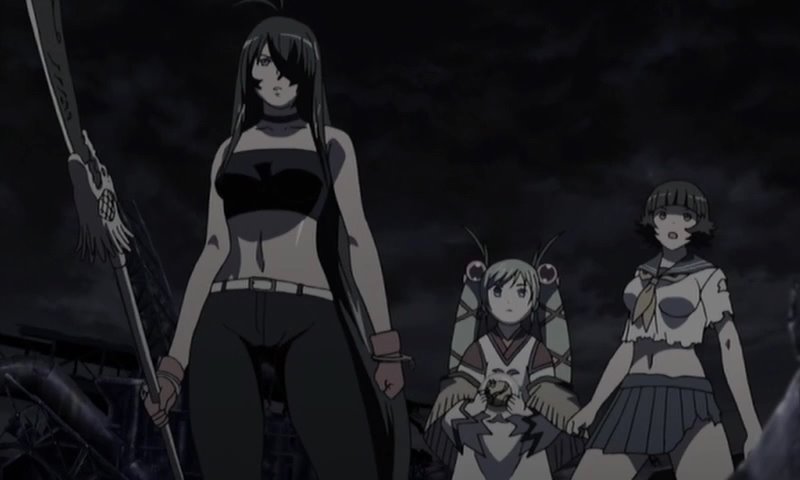 Which do you think is better looking? This is a visual medium -- you should make it so we can see things, even at night. (I wonder if CLAMP's manga was this difficult to see? I bet not.)
CLAMP virtually painted their "surprise" on the wall. All through the part I watched, it was blatantly obvious that the blue dragons, of Heaven, were supposed to be the good guys and the red dragons, of Earth, the bad guys. Which is why I figure it's better than even odds that the reverse is true.
But I figure it doesn't get resolved. That's my other bet. I figure it's better than even odds that the result of the final confrontation is "no game". It looks like it was supposed to end with a grand battle between Kamui and the male childhood friend, and I bet that in the end they stop fighting without either of them being hurt, let along killed. No decision is made, and the status quo continues.
What really got me fed up was that CLAMP was playing with the symbolism in pointless ways. It's spring, so cherry blossoms are de rigeur, right? Well, a few of them are floating around damned near everywhere we go, even in places where they make no sense. CLAMP thinks they mean something, presumably, but I sure don't know what -- and I don't care.
I just looked it up, and it seems that the movie came first, in 1996. The TV series is an "alternate retelling".
I didn't think CLAMP was this full of themselves as early as this. Later, yeah; Tsubasa Reservoir Chronicles is one big demonstration of contempt for their audience. But back in 1996 I thought they were still trying to tell good stories.
Posted by: Steven Den Beste in Mystery Meat at 06:50 PM | Comments (13) | Add Comment
Post contains 681 words, total size 4 kb.
Posted by: BigFire at November 10, 2010 07:19 PM (jSRcl)
Posted by: Boviate at November 10, 2010 07:37 PM (PJNgE)
Posted by: Avatar_exADV at November 10, 2010 09:13 PM (mRjOr)
Posted by: Steven Den Beste at November 10, 2010 11:19 PM (+rSRq)
Posted by: Steven Den Beste at November 11, 2010 12:38 AM (+rSRq)
Posted by: Avatar_exADV at November 11, 2010 03:52 AM (mRjOr)
Posted by: RickC at November 11, 2010 06:25 AM (1weMr)
Posted by: Pete Zaitcev at November 11, 2010 07:48 AM (3GiIY)
Posted by: Old Grouch at November 11, 2010 09:22 AM (k8zOE)
Posted by: bkw at November 11, 2010 12:33 PM (34O+x)
Posted by: TBlakely at November 11, 2010 10:08 PM (S3uDg)
Posted by: Steven Den Beste at November 11, 2010 11:56 PM (+rSRq)
Posted by: muon at November 13, 2010 03:23 AM (kzJXl)
Enclose all spoilers in spoiler tags:
[spoiler]your spoiler here[/spoiler]
Spoilers which are not properly tagged will be ruthlessly deleted on sight.
Also, I hate unsolicited suggestions and advice. (Even when you think you're being funny.)
At Chizumatic, we take pride in being incomplete, incorrect, inconsistent, and unfair. We do all of them deliberately.
How to put links in your comment
Comments are disabled. Post is locked.
16kb generated in CPU 0.02, elapsed 0.0313 seconds.
20 queries taking 0.0174 seconds, 30 records returned.
Powered by Minx 1.1.6c-pink.