March 13, 2014
Mystery Meat -- Wonder Momo
In 1987 there was an arcade game called "Wonder Momo". Bandai has decided to refresh the franchise, and will release a new game for PC and Android this spring, or so it is reported.
As part of the intro process for this game, a five-episode ONA was released. Each one is 7 minutes long, and it just got posted on BakaBT.
---
Momoko is a rather ordinary first-year high school girl who wishes she could be an idol and is actually working to become one. She takes classes and she goes to try-outs but she hasn't pulled it off yet. Anyway, a green space alien shows up and tosses a glowing sphere at her, which goes inside. Then back at the school, a bunch of space aliens attack the gym. Momoko goes there and says something like "And this is where I become a superhero, right?" And much to her surprise, she does, and proceeds to polish off all the aliens.
With Batman-style captions.
Naturally, there's only one person who sees her transform and knows her secret, and it's a love interest. He's third year and is something of a shutterbug.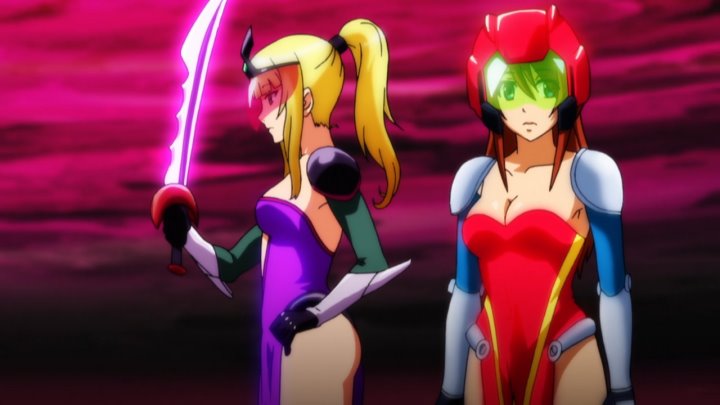 She gets into trouble in her next fight, and another magical girl shows up.
It turns out it's Akiho, the current favorite idol. When she's fighting she calls herself Amazona.
And in her next fight Momoko gets in trouble again. This time she's rescued by the original Wonder Momo,
Who, it turns out, is her mother.
And that's what she looked like 25 years ago.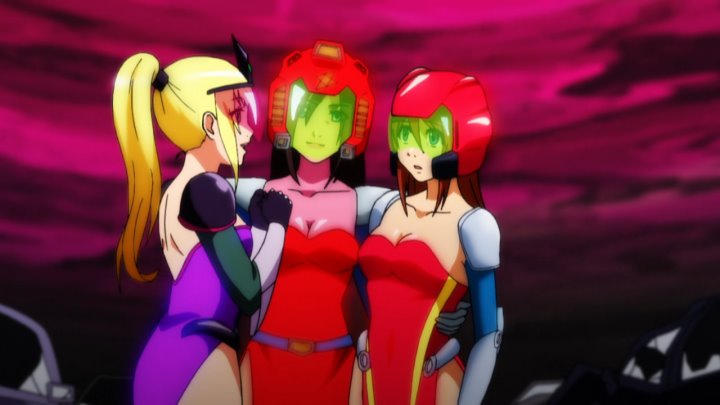 Mom eventually decides the three of them should team up.
And in consultation with the friendly aliens, she proposes that they should take the battle to the enemy.
And they do, just as the end of the last episode. Which, presumably, is the final act of the upcoming computer game.
The most noticeable thing about this all is Momoko's voice. The voice actor is a first-timer. And Momoko comes off as brain damaged. It's essentially the same character as Hajime in Gatchaman Crowds except that the latter was a better character and much better acted.
It's possible that this is a case of a superb actress being wasted by an uncaring director in an ill-conceived role, but I doubt it. Fact is, she just isn't very good. I don't anticipate she'll ever get hired again.
This ONA is an extended advertisement for the upcoming computer game and that's all it tries to be. So they could have spiced it up with fan service, but they didn't. They could have developed the love interest, but they didn't. There were a lot of things they could have done and didn't. Their purpose was to show things that will be in the games, either as playable battles or as cut scenes. Unless you're interested in the game, this is a waste of time.
Posted by: Steven Den Beste in Mystery Meat at 06:21 PM | Comments (6) | Add Comment
Post contains 480 words, total size 3 kb.
Posted by: Pete Zaitcev at March 13, 2014 07:12 PM (RqRa5)
Posted by: Mauser at March 13, 2014 11:58 PM (TJ7ih)
Posted by: Brett Bellmore at March 14, 2014 01:55 AM (HGNzm)
Posted by: muon at March 14, 2014 09:16 AM (jFJid)
Posted by: Pete Zaitcev at March 14, 2014 09:41 AM (RqRa5)
Posted by: Mark A. Flacy at March 16, 2014 08:32 PM (i1KFF)
Enclose all spoilers in spoiler tags:
[spoiler]your spoiler here[/spoiler]
Spoilers which are not properly tagged will be ruthlessly deleted on sight.
Also, I hate unsolicited suggestions and advice. (Even when you think you're being funny.)
At Chizumatic, we take pride in being incomplete, incorrect, inconsistent, and unfair. We do all of them deliberately.
How to put links in your comment
Comments are disabled. Post is locked.
9kb generated in CPU 0.0181, elapsed 0.0654 seconds.
20 queries taking 0.052 seconds, 23 records returned.
Powered by Minx 1.1.6c-pink.