August 20, 2010
Mystery Meat -- Shukufuku no Campanella
I wanted to call Shukufuku no Campanella "the Bishie and the seven Babes". Or maybe "the seven Bimbos". But in fact I'm not really clear on just how many babes there are. It keeps changing, for one thing, and it depends on who you include. (And some of them aren't bimbos.)
Shelley, for example, is definitely a babe. But she's also Leicester's mother, him being the bishie. Or should Carina's mom be included? How about Nina, the servant? (Who is also the narrator?) Or Garnet, the dragon avatar?
The focus of the series is The Oasis, which is the HQ for what amounts to an adventurer's guild. The guild master is Carina, who also happens to be the daughter of the Duke of the city this all happens in. She's head-over-heels for Leicester, and she's not the only one.
There's the comic-relief twin girls who live across the street and work for what seems to be a rival guild called "Tortilla company". One of them is named Salsa Tortilla, and you can tell just how serious this all is from that name. Both of them are hung up on him, too, but at the same time they're constantly trying (and failing) to compete with the Oasis.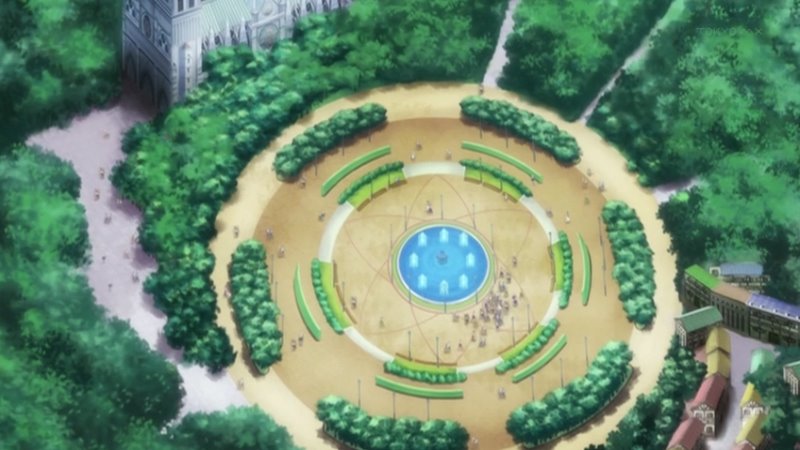 This is the town square. (I think we need to work on that name, don't you?) It's where we first meet Agnes, who is a street performer and puppeteer. She gets invited to stay at the Oasis, and eventually becomes a (temporary?) member of the guild. That description of her (puppeteer) is deceptive. She is a top master at creating "automatons", magically-powered devices which can move and operate on their own and can even think and speak. It is, in a sense, a kind of magic and Agnes, while not being very powerful, is very skilled at it.
Her best creation is a cat named Tango but she has several others. They star in her puppet show when she needs money. When they run out of power, automatons have to "sleep", which is to say they deactivate and recharge. From where they recharge hasn't really been discussed. But it's possible that Agnes' automaton recharge from Agnes herself; I offer that suspicion because Agnes seems to eat quite a lot more than you'd think a girl like her would.
And there's Minette, the greatest creation of the master that Agnes studied under, name of Mize Altowirz. Minette has been sleeping inside the spire at the local cathedral since a long time.
Once every 7 years there's a spectacular meteor shower. They call it that, but they aren't really meteors. Instead, they're balls of "ale", which in another setting might be referred to as "mana". It's the stuff of magic.
It's quite a show, and the town has a tradition of holding a festival on that day, and everyone going out at night to watch it happen.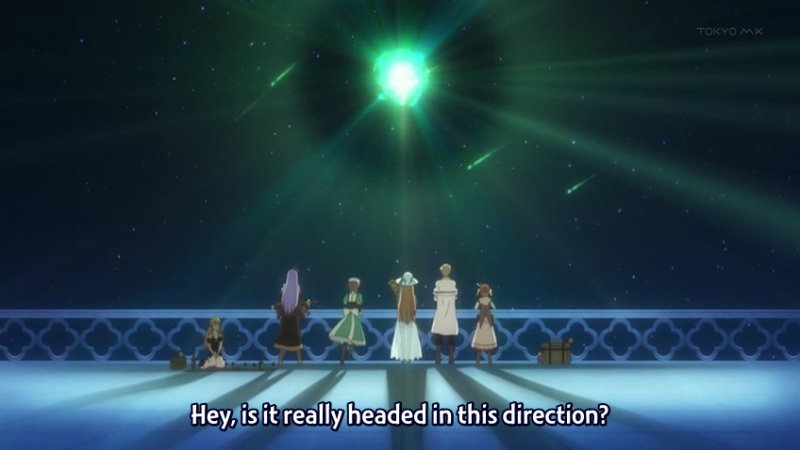 Our folks, being well connected, get permission to watch it from the top of the cathedral, the highest point in the city. One huge ball of ale flies past them and strikes the spire, which then shows a residual glow.
Leicester runs down-and-up to get to the spire and finds that the glow is behind a large pair of doors he didn't know about. Opening them, he finds a girl laying in a bed. She wakes as he walks up to her and calls him "Papa" and glomps him.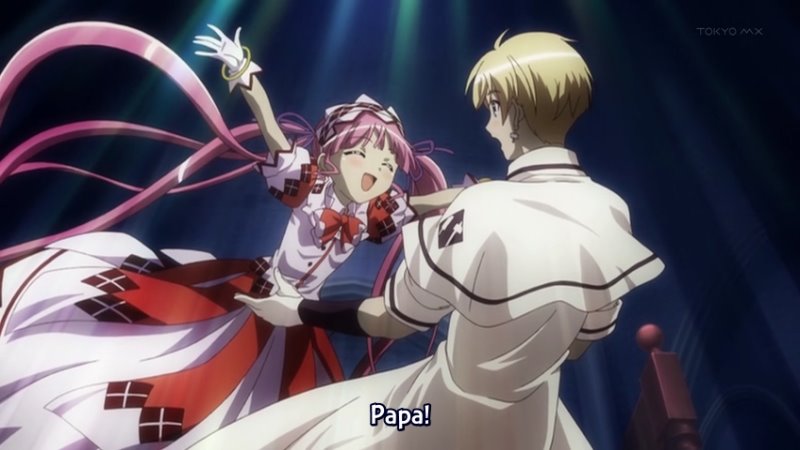 That's Minette, and it turns out she's an automaton. And it seems that the older generation of the Oasis guild knew she was there. They are friends of Mize Altowirz. They weren't sure when or how Minette would awaken, but now that she has, she's going to be cared for by the Oasis guild. (Shelley, Leicester's mother, seems to have expected it to happen that night, or at least she wasn't in the slightest surprised when it did.)
And, it turns out, Minette is going to accompany Leicester whenever he joins an adventuring party, which happens for the first time in the second episode. Minette isn't just an extraordinary automaton, she also contains the Anima Pearl, a creation of the Dragon race, and it gives her exceptional power to control and tame ale (aka mana).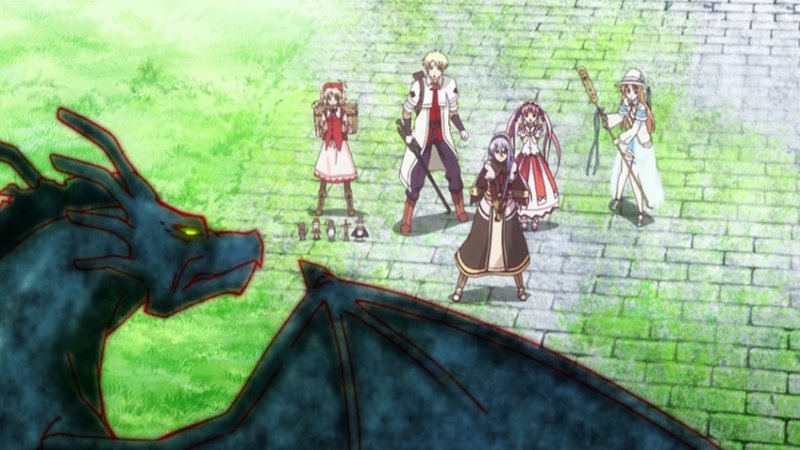 Agnes, Leicester, Chelsea, Minette, Carina
Carina-sama, guildmaster and Duke's daughter, also happens to be a top sorceress. Her position in the guild isn't only due to nepotism. And in as much as Agnes is a top expert in automata and best student of Mize Altowirz, she gets invited to stay with them while they figure out Minette.
I've skipped a few characters (frankly, they're a bit hard to keep straight) but the whole show seems light-hearted and really something of a trifle. I wouldn't be surprised if it turns dark at the end but I also won't be surprised if it doesn't. For the time being it's mostly (mild) fan service, special effects, and lots of girls competing for Leicester's attention.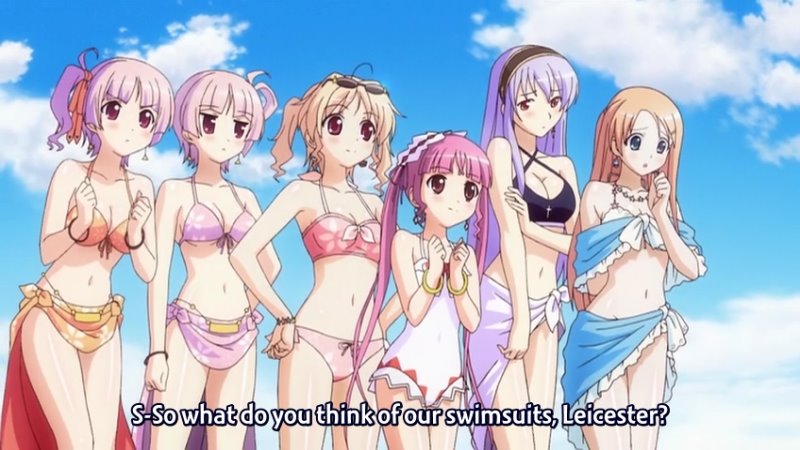 The Tortilla twins, Agnes, Minette, Chelsea, and I don't remember who the one on the right is. And that's not even all of them.
His presence in the guild is mainly because his parents are both respected members. Whether he'd qualify absent that is less clear. Seems his ability is in creating machines of various kinds. We hear about an automatic dish washer, and we see him use some sort of gun he created. And as of now, he is master of Minette, whose abilities likely will turn out to be a major asset to the guild. But it would be nice if he turned out to have something to offer besides good looks, a kind disposition, the occasional gimcrack, and a powerful pet.
This show isn't very weighty, but at least through the second episode it was an enjoyable way to spend an hour.
Posted by: Steven Den Beste in Mystery Meat at 03:18 PM | Comments (4) | Add Comment
Post contains 977 words, total size 6 kb.
Posted by: Wonderduck at August 20, 2010 05:02 PM (iJfPN)
Posted by: Steven Den Beste at August 20, 2010 05:42 PM (+rSRq)
Posted by: Pete Zaitcev at August 20, 2010 05:50 PM (9KseV)
Posted by: ubu at August 21, 2010 07:36 AM (GfCSm)
Enclose all spoilers in spoiler tags:
[spoiler]your spoiler here[/spoiler]
Spoilers which are not properly tagged will be ruthlessly deleted on sight.
Also, I hate unsolicited suggestions and advice. (Even when you think you're being funny.)
At Chizumatic, we take pride in being incomplete, incorrect, inconsistent, and unfair. We do all of them deliberately.
How to put links in your comment
Comments are disabled. Post is locked.
12kb generated in CPU 0.02, elapsed 0.0221 seconds.
20 queries taking 0.0146 seconds, 21 records returned.
Powered by Minx 1.1.6c-pink.