June 05, 2010
Mystery Meat -- Ryofuko-chan
Today's mystery meat is "Ryofuko-chan". I originally tried writing about it while I was watching it but it just wasn't possible.
It's ecchi. It's lolicon. It's really very clever and quite funny. And surreal doesn't even begin to describe it. It's kind of like a cross between Dai Mahou Touge and Excel Saga, but with a lot of fan service and no real attempt to make any sense.
Ryofu Housen was the greatest general of the 3-Kingdoms era (they say) and when he was an old man he and two of his aides were yanked out of their time and place and dropped onto an island next to modern Japan. Ryofu and Chin Kyuu were reincarnated as lolis. Kou Jun came back as a plushy. Ryofu's war horse Sekito came through, too.
Sousou is also around; he's a young man, looking not at all like he was. Kakou Ton is with him. They're both working as fishermen for a couple of hard gays. Later on, Kan'u Unchou shows up, and unlike the others he's in his original body.
Ryofu and Chin Kyuu are living with an old woman who runs a fish store. They also attend grade school. They aren't making any secret of who they are, but everyone thinks they're nuts and humors them.
It really does have the Excel Saga esthetic going, with lots of send-ups and references to tropes and cliches. For instance, Ryofu has a henshin deck that runs once per episode, complete with loli nudity. It's like something out of Nanoha. Except that it's totally unserious and I didn't find it offensive at all.
There's a segment which, for the life of me, seems like a shout-out to Chu Bra. There's a shout out to Star Trek.
One of the running jokes is that all the reincarnates from the 3-Kingdoms era remember their previous lives, and still think of themselves as being men -- especially old men. Chin Kyuu, for instance, seems to have been something of a lech with a taste for large breasts on young women. So he/she is quite taken with their grade school teacher, Eri, who Ryofuko sarcastically refers to as "F-cup". (And she isn't lying, either.)
At one point, near the end of the second episode, I began to think that they were sneaking a story in -- but it turned out to be a head fake. (They got me; I admit it.)
It's wild and crazy and I really enjoyed it.
One reason is that it has a hell of a good cast. Matsuoka Yuki is the lead character, and she's using the same voice she uses for Evangeline A.K. McDowell. She is superb, and really is the one to make this show work.
Kou Jun was voiced by Wakamoto Norio. Chin Kyuu is voiced by Nishimura Chinami, sounding nothing at all like any other role I've heard her in. (She is very versatile, you know that?)
The ending? I liked it a lot. It was another head fake, and they fooled me again with it.
I've got a swarm of frame grabs, some NSFW, below the fold. I suppose that some of them might be considered spoilers, but they aren't really.
---
Chin Kyuu and Ryofu realize that they're not in Kansas any more.
Chin Kyuu is still a dirty old man, in mind if not in body: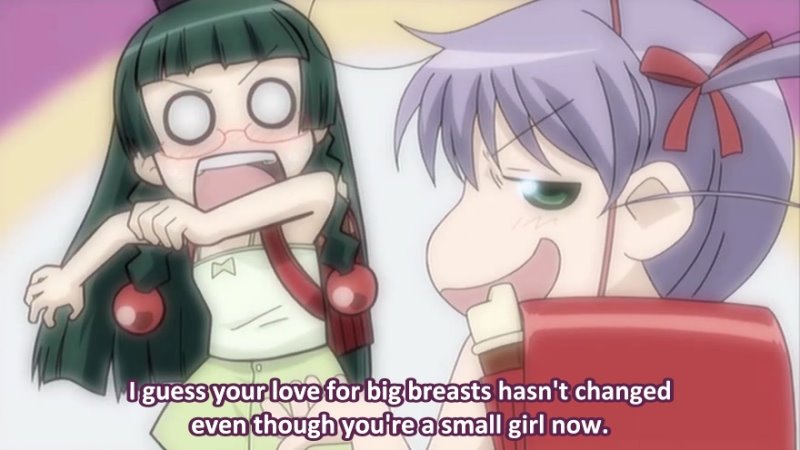 And this is their teacher Eri, aka "F-cup", about whom Chin Kyuu has fantasies.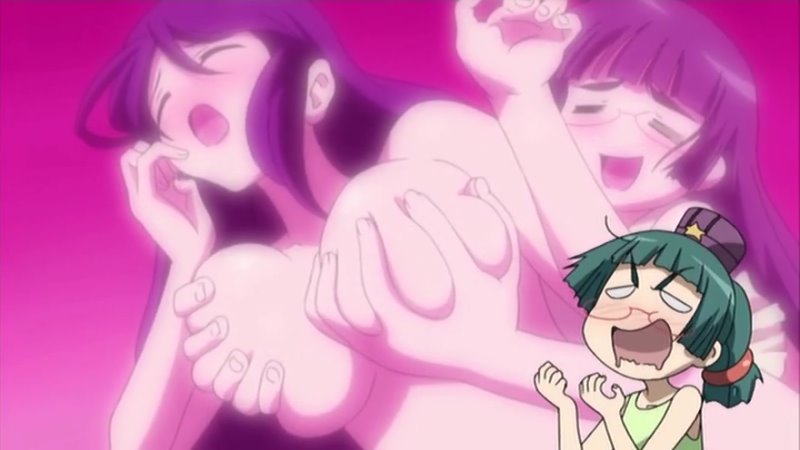 Asumi, a classmate, shows off her matching bra and panties from Italy: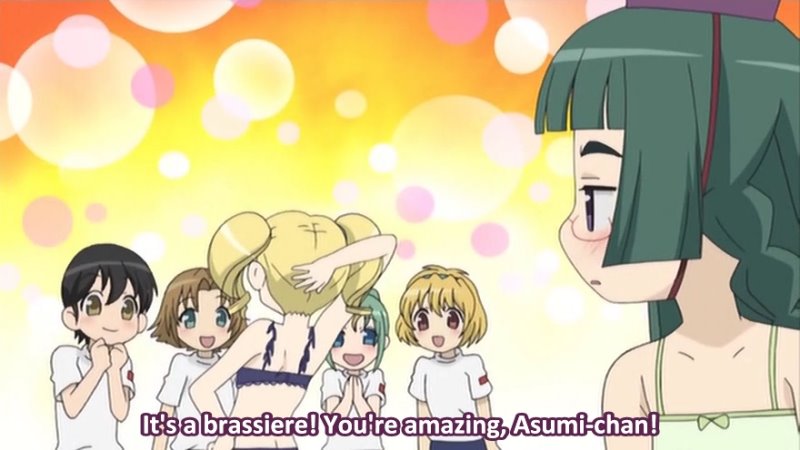 Here's Ryofu's henshin deck: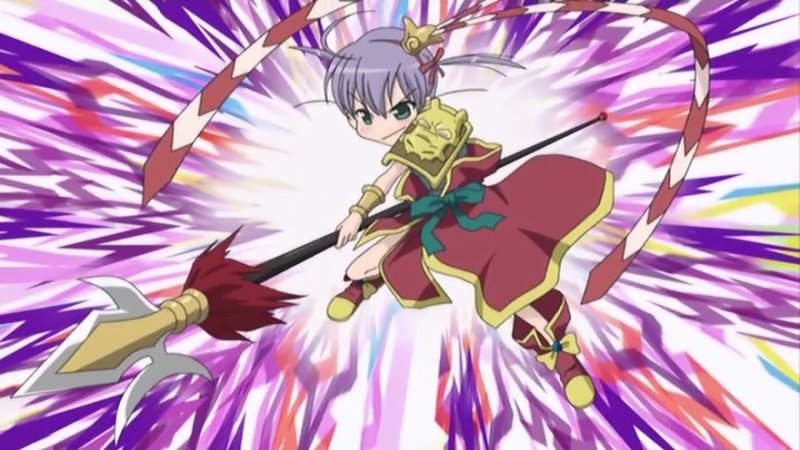 Kan'u Unchou is attacked by an army that even he cannot defeat: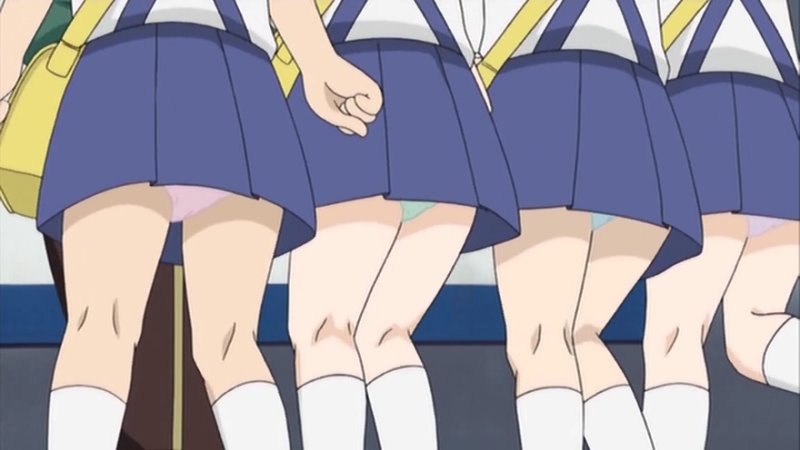 Kan'u meets Ryofu:
That's what I'm wondering...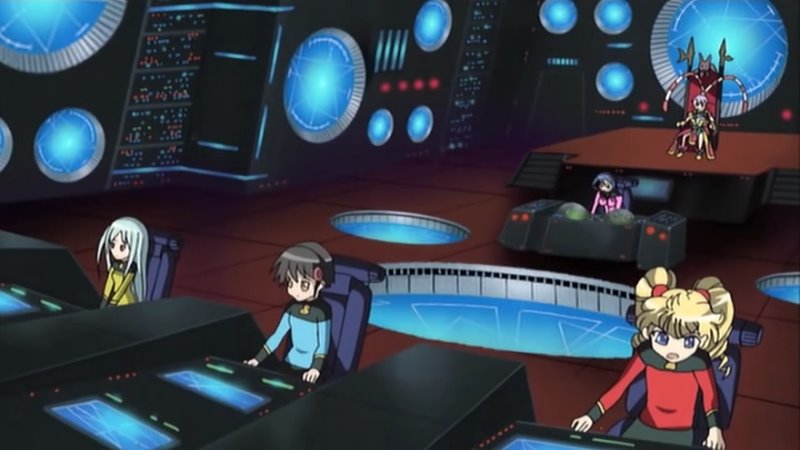 Posted by: Steven Den Beste in Mystery Meat at 10:36 PM | Comments (3) | Add Comment
Post contains 597 words, total size 5 kb.
1
Hentaiprise?
Hentaiprise?
It's not the fansubbers making a joke, they really named it the Hentaiprise?
Too. Damn. Funny. I LOL'd.
2
What she says is
Watashi wa Hentaiprise no Captain, Ryofu Housen.
3
By the way, that symbol on the front of the ship is 呂, which is read
ryo.
Enclose all spoilers in spoiler tags:
[spoiler]your spoiler here[/spoiler]
Spoilers which are not properly tagged will be ruthlessly deleted on sight.
Also, I hate unsolicited suggestions and advice. (Even when you think you're being funny.)
At Chizumatic, we take pride in being incomplete, incorrect, inconsistent, and unfair. We do all of them deliberately.
How to put links in your comment
Comments are disabled. Post is locked.
11kb generated in CPU 0.01, elapsed 0.0268 seconds.
20 queries taking 0.0172 seconds, 20 records returned.
Powered by Minx 1.1.6c-pink.