October 07, 2009
Mystery Meat -- Requiem from the Darkness
Today's Mystery Meat series is "Requiem from the Darkness".
UPDATE: Looks like it's still available in R1, so I've got a guilt buy coming. (I wouldn't want to be visited by them, you know!)
---
It turns out to be a horror series. Ghost stories, more or less. Our hero is a wannabe writer who is working on a volume of ghost stories. As such he is pretty well read on the occult. He's traveling, not obvious why. Maybe he's looking for source material.
Anyway, he gets caught in a terrible storm, and meets some... unusual people in it. The upshot is that six travelers end up in a ruined store and are hosted by the owner. Stories are told, about how the store was once very prosperous. And then a boy began to work there. He wasn't very good at his job, but he had an unusual talent: he could hold a box of beans and tell exactly how many were in it. Word of this spread, even to the local daimyou, who was delighted when the boy performed in front of him. The store prospered, and eventually the owner announced that since he had no relatives or offspring he was making the boy his heir.
Two days later the boy was murdered.
It turns out that the murderer was identified but never punished. And he's there that night in the storm, one of those six travelers, and gets his reward from these three people:
They are known as the Mataichi gang, or at least that's what the protagonist calls them. The leader, the short one, is named Mataichi and as soon as I heard him speak I recognized the seiyuu. He was the voice of Frieza in DBZ, though he's using his voice differently this time.
He is always terrifying to me. I've only heard him in one other role, as the aliens in Alien Nine, and he scared the crap out of me there too. In this he is more restrained, but there is still a strong hint of menace in every word he utters. He is marvelous.
The art style looks like a deliberate homage to the classic EC horror comics, published by Bill Gaines back in the 1950's before he started Mad Magazine. We're talking about classic titles like Tales from the Crypt.
It's highly stylized, which was really quite a shock when I first started watching it. They use that to try to convey the horror and nightmare feel of the story, and it's effective.
And frankly, the Mataichi gang don't look any less frightening in daylight.
The tall one is Nagamimi, voiced by Wakamoto Norio, another who can be chilling if he wants to be. The woman is Ogin.
Our hero is Momosuke Yamaoka and at the end of the first episode, in voiceover, he says, "That was my first encounter with the Mataichi gang." It would seem that in successive episodes he will be involved in later hauntings by that lot. Whether he will assist, simply observe, or try to interfere, is hard to say. My guess is that he will try to interfere and Mataichi will take that into account in his planning and use it to his advantage.
Sadly, the version I downloaded has been dreadfully reduced. Looks like it was released in R1 by Geneon, and what I've got is a rip from those DVDs because it's got both English and Japanese sound tracks. But for some reason the video has been reduced to 576*432.
It's a bit gory. The original murder in the first episode was committed by beaning the kid with a big rock, which crushed his skull, and that murder is replayed in different nightmare forms three or four times over the course of the episode. They don't overdo it on the blood but blood is shown.
It's very stylish and nicely handled. I'm not ordinarily a fan of horror titles but this looks to be a really good one.
That's the owner of the store. Doesn't he look like he stepped right out of an EC comic?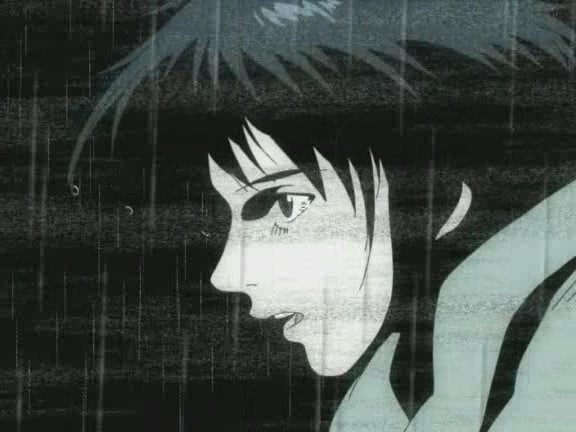 And that's our hero.
Now if this really is an homage to EC comics, then it will turn out in the end that he, too, has a guilty past and the whole series will turn out to be a plot to bring him in his turn to his just desserts for what he did.
I wonder if that's how it ends?
FORENSICS: Why did I download this? Looks like it was for bonus points.
Posted by: Steven Den Beste in Mystery Meat at 07:01 PM | Comments (6) | Add Comment
Post contains 762 words, total size 5 kb.
Posted by: Toren at October 07, 2009 08:14 PM (9K6fX)
Posted by: Steven Den Beste at October 07, 2009 08:15 PM (+rSRq)
Posted by: metaphysician at October 08, 2009 10:30 AM (M5Kik)
Posted by: Steven Den Beste at October 08, 2009 11:52 AM (+rSRq)
Posted by: ubu at October 08, 2009 03:19 PM (f8pAz)
Posted by: Steven Den Beste at October 08, 2009 03:51 PM (+rSRq)
Enclose all spoilers in spoiler tags:
[spoiler]your spoiler here[/spoiler]
Spoilers which are not properly tagged will be ruthlessly deleted on sight.
Also, I hate unsolicited suggestions and advice. (Even when you think you're being funny.)
At Chizumatic, we take pride in being incomplete, incorrect, inconsistent, and unfair. We do all of them deliberately.
How to put links in your comment
Comments are disabled. Post is locked.
11kb generated in CPU 0.02, elapsed 0.0434 seconds.
20 queries taking 0.0282 seconds, 23 records returned.
Powered by Minx 1.1.6c-pink.