May 29, 2010
Mystery Meat -- Ranma reprise
This came by on the torrents in April and I only just now got around to watching it. It's titled "Ranma - Akumu Shunminko" which I think translates as "Nightmare of the deep-sleeping girl". It seems to be a special on the 50th anniversary of some magazine.
At the beginning there's a vignette featuring a guy and a girl from each of Urusei Yatsura, Inuyasha, and Ranma 1/2. Five characters (ahem), counting Ranma twice.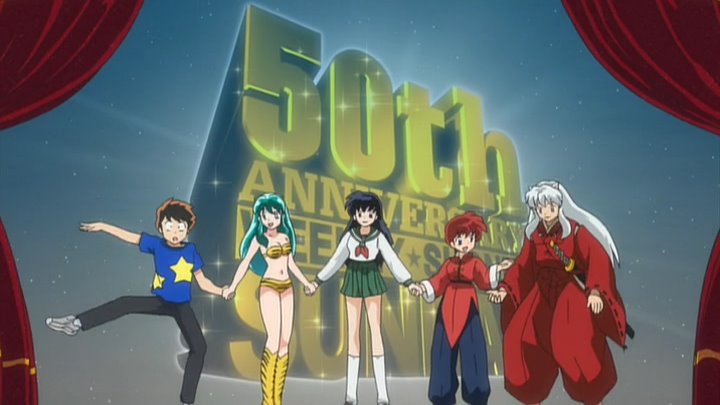 It starts with Ataru trying to pick up Ranma-chan. He eventually also tries to pick up Kagome. It ends with him being blasted by Inuyasha, by Lum, and by Ranma-chan (who uses something that looks an awfully lot like a kamehameha, though s/he calls it something else). Then we get the above scene, and they roll the OP.
The main show is Ranma 1/2. (Which makes me wonder if there were other episodes of this based on the other shows.)
It's a confection. That's the best way to put it. It doesn't develop any important plot, and doesn't make any continuity changes. They manage to work in nearly every important character from the series (including a couple I didn't recognize, like one guy in the school who looks like a zombie) without it seeming like an extended curtain call. (And that was quite a feat.) When they show up, and when they do the things they do, it makes sense.
Ahem, I do believe they've gotten bigger. Seems like that girl who drowned in the Jusenkyou pool wasn't fully developed yet. (cough choke)
No doubt about it.
Now there is a legitimate reason why Ranma-chan is standing in the middle of the sports field at school with her shirt pulled up. Nothing gratuitous about it, nosirree...
They even included Happousai, which is unfortunate. But he isn't in it much, and he gets the shit kicked out of him about four times, so that's a win. (It was Happousai that Ranma was luring in with her boobs. Worked, too, which is why the laughter.)
Everyone who is cursed transforms at least once, another thing that fans probably would insist on. And a lot of this happened at the school, which confirms something from the OVAs: the Jusenkyou curse isn't a secret any longer. Everyone knows about Ranma and Genma, not to mention Shampoo and Mousse. (Shampoo is still the sexiest cat I've ever seen.)
Except... that Akane still apparently doesn't know about Ryuuga, and that jerk Tatewaki may still not know about Ranma.
They did blow continuity once:
Shouldn't this be causing Ranma to go insane? Or has s/he gotten better control over the Neko-Ken? (Or maybe I'm thinking too much. Again.)
So, well, there's lots of frenetic activity. Lots of people get beat up but no one is hurt. Ranma shows us her tits. Happousai gets beaten up several times. Everyone gets to play. It's fun!
Recommended.
Posted by: Steven Den Beste in Mystery Meat at 04:37 PM | Comments (5) | Add Comment
Post contains 487 words, total size 3 kb.
Posted by: Jaked at May 29, 2010 05:50 PM (EjkUJ)
Posted by: Steven Den Beste at May 29, 2010 06:00 PM (+rSRq)
Posted by: Jaked at May 29, 2010 08:04 PM (EjkUJ)
Posted by: Ed Hering at May 30, 2010 12:10 AM (EIqeS)
Posted by: pflorian at May 30, 2010 12:30 PM (wuOWG)
Enclose all spoilers in spoiler tags:
[spoiler]your spoiler here[/spoiler]
Spoilers which are not properly tagged will be ruthlessly deleted on sight.
Also, I hate unsolicited suggestions and advice. (Even when you think you're being funny.)
At Chizumatic, we take pride in being incomplete, incorrect, inconsistent, and unfair. We do all of them deliberately.
How to put links in your comment
Comments are disabled. Post is locked.
10kb generated in CPU 0.01, elapsed 0.0257 seconds.
20 queries taking 0.0171 seconds, 22 records returned.
Powered by Minx 1.1.6c-pink.