February 16, 2014
Mystery Meat -- Psychic Academy Aura Banshou
I thought this would turn out to be trash, but I got sucked in and ended up watching the entire thing in one sitting. It's 24 episodes which are anywhere from 7 to 9 minutes long. It's listed as an ONA, which I guess explains the varying lengths.
I'm not saying it's earth shattering, but it's a lot of fun. It doesn't drag, and Our Hero (named "Ai") isn't annoying, and he doesn't have a self-selected annoying best friend, and the story is interesting, and the girls are cute. Ai has a crazy roommate but he isn't annoying and anyway he doesn't appear very often.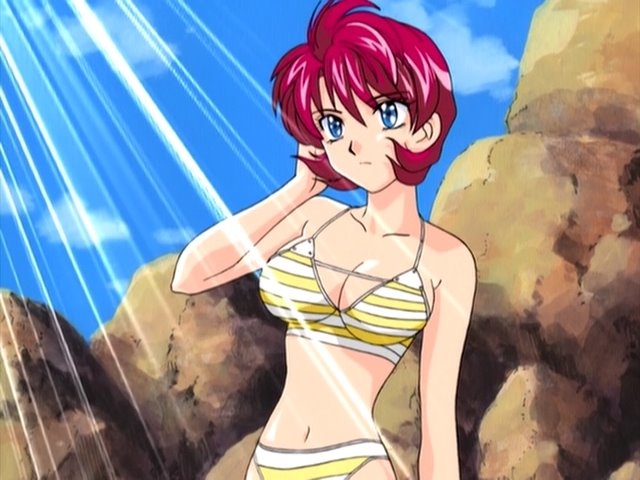 This is Myu. One of the other girls has the ability to look in a crystal ball and find out things, and she says that Ai and Myu have 100% synchronization of their aura, or something like that.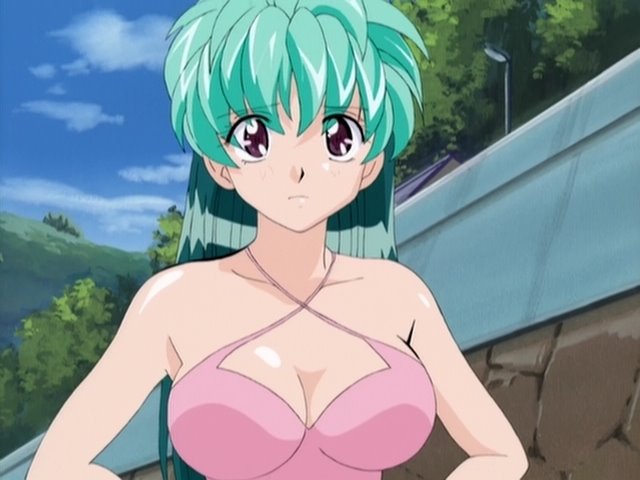 That's Orina AKA Saara, certified Childhood Friend. She's also infatuated with Ai, and gets very jealous sometimes. But she isn't a tsundere. There aren't any in the show, another pleasant surprise.
As chance would have it, they're roommates.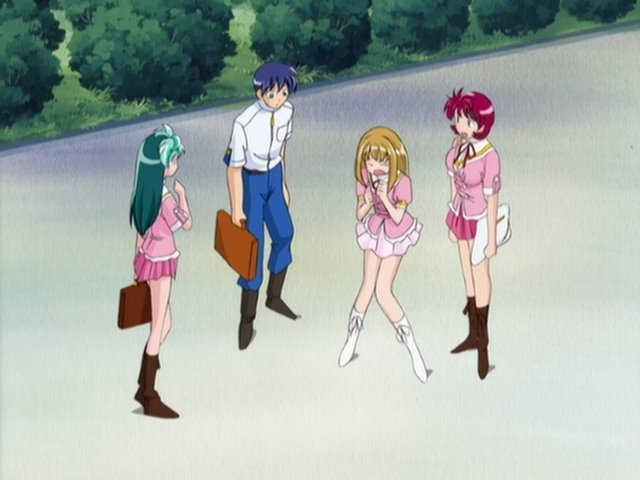 The other member of the harem is that blonde, name of Faafa. She's really weird, in part because sometimes she's a guy named Ren. Who was her younger brother, and I didn't quite understand the explanation of what happened.
Unfortunately, the 24 episodes make up about as much material as 8 or 9 normal-length episodes, and while it does tell a lot of story, it doesn't come close to finishing any of it.
It's based on a manga which eventually ran 11 volumes and finished in 2003, so I assume the story went well beyond what I saw and did get finished.
Even so, I didn't feel cheated at the end. The part they did make into an anime feels pretty complete. There are plot elements left hanging, but they don't really nag.
Posted by: Steven Den Beste in Mystery Meat at 09:28 PM | Comments (2) | Add Comment
Post contains 321 words, total size 2 kb.
Posted by: J Greely at February 17, 2014 05:14 PM (fpXGN)
Posted by: Steven Den Beste at February 17, 2014 05:29 PM (+rSRq)
Enclose all spoilers in spoiler tags:
[spoiler]your spoiler here[/spoiler]
Spoilers which are not properly tagged will be ruthlessly deleted on sight.
Also, I hate unsolicited suggestions and advice. (Even when you think you're being funny.)
At Chizumatic, we take pride in being incomplete, incorrect, inconsistent, and unfair. We do all of them deliberately.
How to put links in your comment
Comments are disabled. Post is locked.
7kb generated in CPU 0.0045, elapsed 0.013 seconds.
20 queries taking 0.0101 seconds, 19 records returned.
Powered by Minx 1.1.6c-pink.