October 01, 2009
Mystery Meat -- Netrunmon, the Movie
Today's Mystery Meat show is "Netrunmon, the Movie". And it's entirely too silly to believe. More, including a couple of borderline NSFW frame grabs and a lot of spoilers, below the fold.
---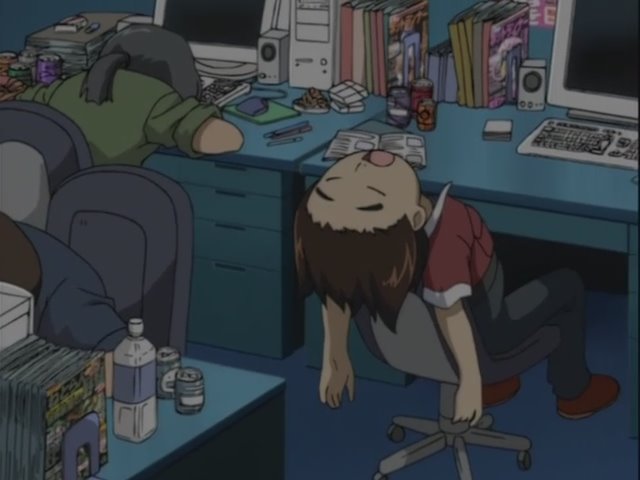 It's late night in an office. A bunch of programmers are desperately working to finish something by morning, but it seems hopeless, and eventually they all fall asleep. Then two of the computer monitors glow, and a couple of cartoon ducks come out and decide to help.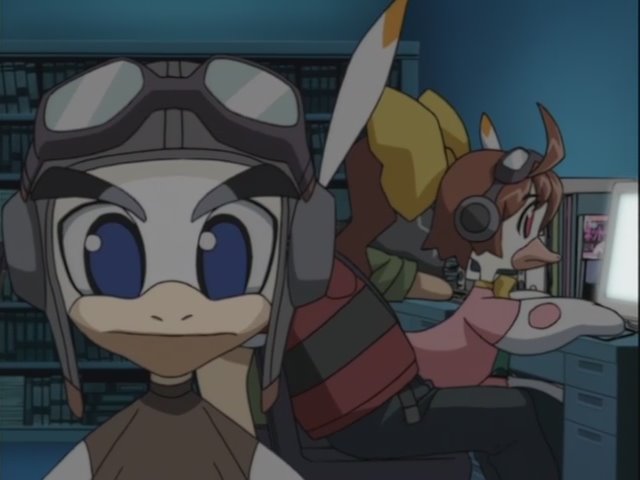 The conversation between them makes clear that they're an older brother and younger sister. The older brother, BB Runner, gets distracted by an ad which tries to con him out of money, and Ranna, his sister, boots him. Then another one shows up, only this one comes out of the screen. As she goes through a (nude) mahou shoujo transformation, she says: "I'm a computer sprite. I have no boyfriend. I don't burp. I don't go to the bathroom. I am more ideal for a girlfriend than real girls. I'm the idol of the new generation. I'm Chiyu, the 12 year old!"
Ye Gods. She grabs BB Runner and the two of them vanish back into the screen. Ranna jumps in after them.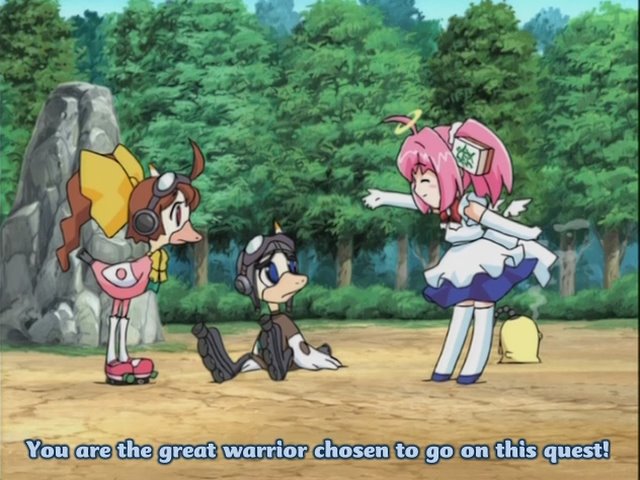 Turns out that someone who calls himself "Goshujin-sama" has been using his minions, the junkies, to kidnap and imprison net meme characters.
They need a hero to save them, and Chiyu's older sister, Biske-tan, found BB Runner and decided that he was the one.
So we have an adventure and find and free Biske-tan from an attack by junkies. But in the commotion the junkies capture Ranna, and drive away with her in a cage in the back of a truck. On a highway in open desert, a strange single figure stands in the middle of the road, holding a katana. He swings his blade as the truck passes by/over/through him, and the truck falls in half.
A group of junkies who were also in the back of the truck emerge and attack him. He whisk-isk-isk's his blade, and resheaths it.
And all their clothes come off, and they flee in terror. Ranna is, needless to say, a bit smitten by the guy. Who are you?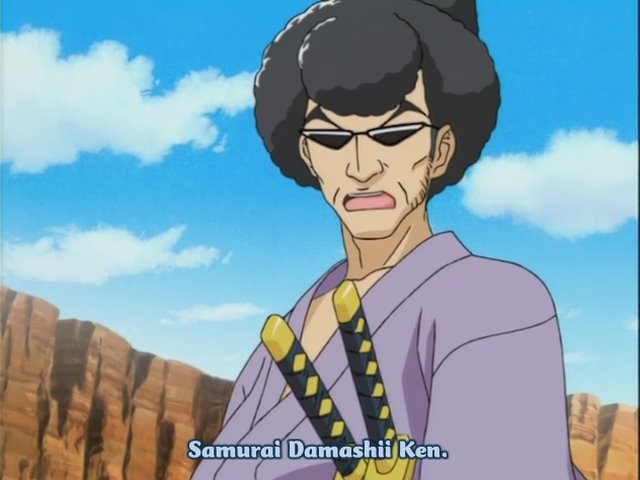 OK, Ken, whatever you say. Getting back to BB Runner and the girls, they're questing towards the Master's castle because that's where the action is going to be, and because they want to release Ranna and think she's being taken there.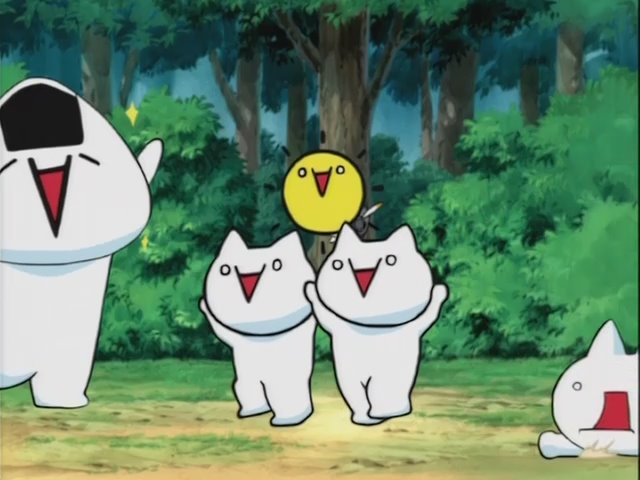 In the woods along the way. Apparently these guys haven't been captured by the Master because, well, who'd want them?
Ooh! Ain't that ugly and foreboding?
Ken + Ranna meet up with the others and form one team. They go through some stuff, and get inside the castle, and are confronted by the guards. Ken says, "Go down those stairs. I'll hold here and I won't let any of them through.
And he does. And then some other really weird shit happens, but I'm not going to describe any more of it. The final battle between BB Runner and the Master is a triumph of silliness.
Man, this was bad. The only reason I finished it was that it was only half an hour long.
FORENSICS: I'm sure I downloaded this one for bonus points.
Recommended? HELL NO.
Posted by: Steven Den Beste in Mystery Meat at 02:54 PM | Comments (9) | Add Comment
Post contains 553 words, total size 4 kb.
Posted by: dkallen99 at October 01, 2009 02:59 PM (1PFDl)
Posted by: Steven Den Beste at October 01, 2009 03:31 PM (+rSRq)
Posted by: Jaked at October 01, 2009 04:08 PM (hNS0e)
Posted by: Steven Den Beste at October 01, 2009 04:25 PM (+rSRq)
Posted by: Wonderduck at October 01, 2009 08:26 PM (/O6qY)
Posted by: bkw at October 02, 2009 08:44 AM (34O+x)
Posted by: Steven Den Beste at October 02, 2009 09:44 AM (+rSRq)
Posted by: Toren at October 02, 2009 05:19 PM (9K6fX)
Posted by: Steven Den Beste at October 02, 2009 05:29 PM (+rSRq)
Enclose all spoilers in spoiler tags:
[spoiler]your spoiler here[/spoiler]
Spoilers which are not properly tagged will be ruthlessly deleted on sight.
Also, I hate unsolicited suggestions and advice. (Even when you think you're being funny.)
At Chizumatic, we take pride in being incomplete, incorrect, inconsistent, and unfair. We do all of them deliberately.
How to put links in your comment
Comments are disabled. Post is locked.
11kb generated in CPU 0.01, elapsed 0.0309 seconds.
20 queries taking 0.019 seconds, 26 records returned.
Powered by Minx 1.1.6c-pink.