April 26, 2014
Mystery Meat -- Momotaro, Divine warriors of the sea
This movie is historically interesting, not just because it's among the earliest Japanese animated features to survive. It was first shown in Japan on April 12, 1945, almost exactly 4 months before the end of the war.
What's it about? It's about how the Japanese were going to win.
---
It begins with four sailors home on leave. Everything in Japan is peaceful and the sailors are greeted as heroes. Interesting that the entire movie is about the Navy; the Army is never shown.
So after about ten minutes on the home front showing how happy everyone is, we return to the military base from whence these four came.
A flight of bombers is returning from a mission, and the ground crews are scrambling.
That there is a Mitsubishi G3M, known to the Americans as Nell. I don't know if it was as bad a firetrap as the G4M Betty but all Japanese 2-engine bombers were death-traps by 1944, as American fighters became better and more widespread.
And that's the unit commander, about the only human we see on the Japanese side.
A single Nell is sent out on a photo-recon mission. It gets shot up but returns safely.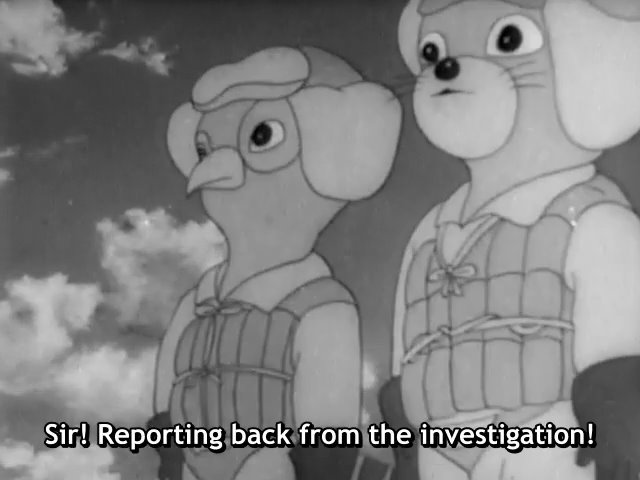 And here are the pilots reporting.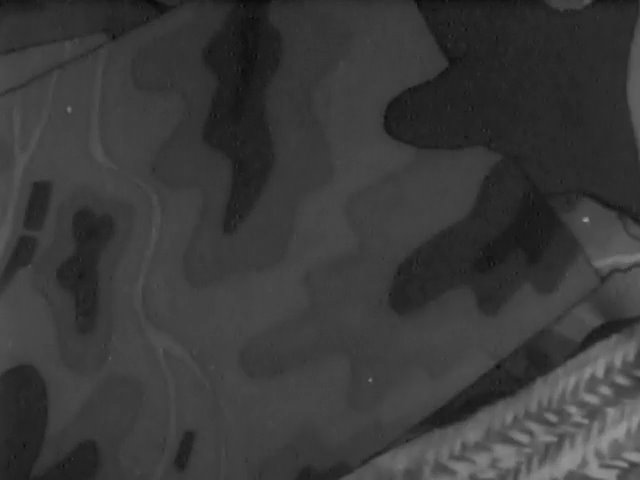 There's the enemy base.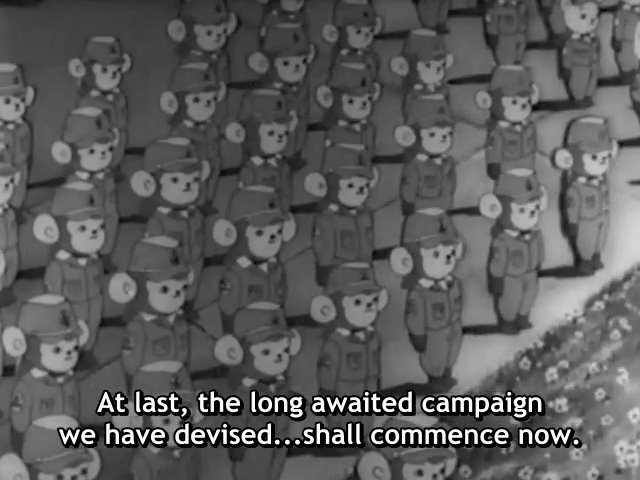 So let's go kick some white butt, shall we?
(There was a section telling a story about how the whites are evil, cruel, and devious.)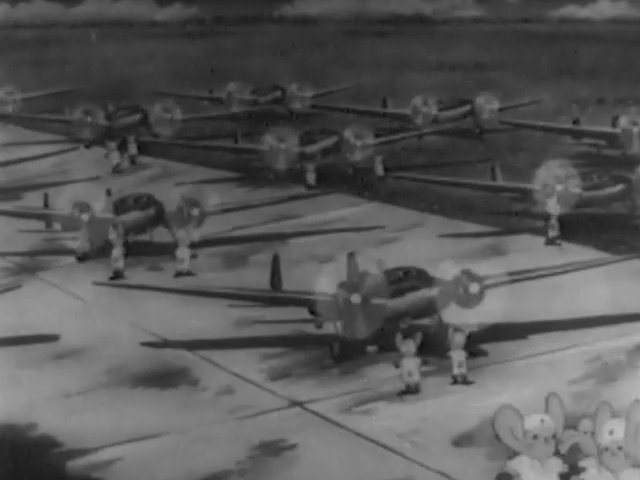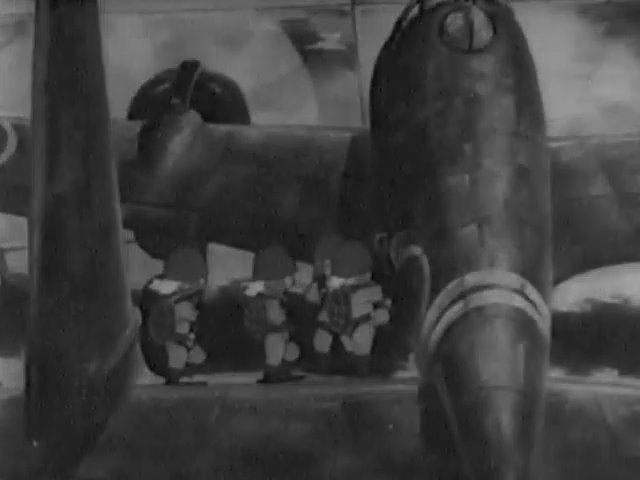 We're going to take our full complement of Nells on this mission. They're rigged as transports and each one carries a paratroop stick.
Now this is odd, because I don't remember the Japanese ever having paratroops. Maybe they did and used them in China, but they sure never did in the island campaign.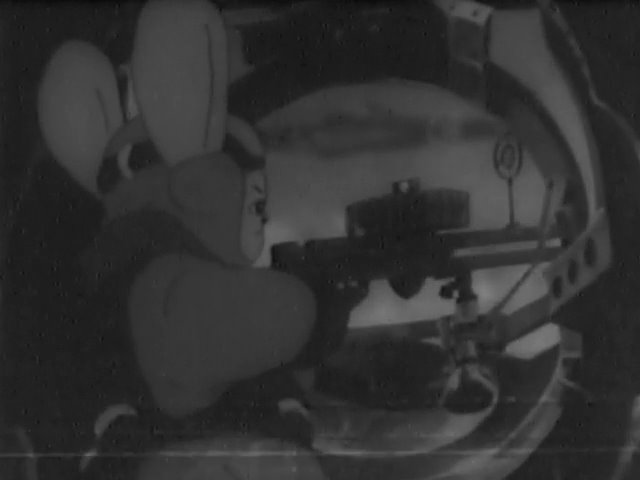 Ready to defend the plane against allied fighters, but there weren't any. (Whew!)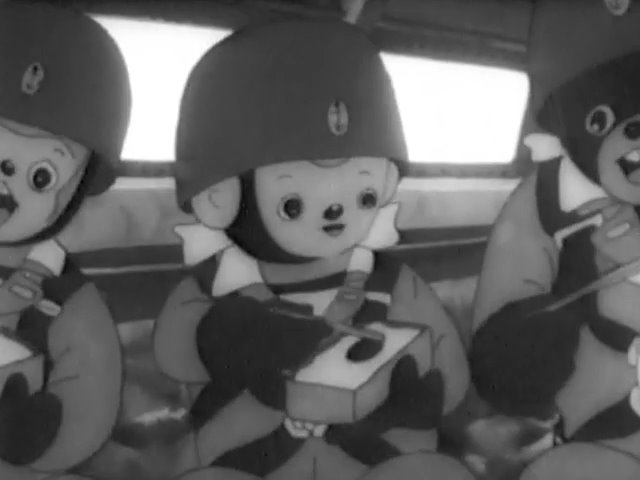 One last meal before we jump.
Triple-A. It doesn't hit anything. (Whew!)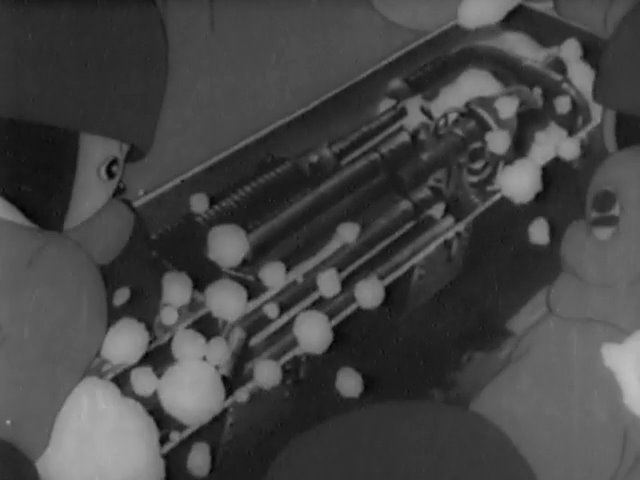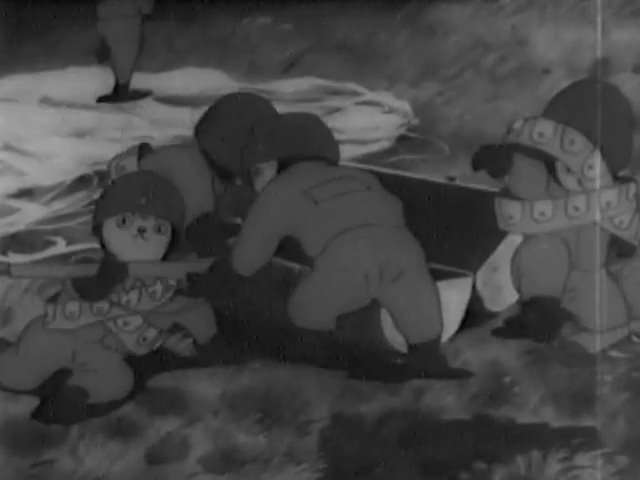 And now everyone is on the ground and equipped for a fight.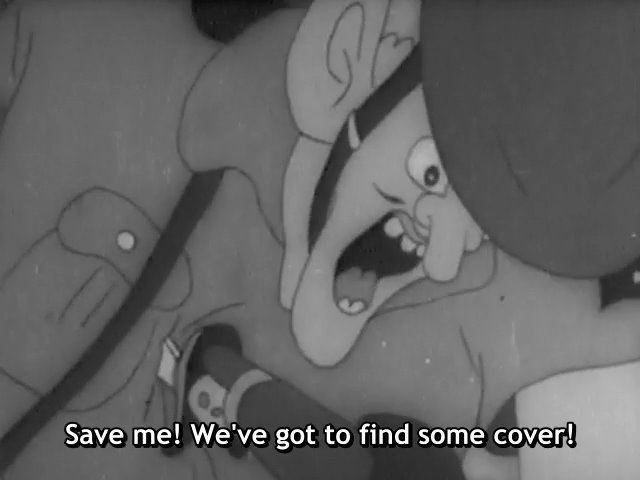 Here's one of the enemy. They don't put up much of a fight.
In fact, they throw down their weapons and surrender. I'm not sure who they're supposed to be. Those look like British WW1 helmets, but I didn't think anyone wore those in the Pacific in WWII. Certainly the Americans didn't. Did the Aussies wear helmets like that, left over from WW1?
Even with all this weaponry, they lost because they didn't have Japanese fighting spirit!
It's all very surreal.
Posted by: Steven Den Beste in Mystery Meat at 08:47 PM | Comments (11) | Add Comment
Post contains 413 words, total size 3 kb.
1
Holy crap! Where'd you find a subtitled version???
The one I have
is a lousy-quality, unsubtitled copy (not that you need to know Japanese to get the gist).
The Nell was, indeed, just as much of a tinderbox as the Betty. And the Japanese did have parachute units in WW2, as part of the Navy's "Special Naval Landing Force". They were used in the Dutch East Indies; the Battle of Timor saw the largest grouping of them, nearly 700... and they did indeed face the Aussies.
About the only good account of the SNLF Paratroopers out there is the wonderfully titled
Blossoming Silk Against The Rising Sun
. It's not particularly well-written, and needs an editor something fierce, but it's THE book on paratrooper assaults (both sides!) during the Pacific War.
Posted by: Wonderduck at April 26, 2014 09:00 PM (feFyF)
Posted by: Steven Den Beste at April 26, 2014 09:02 PM (+rSRq)
3
The Nell had been shown to be a tinder box waiting for a match as early as the outbreak of fighting in China in 1937. The IJN's initial contribution was via airstrikes by the two air groups equipped with the Nell - which soon had to come to a halt due to extraordinarily high loss rates.
Oddly enough, despite a patent lack on interest on the part of the IJN high command for expanding the SNLF, they were willing to introduce vertical envelopment, about the same time the USMC was experimenting with their own parachute force.
IIRC, the IJA paratroopers who landed in Leyte were destroyed by a force that including paratroopers from the 11th Airborne Division.
Then there was what US intelligence dubbed 'Operation Damocles', which was the plan to one-way a force of airborne raiders against the B-29 bases in the Marianas. That was one of the primary reasons for Halsey and Task Force 38 raiding Hokkaido and northern Honshu in mid-1945.
Posted by: cxt217 at April 26, 2014 09:15 PM (qTyyx)
4
But the video quality is dreadful nonetheless. Not really surprising; we're lucky it survived at all.
Posted by: Steven Den Beste at April 26, 2014 11:06 PM (+rSRq)
5
So the enemy in this film are Dutch? That had never occurred to me.
Posted by: Steven Den Beste at April 27, 2014 06:21 AM (+rSRq)
6
I'm pretty sure they're supposed to be Australian. At 1:08:45 on my copy, there's a quick skirmish between Our Divine Sea Warriors and three armored cars. During the Battle of Timor, there was a similar action against Aussie armored cars trying to reinforce an aerodrome... which we also see, briefly.
The White Imperialism flashback just before the attack makes it seem more like Brits, but that could just be generalizing.
Posted by: Wonderduck at April 27, 2014 07:44 AM (feFyF)
7
Come to think of it, the machine guns in the last shot are Maxim guns, aren't they?
Posted by: Steven Den Beste at April 27, 2014 09:16 AM (+rSRq)
8
Come to think of it, the machine guns in the last shot are Maxim guns, aren't they?
They are Vickers machine-guns, which were based on the Maxim guns (And made by the same folks, since Vickers bought out Maxim.). It was the standard infantry heavy/medium machine guns of British and Commonwealth troops for a long time, including World War 2. It was especially popular with the AIF, whose units tended to grab as many of the Vickers MG they could reach.
Posted by: cxt217 at April 27, 2014 03:00 PM (qTyyx)
9
I'm pretty sure they really are supposed to be British, or at least wearing British uniforms. This film came out after the Battle of Singapore, and the mass surrender of over 80,000 British troops (as well as Indian and Australian, but all fighting under the British crown and wearing British uniforms with only differences in insignia to distinguish them) was a huge cultural disconnect for the Japanese, who couldn't believe soldiers wouldn't fight to an honorable death. Naturally, this gets exaggerated and flanderized by the propaganda machine of Imperial Japan.
Posted by: Tatterdemalian at April 28, 2014 03:01 AM (4njWT)
10
The US Army still used those
Brodie helmets
until some time in 1942.
The major battles where the Japanese beat the living snot out of English speakers (American and British Empire) on land would have been the Battle of Singapore and the fall of the Philippines. I suspect, but cannot prove, that the Americans stationed in the Philippines were using the M1917 Brodie helmet. If you are trying to raise flagging civilian morale, you'd want to people to remember those battles even though they occurred long before April 1945..
Posted by: Mark A. Flacy at April 28, 2014 10:50 AM (i1KFF)
11
This kind of animated feature has a long lead time, and it's entirely possible the production took a couple of years (especially in war time when resources like film and celluloid were hard to acquire). The story boards may well have been done in early 1943 when things were still looking pretty good. (Especially from the point of view of the home front, because the government had been concealing its setbacks.)
Posted by: Steven Den Beste at April 28, 2014 11:06 AM (+rSRq)
Enclose all spoilers in spoiler tags:
[spoiler]your spoiler here[/spoiler]
Spoilers which are not properly tagged will be ruthlessly deleted on sight.
Also, I hate unsolicited suggestions and advice. (Even when you think you're being funny.)
At Chizumatic, we take pride in being incomplete, incorrect, inconsistent, and unfair. We do all of them deliberately.
How to put links in your comment
Comments are disabled.
16kb generated in CPU 0.0061, elapsed 0.0174 seconds.
20 queries taking 0.0132 seconds, 28 records returned.
Powered by Minx 1.1.6c-pink.