August 29, 2011
Mystery Meat -- Little Nemo in Slumberland
Winsor McKay was one of the standout comic artists in the early 20th century, with his weekly comic "Little Nemo in Slumberland". Each week he turned out a full page, and the drawings were lush and complicated. It ran from 1905 to 1914 in its original run.
Originally it was about the dreams of a boy named Nemo, who visited a place called Slumberland every night. And "surreal" doesn't begin to do it justice.
McKay was also a pioneer of drawn animation. He created a character called "Gertie the Dinosaur" and wowed audiences by standing on the stage in front of the movie screen and seemingly interacting with Gertie in real time. And McKay himself did a short animation of Little Nemo in 1911. (They animated about 2 minutes, and fleshed it out to a 10 minute feature with other material. The animation starts at 7:30.)
So it's appropriate that Little Nemo should end up an animated movie. The only concern, really, is, "Did they butcher it? Did they do it right?"
This was a big budget movie created in 1989 by a combined team from Japan and the US, and a bit of France.
My first reaction was astonishment, just from reading the credits. The story was written by Moebius. Chris Columbus helped with the script. (You may remember him as the guy who directed the first two Harry Potter movies.) And the "Concept for screen" credit goes to Ray Bradbury. The music was performed by the London Symphony. ANN says it cost ¥3.3 billion.
It's interesting how I keep recognizing names. Another I spotted was Brian Froud, who worked on "Labyrinth" with Jim Henson. Well, I have to look at something. The credits run almost three minutes and consist only of white text on a colored background. ...snore...
So is it true to McKay? Sadly, not really. The character designs owe more to emulation of Chuck Jones and Walt Disney than to McKay, and the Nemo character doesn't really act much like I recall the original acting. (You can see the original characters at the Wikipedia article.)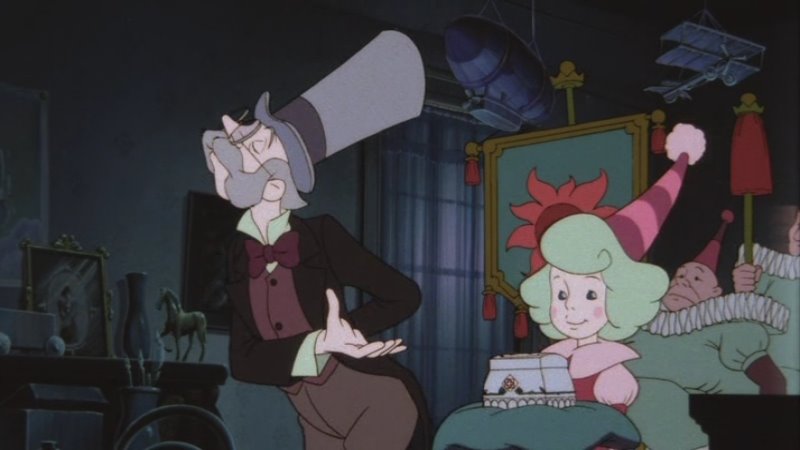 I suppose it was necessary to make some concessions to the different medium, but it's still a shame. Did they really need to give Nemo a cute animal sidekick? A flying squirrel named Icarus. There was never anything like that in the original.
And half an hour into it, I find myself wanting to start skipping. This is a real disappointment.
There's a brillliant sequence at the very beginning, pretty much a dream that turns into a nightmare, at the beginning. The rest of it? It's like someone read a third-party description of McKay's work and decided to do something a bit like it.
Dreams have a logic all their own. Things change in a dream; what you look at may have morphed from a moment before when you looked at it. McKay handled that beautifully in the original comic, but at least so far they've chucked that aspect of it entirely. That was the core of the story!
And Flip, from what we've seen of him, is an entirely different character. Where's the "Wake Up!" sign?
And then we get to the princess. And she's completely unrecognizable. They discarded the original character completely and started from scratch.
I stepped through the rest of it, and it was quite pedestrian. It wasn't "Little Nemo in Slumberland". The part that runs from 03:00 to 07:30 is brilliant. The rest is a complete waste of time. Not recommended.
Posted by: Steven Den Beste in Mystery Meat at 06:10 PM | Comments (8) | Add Comment
Post contains 592 words, total size 4 kb.
1
Around the time that came out, a fellow at the animation club I used to attend in Philly had it, and a whole bunch of alternate animation they did before they settled on what you saw. Some of it was quite a bit better.
I've never been able to get it from him though.
Posted by: Mauser at August 30, 2011 02:21 AM (cZPoz)
2
There was a video game called Little Nemo: The Dream Master based on this movie. Mario-esque and somewhat fun, but a Nintendo Hard memorize-every-jump thing.
Due to that game (I never saw the movie), crossed wires caused me to refer to "Finding Nemo" as "Little Nemo" a few times. Got a lot of strange looks since nobody had heard of any incarnation of the latter.
Posted by: Mikeski at August 30, 2011 05:45 AM (GbSQF)
3
I don't know whether it is or isn't what Mauser is referring to, but prior to the production of the actual movie they did make a proof-of-concept trailer - same animation studio, lots of different staff (quite of few went on to work at Ghibli). The design work certainly looks more Ghibli-esque than what made the final movie.
That's pretty easy to locate on Youtube these days (infact - http://www.youtube.com/watch?v=fnL-6yLzgWA ).
Posted by: DiGiKerot at August 30, 2011 08:24 AM (rpHsn)
4
The interesting thing from the McKay's animation was that he appeared to draw directly with ink. None of that penciling in for him!
Posted by: Mark A. Flacy at August 30, 2011 05:31 PM (Lbkvv)
5
There's a spare "the" for sale in that sentence. *grumble*
Posted by: Mark A. Flacy at August 30, 2011 05:32 PM (Lbkvv)
6
It was 1911. A lot of things like pencilling followed by inking, and using celluloid, were developed later in part because of the experience of doing it the way McKay did.
It's like the aircraft of that era. They didn't know what an airplane was supposed to look like. A lot of things we take for granted were worked out in the early days through trial and error -- lots of error.
Posted by: Steven Den Beste at August 30, 2011 06:50 PM (+rSRq)
7
Well, I never heard of Little Nemo until the movie came out (on tv), so I kinda like it. The animation was very nice and I liked a lot the last scenes.
Posted by: Jaked at August 30, 2011 08:50 PM (TaEaq)
8
Thanks DiGiKerot, that was one of them. There were several other tests. (One I remember the squirrel acting a lot more squirrel-like)
It's also pretty clear that the style shifted from Ghibli to Chuck Jones there.
Posted by: Mauser at August 31, 2011 12:10 AM (cZPoz)
Enclose all spoilers in spoiler tags:
[spoiler]your spoiler here[/spoiler]
Spoilers which are not properly tagged will be ruthlessly deleted on sight.
Also, I hate unsolicited suggestions and advice. (Even when you think you're being funny.)
At Chizumatic, we take pride in being incomplete, incorrect, inconsistent, and unfair. We do all of them deliberately.
How to put links in your comment
Comments are disabled. Post is locked.
12kb generated in CPU 0.03, elapsed 0.0319 seconds.
20 queries taking 0.0198 seconds, 25 records returned.
Powered by Minx 1.1.6c-pink.