October 12, 2009
Mystery Meat -- Ichigo 100%
Today's Mystery Meat is "Ichigo 100%". All I remember about it is that it's a harem comedy.
---
5 characters shown so far in the OP and four of them are gorgeous girls with unreasonably short skirts. Yeah, I guess it was a harem comedy.
The rest of the OP seems to suggest that our hapless hero is a shutterbug and those girls feature highly in his photography. By the way, the character art is quite attractive; the girls' faces are drawn in a style that reminds me of Hatsukoi Unlimited.
Opening lines, voiceover: Crossing over the "entry forbidden" chain. Climbing the remaining eighteen stairs and opening the steel door. And on the other side of it... Yes, you could see one of the greatest views in this town.
And our hero is, almost instantly, interrupted by a girl falling next to him from above. All he sees at first is her panties with strawberries (i.e. ichigo) on them. Well, it's stupid, but at least they didn't turn it into a crotch plant, so they preserve at least some class.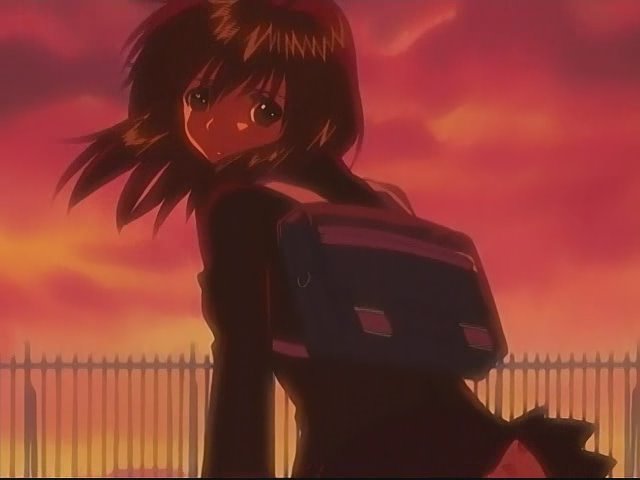 There's a beat. Then she stands up (apparently unharmed), screams, and runs into the door and down the stairs. And thus is romance born.
This seems to be the roof of the school. (So where was she falling from?) He muses about how gorgeous she was. The evening sun shining on her, her skirt waving in the wind, and she was wearing strawberry panties.
First episode title: "Vision of Strawberry Panties". I think I'm in love.
She left something behind, looks like a notebook. Looks like a deus ex machina, an excuse for him to find her so he can return it.
Ah, another refreshing (if minor) deviation from the standard pattern. The info about her inside her notebook said she was third year. So they've violated the rule that says, all romantic comedy bijin shall be 16 years old. She's a senior and must be 17 or 18.
Problem is, when he finds her to return the notebook, she doesn't look the part. Apparently he hasn't heard the rule: all meganekko are repressed volcanoes of passion.
There's a sequence in the OP of this particular girl taking off her glasses, and her hair unbraiding, as she switches from mousy to spectacular, I might mention.
He reaches into his briefcase to return her notebook and realizes he doesn't have it. He promises to bring it tomorrow. She asks, "You didn't look inside it, did you?" He says he didn't. And she says, "Please please please don't look inside it!"
So naturally he's going to later. And then he finds something, which shocks him and they don't show to us. That's cheating. That's stupid manipulation. That's typical. Did Gonzo do this? (Just looked; nope, it's Madhouse. I don't know a lot about them.)
Next day, morning. He walks into class holding her notebook and he doesn't look happy. He walks up to her, but rather than hand her the notebook he grabs her hand and hauls her away. Up on the rooftop for a private talk.
Turns out she was writing a novel in her notebook. I'm 8 minutes into this and I already want to stop watching. Barf.
He's all enthusiastic about it. The story isn't complete, however, and he begs her to tell him more. She's flustered. "You won't laugh, even though my dream is stupid?"
Being a novelist turns out to be her secret dream. So he confesses his secret dream to her: to be a film maker.
And I've had enough. I'm skipping ahead. The guy proceeds to ruin the mood by asking the girl with pigtails for advice on confessing to another girl. Then he does it, and it's all terribly embarassing and stupid.
Gad, this is bad. Would I want to watch any more of it? HELL NO.
FORENSICS: It's another case where I was seduced by the pantsu keyword. I really should learn my lesson. It keeps breaking my heart.
UPDATE: Thinking back on it, I think that when I read the description -- a guy is in a high place, and a girl with strawberry panties falls on him, and he wants to know who she was -- that I had come away with the impression that she was going to be a "magical girl".
Posted by: Steven Den Beste in Mystery Meat at 02:15 PM | Comments (4) | Add Comment
Post contains 726 words, total size 4 kb.
1
I like the closing credits.
...
Um, yeah, that's about it really.
Posted by: Pixy Misa at October 12, 2009 03:44 PM (PiXy!)
2
I guess I'll have to take a look at them. I didn't get that far.
Posted by: Steven Den Beste at October 12, 2009 05:34 PM (+rSRq)
3
High school romance harem comedy with a clueless guy. Here there be dragons.
I kept reading the manga far beyond any reasonable point because the girls are so damn cute, even though the story is kind of goofy and I want to punch the male lead in the face. But recently the artist surprised me by building the characters of Satsuki (ponytail) and especially Nishino (blonde) into something quite interesting.
And you guessed right, it's the same artist as
Hatsukoi Ltd
, Mizuki Kawashita.
Posted by: Toren at October 12, 2009 06:12 PM (9K6fX)
4
It looks like
Hatsukoi Limited
because it's by the same artist. (As previously noted.)
...the anime
really
over-compressed the story, too. It worked better in the manga; they tried to cram too much into a single season of anime and the results...well.
I do like the series, myself, even though it's not exactly high art.
Posted by: atomic_fungus at October 12, 2009 08:11 PM (z8tFa)
Enclose all spoilers in spoiler tags:
[spoiler]your spoiler here[/spoiler]
Spoilers which are not properly tagged will be ruthlessly deleted on sight.
Also, I hate unsolicited suggestions and advice. (Even when you think you're being funny.)
At Chizumatic, we take pride in being incomplete, incorrect, inconsistent, and unfair. We do all of them deliberately.
How to put links in your comment
Comments are disabled. Post is locked.
10kb generated in CPU 0.01, elapsed 0.0178 seconds.
20 queries taking 0.0117 seconds, 21 records returned.
Powered by Minx 1.1.6c-pink.