February 15, 2014
Mystery Meat -- Groove Adventure Rave
This is based on a manga done by the same mangaka who does Fairy Tail. And there was a crossover OVA between the two that came out last year. I was curious to see whether it had been made into an anime, and yup, there it was on BakaBT.
In the OVA, Haru ends up teaming up with Natsu, and Wendy ends up with a couple of martial artists (one man, one woman), Gray with some guy who looks like him but is bad tempered, and Lucy ends up with Elie. Elie is tremendously stacked -- even more than Lucy -- and that's a plot point, since Fairy Tail is there searching for a big-breasted woman who wrecked a casino, and though Elie isn't actually the one, she fits the description and for a while Lucy and Happy think they've found their target.
So I was curious whether Elie in GAR was always drawn like that. Turns out not, and I'm not sure why they decided to change the character are so drastically. Fan service, I guess.
Once I looked at the cast list, I got really curious. First, Elie is voiced by Ayako Kawasumi, and so the Ayako Doctrine applies. Second, Haru is voiced by Tomokazu Seki, who is one of my favorite seiyuu. I don't think he's ever given a performance I didn't like, and sometimes he is absolutely brilliant.
So I just watched the first two episodes. I can't fault Kawasumi or Seki, but frankly it was mediocre. The problem was the writing, really. Also, I think I've gotten spoiled by modern animation technology. This came out in 2001 and it's all hand-animation on cels. Which means it's rough.
Also, Plue is annoying. In Fairy Tail there's an identical character, one of Lucy's summons, but it doesn't show up very often and it doesn't matter. (Except once; it won a battle for Lucy one time. Which I have to admit was pretty awesome.) But it's a major character in GAR and I still don't like it.
I'm not hugely inclined to watch any more.
UPDATE: See for yourself: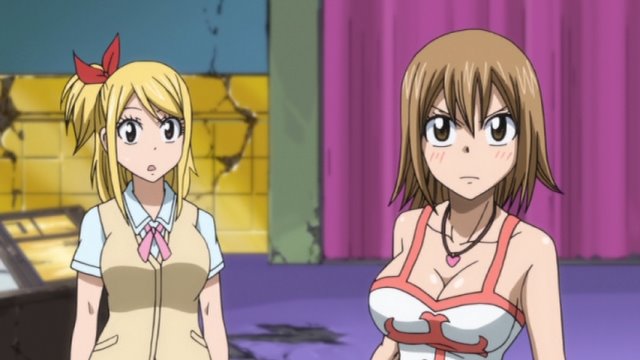 UPDATE: In terms of the writing, part of what drove me off is that the initial meet-cute made no sense. Why would either of them have any urge to travel with the other, besides physical attraction? And I don't believe that's enough to justify it.
Posted by: Steven Den Beste in Mystery Meat at 10:43 AM | Comments (2) | Add Comment
Post contains 402 words, total size 2 kb.
1
Rave Master was the first manga published by Hiro Mashima, and it shows, in both story and art style. At best, it is a workman-like series, and at worst...
I did find it amusing that the English dub release had Jennifer Paige performing the ending theme, though.
Posted by: cxt217 at February 15, 2014 12:30 PM (GkAIU)
2
Rave Master does get better as it goes along, but the Manga did run a long while after the anime, so it goes a whole bunch of different places.
Elie's lack of breasts was I believe something of a running joke in the anime series (if I remember correctly), so it makes sense why that happens in the OVA. Also, in the anime, her bust size change depending on who was animating each episode.
For Fairy Tail, he pretty much took most of the same characters and made them look hotter. So Natsu & Grey are ripped, Lucy & Ezra are stacked. He learned to work his audience a lot better.
Oh, but do check out the final episode (51?), Hiro shows up playing a guitar and riding in a hot air balloon. Seriously. It was one of the wackiest "well, we're not getting another season!" endings in a while.
Posted by: sqa at February 15, 2014 08:45 PM (HW6oD)
Enclose all spoilers in spoiler tags:
[spoiler]your spoiler here[/spoiler]
Spoilers which are not properly tagged will be ruthlessly deleted on sight.
Also, I hate unsolicited suggestions and advice. (Even when you think you're being funny.)
At Chizumatic, we take pride in being incomplete, incorrect, inconsistent, and unfair. We do all of them deliberately.
How to put links in your comment
Comments are disabled. Post is locked.
8kb generated in CPU 0.0055, elapsed 0.0142 seconds.
20 queries taking 0.0102 seconds, 19 records returned.
Powered by Minx 1.1.6c-pink.